Minister of labor resigns
Premier Jiang Yi-huah (江宜樺) approved Minister of Labor Pan Shih-wei's (潘世偉) resignation last night, hours after Pan offered to step down during an early-morning telephone call to Jiang amid rumors of an extramarital affair.
Executive Yuan spokesperson Sun Lih-chyun (孫立群) said Jiang spoke again by phone to Pan in the afternoon and approved his resignation in the evening.
Deputy Minister of Labor Hau Feng-ming (郝鳳鳴) will take over for Pan until a new minister is appointed, Sun said.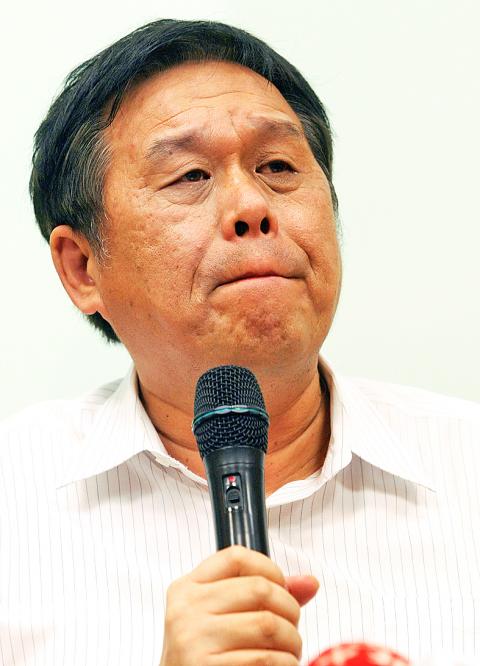 Former minister of labor Pan Shih-wei is pictured in an undated photograph.
Photo: CNA
Pan's resignation came just a day after Next Magazine reported that he had made three nighttime visits to his female secretary in a week earlier this month.
In its latest issue, the Chinese-language magazine said Pan had also taken his secretary on official foreign visits with business-class airline tickets that had been paid for with government funds.
Pan had been quick on Wednesday to refute the accusation of an affair, while his secretary issued a statement saying she would take legal action against the magazine.
Yesterday afternoon it appeared to be business as usual for the 58-year-old Pan, who had served as head of the Council of Labor Affairs since October 2012 and oversaw its transformation into the ministry earlier this year.
The ministry yesterday made public a recording made by Pan's wife, who is on a vacation in France with their son, in which she said she was surprised to hear of his resignation and that she fully trusts him.
"[Pan] always tells me where he goes and I know about his meetings with the secretary. I know [her] personally as well," his wife said.
The National Alliance for Workers of Closed Factories (全國關廠工人連線), who had demanded that Pan step down over his handling of several cases concerning the exploitation of workers and what it says are deteriorating working conditions, criticized Pan's decision.
"Politicians are supposed to step down for bad policies," not for their deeds in the private sphere, the group said in a Facebook post.
Pan is the second public official to resign over an alleged affair exposed by Next Magazine in the past three months. It published a story about former minister without portfolio Chen Shi-shuenn (陳希舜) in April that claimed the married Chen had made several visits to a female professor's residence in 10 days.
Additional reporting by Shih Hsiu-chuan and CNA
Comments will be moderated. Keep comments relevant to the article. Remarks containing abusive and obscene language, personal attacks of any kind or promotion will be removed and the user banned. Final decision will be at the discretion of the Taipei Times.