Tainan mayor rattles Chinese audience
FREE SPEECH: Reiterating the DPP's political platform, Greater Tainan Mayor William Lai asserted the societal nature of Taiwanese calls for independence
Greater Tainan Mayor William Lai (賴清德) yesterday caused jitters among an audience of Chinese politicians and academics with talk about Taiwanese independence and the politically sensitive Tiananmen Square student movement on the second day of his trip to China.
Lai, a member of the Democratic Progressive Party (DPP), made his remarks at a Fudan University discussion session in Shanghai.
Regarding cross-strait exchanges, Lai said that since the Taiwanese consciousness of independence preceded the establishment of the DPP, getting rid of the "Taiwan independence clause" in its party charter would not make the society's call for independence disappear.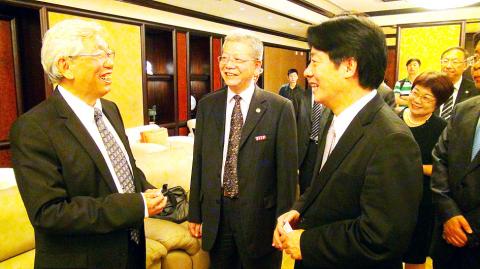 Greater Tainan Mayor William Lai, right, converses with Fudan University President Yang Yuliang, center, and Jiang Yihua, director of the University's Center for Comparative Studies of Modernization, left, in Shanghai yesterday.
Photo: CNA
According to Greater Tainan Department of Information and International Relations Director and delegation member Chao Ching-hui (趙卿惠), Lai spoke in response to a Chinese professor's comment on what the professor described as the stalled cross-strait relationship.
Fudan University professor Jiang Yihua (姜義華) reportedly blamed the DPP's independence platform for the alleged stall, saying that despite cross-strait exchanges over the past years, this particular problem has been little recognized and should now be faced squarely.
Lai said that the DPP's Taiwan independence clause and its Resolution on Taiwan's Future are part of the trajectory of the development of Taiwan's history.
"Taiwanese independence is a cause held by the DPP, which completely respects Taiwanese people's self-determination in terms of procedure. It has enjoyed a clear consensus in Taiwan, as [former president] Chen Shui-bian (陳水扁) was elected as president on the party's platform," Lai said.
"It is important to understand whether the DPP made the cause of independence arise in society, or whether it was society's call for independence that brought the DPP into existence. Removing the DPP's Taiwanese independence party platform would not do away with Taiwan's call for independence," he said.
Lai said that no problem could be solved before China understands this historical trajectory and he called on the two sides to seek common ground, but also treasure their differences through understanding and reconciliation.
The mayor also mentioned the 1989 Tiananmen Square student movement.
"Fudan University students answered to the cause of the student movement that took place after the death of [reformist Chinese Communist Party] secretary-general Hu Yaobang (胡耀邦) in 1989. And there were more than 400 professors who signed the petition urging the government to recognize the student movement as a patriotic movement," he said.
The issue of whether Beijing would change its no-contact policy toward the DPP has again come to the forefront amid Lai's first visit to China on Friday.
Separately yesterday, Beijing reiterated its opposition to Taiwanese independence, but said that it welcomes exchanges with people from all quarters of Taiwan — provided they support advancing cross-strait ties.
The Chinese government maintains a "clear and consistent" policy toward the DPP and stands firmly against Taiwanese independence, China's Taiwan Affairs Office spokesperson Fan Liqing (范麗青) said when asked about whether Beijing has begun to engage with the DPP.
"We welcome anyone as long as he or she favors, supports and participates in the peaceful development of cross-strait relations, no matter what he or she has advocated in the past," she said.
Additional reporting by CNA
Comments will be moderated. Keep comments relevant to the article. Remarks containing abusive and obscene language, personal attacks of any kind or promotion will be removed and the user banned. Final decision will be at the discretion of the Taipei Times.