Second Thomas Shoal 'could be the next flashpoint'
A wrecked Philippine navy transport ship perched on a remote coral reef could be the next flashpoint in the South China Sea, where Taiwan, China and four other claimants bitterly dispute territory, officials say.
The Philippines is accusing China of encroachment after three Chinese ships, including a naval frigate, converged just 5 nautical miles (9 km) from an old transport ship that Manila ran aground on a reef in 1999 to mark its territory.
Philippine officials say they fear the Chinese ships will block supplies to about a dozen Filipino marines stationed in abject conditions on the rusting ship, raising tensions over one of Asia's biggest security issues.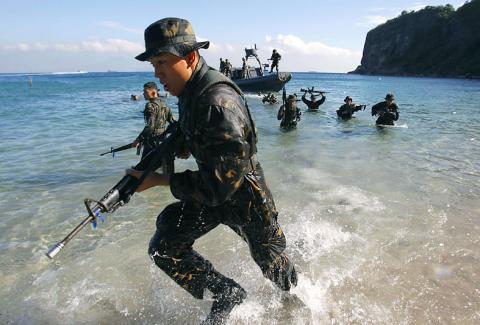 Philippine Military Academy (PMA) cadets leave their boat and go ashore during a joint field training exercise at the Marines` training centre in Ternate, Cavite city, south of Manila yesterday.
Photo: Reuters
The area, known as Second Thomas Shoal (Renai Shoal, 仁愛暗沙), is a strategic gateway to Reed Bank (Lile Bank, 禮樂灘), believed to be rich in oil and natural gas. In 2010, Manila awarded a consortium a licence to explore for gas on the Reed Bank, but drilling stalled last year due to the presence of Chinese ships.
The shoal is one of several possible flashpoints in the South China Sea that could force the US to intervene in defense of its Southeast Asian allies.
Manila says the Reed Bank, about 148km west of Palawan Island at the southwestern end of the Philippine archipelago, is within the country's 200 nautical mile (370.4km) exclusive economic zone.
Beijing says it is part of the Spratly Islands (Nansha Islands, 南沙群島), a group of 250 uninhabitable islets, claimed entirely by Taiwan, China and Vietnam, and in part by Malaysia, Brunei and the Philippines.
"China should pull out of the area because under international law, they do not have the right to be there," Philippine Department of Foreign Affairs spokesman Raul Hernandez said. He added that the Chinese ships were a "provocation and illegal presence."
Chinese Foreign Ministry spokesman Hong Lei (洪磊) said on Tuesday that the Second Thomas Shoal was part of the Spratly Islands, over which China had "indisputable sovereignty."
"It is beyond reproach for Chinese boats to carry out patrols in these waters," Hong said, adding that China called on all parties to "refrain from taking actions that complicate the situation."
A report issued on Tuesday by Chinese military think tank the Center for National Defense Policy said it was the US' "pivot" back to Asia which had "shattered" the relative calm of the South China Sea, warning of a crisis ahead.
Comments will be moderated. Keep comments relevant to the article. Remarks containing abusive and obscene language, personal attacks of any kind or promotion will be removed and the user banned. Final decision will be at the discretion of the Taipei Times.