Cross-strait investment protection accord signed
EXPECTATIONS: The SEF chief acknowledged public disappointment with the results of previous pacts and called for better execution to uphold public interests
Taiwan and China yesterday signed two agreements on investment protection and customs cooperation, with officials stressing that the pacts would provide a system for protecting cross-strait investors and create a better investment environment.
Straits Exchange Foundation (SEF) Chairman Chiang Pin-kung (江丙坤) and Association for Relations Across the Taiwan Straits (ARATS) Chairman Chen Yunlin (陳雲林) signed the two agreements after a five-hour meeting at the Grand Hotel in Taipei.
The investment protection pact would set up a mechanism to solve G2G (government-to-government), P2P (private-to-private) and P2G (private-to-government) disputes, and help protect the rights of Taiwanese businesspeople in China, while the customs cooperation agreement would facilitate customs reporting and information sharing.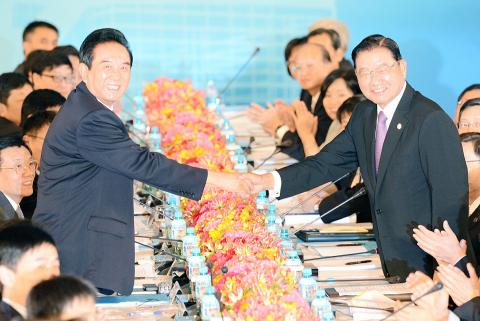 Straits Exchange Foundation Chairman Chiang Pin-kung, right, shakes hands with Association of Relations Across the Taiwan Straits Chairman Chen Yunlin yesterday during the eight round of cross-strait talks in Taipei.
Photo: Sam Yeh, AFP
The signing of the investment pact will offer cross-strait investors stronger institutionalized protection for their property rights, management rights and personal safety, Chiang said.
Under the agreement, investors will be able to choose arbitration institutions in Taiwan or China to deal with their disputes. The protection extends to Taiwanese investments in China made via a third country or area, but investors would not be allowed to pick an arbitration institution in the third area.
An SEF official said that the Beijing government still needs to work out related legislation for P2G commercial disputes, but added that it had seen China's "sincerity" in enacting the agreement as soon as possible.
ARATS Vice Chairman Zheng Lizhong (鄭立中) said the pact would provide strong protection to Taiwanese investors in China, while increasing cross-strait bilateral investments.
As for the customs pact, companies from both sides should enjoy lower costs after customs valuations and tariff classifications are standardized, officials said.
During the eighth round of cross-strait talks yesterday, officials also agreed that other Economic Cooperation Framework Agreement (ECFA) issues relating to commodity trade, service trade and a dispute-resolving mechanism would be discussed at the next round of talks.
Speaking at the opening ceremony, Chiang acknowledged that the implementation of 16 previous agreements — including the rights of Taiwanese civilians or businesspeople detained in China, opening Taiwan to Chinese individual tourists, deportation of economic criminals and food safety — had failed to meet public expectations.
"People across the Taiwan Strait are highly supportive of systematic cross-strait negotiations, but the implementation of some agreements failed to meet expectations ... The two sides should join forces and examine the implementation of agreements on a regular basis to avoid mishandling of individual cases from damaging mutual trust," he said.
To address concerns over the personal safety of Taiwanese businesspeople detained or deprived of their personal freedom in China, the investment protection pact states that Chinese authorities should inform the detainees' family members or companies within 24 hours, and allow family members and lawyers to visit them. Taiwan is to follow the same procedures when dealing with Chinese businesspeople detained in Taiwan.
The issue has drawn wide attention in Taiwan after Bruce Chung (鍾鼎邦), a Taiwanese Falun Gong practitioner, was detained in China on June 18 for what Chinese authorities described as "jeopardizing China's national security."
Chung's detention has raised concern about China's poor human rights record. Pro-independence advocates and civic groups have questioned China's willingness to implement the investment protection agreement and protect Taiwanese investors' personal safety.
Chen yesterday promised that the two agreements would help foster a better environment for investors across the Taiwan Strait and said follow-up negotiations on the ECFA would be the priority in future talks.
The SEF and ARATS will also discuss new issues in future cross-strait negotiations, such as technology, culture and education, which have increasingly drawn public attention as cross-strait exchanges increased, he said.
After signing the agreements, Chiang and Chen exchanged gifts. The SEF presented a lacquer painting featuring grapes to symbolize a fruitful cross-strait development, while ARATS gave the SEF a pair of vases.
The two envoys did not comment on speculation that both would retire from their posts and that this would be the last time they would be participating in cross-strait talks.
"It is thanks to the team's hard work that we have achieved the signing of these follow-up agreements after the cross-strait ECFA," Chiang told a press conference after the signing ceremony.
Later yesterday, the SEF confirmed that service trade would be the priority issue in the next Chiang-Chen meeting.
Investment Commission Executive Secretary-General Fan Liang-tung (范良棟), who was at the meeting, said that compared with service trade, commodity trade would be more difficult to handle as it involves the issue of zero tariffs.
However, the SEF remained confident that the issue of commodity trade may finally be solved following its success in signing the ECFA.
The SEF added that it expected to establish long-term bilateral contacts with ARATS to review the execution of agreements signed to promote the welfare of people from both sides of the Strait.
Comments will be moderated. Keep comments relevant to the article. Remarks containing abusive and obscene language, personal attacks of any kind or promotion will be removed and the user banned. Final decision will be at the discretion of the Taipei Times.