Ma adjusts electricity rate hike plan
CHANGES: The president said under the new plan, electricity rate hikes will not affect households and small businesses with electricity usage under 330 kilowatt-hours
In a major about-face, President Ma Ying-jeou (馬英九) announced last night that the government will adjust electricity rates in three stages, with the first price increase to take effect on June 10.
Prices will rise by 40 percent of the originally planned adjustment on June 10, and another 40 percent on Dec. 10. The date for the remaining 20 percent will depend on whether the public is satisfied with state-run Taiwan Power Co's (Taipower, 台電) reform efforts, Ma said at an impromptu press conference at the Presidential Office last night following a three-hour meeting with senior officials on the issue.
The rates for power consumed at night or during off-peak hours will be reduced from 62 percent of the peak rate to 50 percent, according to the new plan.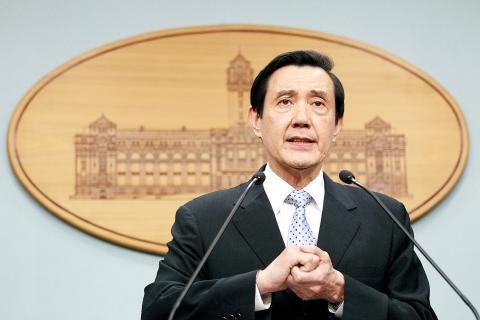 President Ma Ying-jeou announced the revised plan for electricity prices yesterday.
Photo: Reuters
Taipower originally planned to raise rates by nearly 26 percent for households in the main bracket for power consumption — at 330 to 500 kilowatt-hours per month — which accounts for 67 percent of household users.
Under the new plan, rate hikes will not affect households and small businesses with electricity usage under 330 kilowatt-hours, Ma said.
"Our goal and purpose [for the hike] of reflecting reasonable electricity prices remains unchanged, but the ways of implementation can be adjusted," Ma said. "The new plan will reduce the impact on regular households and industry, and take care of the lives of the majority."
Minister of Economic Affairs Shih Yen-shiang (施顏祥) said the ministry would release further details of the rate adjustment plan as soon as possible.
The government initially planned to raise electricity rates on all sectors by between 8 percent and 37 percent effective May 15 to reflect soaring energy costs and to curb losses at Taipower. Under the initial proposal announced by the government on April 12, electricity prices would rise by an average of 16.9 percent for households, 30 percent for commercial establishments and 35 percent for industrial users.
The announcement prompted an outcry from various sectors, ranging from business and industry groups, to the disabled and economically disadvantaged people and lawmakers across party lines. Opposition parties made several failed attempts to pass a legislative resolution to demand that the government not go ahead with the plan.
On Monday during a meeting between Ma and top government and Chinese Nationalist Party (KMT) officials, including Vice President Vincent Siew (蕭萬長), Premier Sean Chen (陳冲) and Legislative Speaker Wang Jin-pyng (王金平), Siew reportedly opposed implementing an electricity rate hike so soon after gasoline and diesel prices were raised on April 1.
Fuel prices increased by an average of 10.7 percent on April 1, the steepest pace in nearly four years.
Both Siew and Wang suggested the government should adjust the electricity rates in stages to give the public and industry more time to make adjustments.
Ma was quoted on Monday as saying the government "heard the public's voice" and felt their pain, and promised to have the Ministry of Economic Affairs review the rate hike plan.
Earlier yesterday, Shih met with several KMT lawmakers to discuss possible revisions to the original proposal.
According to the ministry, due to rising international fuel prices, Taipower has incurred losses of NT$117.9 billion between 2008 and the end of last year. The last time the government raised electricity rates was at the end of 2008.
Raw material procurement accounts for 70 percent of the utility's cost, the ministry said, adding that last year, electricity cost an average of NT$2.82 per kilowatt-hour, but was sold at NT$2.6, which led to a loss of NT$4.37 billion that year.
The 10 percent rise in gas prices and the original plan to increase electricity prices had led the government to revise its previous economic growth forecast downward by 0.47 percentage points to 3.38 percent for this year and to say it expected the consumer price index to increase by 1.94 percent this year, not the 1.48 percent it projected in February.
This story has been updated since it was originally published.
Comments will be moderated. Keep comments relevant to the article. Remarks containing abusive and obscene language, personal attacks of any kind or promotion will be removed and the user banned. Final decision will be at the discretion of the Taipei Times.