Wang Chien-ming reveals he had affair
SHUTOUT: The 'Pride of Taiwan' said the woman with whom he had the affair in 2009 continued attempts to resume their relationship, but Wang had declined
Washington Nationals pitcher and "Pride of Taiwan" Wang Chien-ming (王建民) on Monday night admitted he had a months-long extramarital affair while he was recovering from a shoulder injury in 2009.
"I sincerely apologize to the fans who have been supporting me," Wang told a press conference in Viera, Florida. "I'm sorry I set a bad example and I let you down."
Fans were shocked to hear the confession from their baseball hero, a man of few words known for his image as a family man. That positive image has also made him one of the most-wanted spokespersons for local businesses, from a laptop computer manufacturer to a blood bank.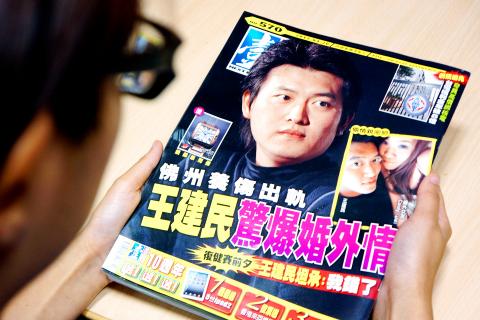 A man in Taipei yesterday looks at the cover of an edition of Next Magazine that features a report about an extramarital affair involving Washington Nationals pitcher Wang Chien-ming.
Photo: Lu Chun-wei, Taipei Times
Haltingly reading from a statement, Wang said the relationship started after he completed surgery on his right shoulder three years ago.
"After the operation in 2009, I did not know if my career as a professional baseball player was over," Wang said. "Because of the long rehabilitation process, I was depressed and felt helpless and hopeless every day. I lost balance between my physical and psychological life. I had an extramarital affair at a low point in my life."
Wang said the relationship lasted about eight months and that he decided to terminate it because he could no longer live with the "strong sense of guilt."
Even after he ended the affair, the woman continued to seek every means possible to resume the relationship and even threatened to expose the affair to the media.
"I really do not want to hurt this lady," Wang said. "But weighing on the situation, the people I should not hurt are my family."
Wang said he could not describe how sorry he was for the harm he had caused his wife and family as a result of a momentary weakness and that he was willing to pay the price for his action.
He said he felt even more ashamed after his wife and family chose to forgive him.
"I cannot let my family go through the suffering again," Wang said. "I sincerely ask our friends in the media not to ask them any more questions. They are innocent and have been forced to bear such pressure."
Asked how Wang's spouse, Wu Chia-ling (吳嘉姈), reacted when she learned of the affair, Wang's agent, Alan Chang (張嘉元), said she was devastated at first, but had chosen to forgive her husband to preserve their family, adding that they would work together to maintain the family and move on.
Media have identified the woman with whom Wang had an affair as a Taiwanese American known as "Cyndi."
In an interview with the Chinese-language Next Magazine, she said she did not know Wang was a Major League Baseball pitcher, nor did she know he was married.
Asked if the Nationals knew about the affair, Wang said the team only asked him to confront the matter honestly and said would not affect his career with the team.
Wang made his major league debut for the New York Yankees in 2005 and went on to win 19 starts in both the 2006 and 2007 seasons. He was at one point the highest-paid Taiwanese player in the major leagues.
He has been with the Washington Nationals organization since 2010, but he did not make his return to the majors until last year.
He is currently on the 15-day disabled list.
Additional reporting by staff writer
Comments will be moderated. Keep comments relevant to the article. Remarks containing abusive and obscene language, personal attacks of any kind or promotion will be removed and the user banned. Final decision will be at the discretion of the Taipei Times.