Jeremy Lin is Taiwanese, family insists
HOMECOMING: An official said there was no record of Lin ever applying for ROC citizenship, but that he qualified, as both his parents had joint ROC-US citizenship
The family of basketball sensation Jeremy Lin (林書豪), who announced he would visit Taiwan to take part in a basketball camp after the NBA season wraps up, is adamant that he is of Taiwanese heritage, the New York Times reported yesterday.
Lin Chi-chung (林繼宗), Jeremy Lin's 63-year-old uncle, said in an interview in Taipei that there was no doubt that the Harvard--educated younger Lin, as well as his family, are Taiwanese.
"For sure, they are Taiwanese," Lin Chi-chung said. "I spoke to Jeremy Lin's father, who is my younger brother, and he said: 'Make sure you point this out,'" he told the Times.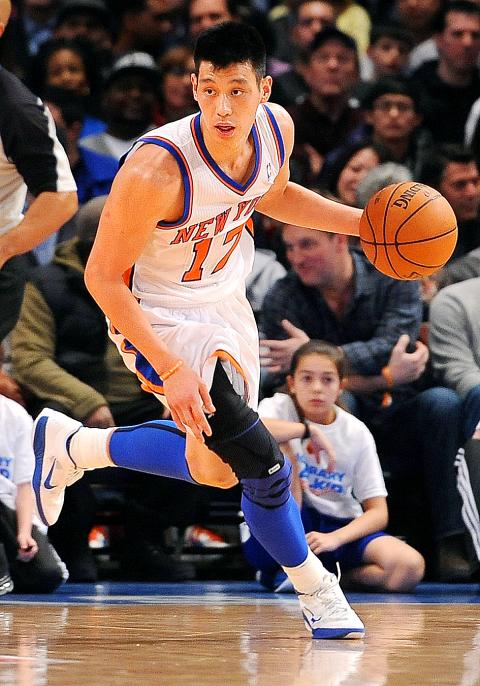 New York Knicks point guard Jeremy Lin brings the ball up court in the 2nd half against the Sacramento Kings at Madison Square Garden in New York on Wednesday.
Photo: EPA
Both of Jeremy Lin's parents were born in Taiwan and hold dual citizenship of the Republic of China (ROC) and the US, he said. Jeremy Lin was born in California and has US citizenship, but he has been offered dual citizenship in the ROC as well by the Ministry of Foreign Affairs, his uncle said.
Lin's uncle said he and Jeremy Lin's father were eighth-generation descendants of immigrants from Fujian Province, China, who moved to Taiwan in 1707. They were part of a large wave of Fujian migration from which most of Taiwan's current residents are descended, the Times wrote.
A senior official in Zhejiang Province, China, suggested over the weekend that Jeremy Lin's ancestral home was there because his maternal grandmother grew up in the province before moving to Taiwan in the late 1940s.
Ministry of Foreign Affairs spokesman James Chang (章計平) yesterday said in response to media inquiries that there was no record of Jeremy Lin ever applying for ROC citizenship.
"We have checked with the Bureau of Consular Affairs. The government has never received an application from Jeremy Lin for ROC citizenship," Chang said.
Even though Jeremy Lin has US citizenship, he is eligible for ROC citizenship because both of his parents retain ROC citizenship and because Taiwan allows dual citizenship, he said.
Chang denied that the ministry had offered Jeremy Lin ROC citizenship, saying it was up to the basketball star to apply for it.
Meanwhile, Jeremy Lin has said he plans to return to Taiwan after the NBA season to take part in a basketball camp in which he helped out last year.
Lin said on Wednesday, after helping lead the New York Knicks to a 100-85 victory over Sacramento, that he was looking forward to his trip to Asia.
"I have a strong passion for the game and a strong passion for Taiwan," Lin said. "Last summer, it was one of the highlights of my summer, so I'm going to do it again."
Knicks games have become an Internet sensation because of Lin, a former Knicks bench-warmer who was given a chance to play and responded with the most points in his first five starts of any NBA player since 1976.
Comments will be moderated. Keep comments relevant to the article. Remarks containing abusive and obscene language, personal attacks of any kind or promotion will be removed and the user banned. Final decision will be at the discretion of the Taipei Times.