2012 ELECTIONS: Key figures speak out to support Tsai
'CONSCIENCELESS': Harvard professor and Yu Chang founder Chen Lan-bo vouched for Tsai Ing-wen and said Taiwanese should be angered by the KMT smear campaign
The Democratic Progressive Party (DPP) yesterday disclosed more information as it reiterated that presidential candidate Tsai Ing-wen (蔡英文) was innocent of alleged illegal involvement in Yu Chang Biologics Co (宇昌生技股份有限公司).
The party also again condemned Council for Economic Planning and Development (CEPD) Minister Christina Liu (劉憶如) for what it said was repeated lying about document forgery.
Liu and the Chinese Nationalist Party (KMT) on Monday accused Tsai of wrongdoing in connection with the biotech start-up while Tsai was vice premier in 2007, backing up the claim with a document which they said was created on March 31, 2007, but was later proved to be produced on Aug. 19, 2007.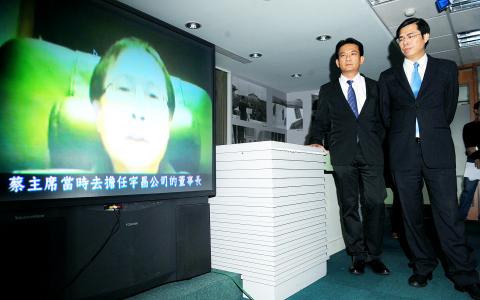 The DPP yesterday showed a teleconference between Harvard professor Chen Lan-bo and its spokesperson Chen Chi-mai, right, in which Chen endorsed Tsai Ing-wen's innocence and said Taiwanese should be angered by the KMT smear campaign.
Photo: Taipei Times
Liu later apologized for "confusing the date" of the document, but maintained her attacks on Tsai.
The DPP yesterday said Liu should answer these questions: "Who forged the document? When was the document fabricated? Why was the date changed to March 31?"
Tsai was still serving as vice premier when TaiMed Group, the predecessor of Yu Chang, held an investor conference on March 31, 2007. She left office in May and became Yu Chang's chairman in September that year.
DPP spokesperson Chuang Ruei-hsiung (莊瑞雄) said Liu should also answer why she mentioned March 31 as a "critical date" five times on Monday and who asked her to repeatedly lie about the forgery.
The "smear campaign" appeared to be an attempt to mislead the public into believing that Tsai was a corrupt official, Chuang said, adding the tactic could result in Tsai being charged with corruption, a felony that comes with a prison term of more than 10 years.
According to the Presidential and Vice Presidential Election and Recall Act (總統副總統選舉罷免法), Tsai's candidacy would be vacated if she is convicted of corruption, Chuang said.
Several key dates have been the most important factor in the controversy, DPP Legislators Tsai Huang-liang (蔡煌瑯) said at a separate press conference yesterday morning.
A group of scientists and corporate leaders — including current Academia Sinica president Wong Chi-huey (翁啟惠), Taiwan Semiconductor Manufacturing Co chairman Morris Chang (張忠謀) and Yulon Group chief executive officer Kenneth Yen (嚴凱泰) — attended a dinner meeting at Tsai Ing-wen's residence in July 2007, he said.
"Tsai [Ing-wen] declined Wong's offer to be Yu Chang's chairman, a fact which Yen — a confidant of President Ma Ying-jeou (馬英九) — could confirm," Tsai Huang-liang said, adding that it also showed Tsai Ing-wen had no intention of heading the company as late as July 2007.
The DPP yesterday afternoon also showed a teleconference between Chen Lan-bo (陳良博), a professor at Harvard University who was one of the founders of Yu Chang, and its spokesperson Chen Chi-mai (陳其邁) recorded on Tuesday, in which Chen endorsed Tsai Ing-wen's innocence.
Chen Lan-bo said the CEPD had fabricated the document and added that the founding group of Yu Chang never considered Tsai Ing-wen as a candidate for the chairmanship before June 2007.
"If it had not been for the initial investment from Tsai's family, I don't think Taiwan Global BioFund (上智生技創投) and President International Development Corp (統一國際開發) would have followed suit," he said.
The forgery and the KMT's attack was "unfair, conscienceless and heartbreaking" and a devastating blow to Taiwan's biotech industry, he added, saying "Taiwanese people are neither stupid nor cowardly. They should be angry [at the smear campaign]."
At a separate setting yesterday, KMT lawmakers continued their attacks on Tsai Ing-wen and demanded that she explain her connections with the state-owned National Development Fund (NDF) and the TaiMed Group.
Additional reporting by Shih Hsiu-chuan
Comments will be moderated. Keep comments relevant to the article. Remarks containing abusive and obscene language, personal attacks of any kind or promotion will be removed and the user banned. Final decision will be at the discretion of the Taipei Times.