Bombings shake Kirkuk, Fallujah
UNRELENTING VIOLENCE More than 24 people were killed and scores wounded in a variety of suicide and roadside bombings and mortar attacks in the two cities
A series of five bomb attacks -- including two suicide car bombings -- in Kirkuk yesterday left more than 20 people dead and nearly 80 wounded, police said.
Meanwhile, a series of near simultaneous mortar and bomb attacks in Fallujah killed four people and wounded 10 in the center of the city and led to a vehicle curfew throughout the city.
A suicide truck bomb exploded in the morning in the center of the northern city of Kirkuk, 290km north of Baghdad, killing 18 and wounding 55, said police Brigadier Sarhat Qadir. A few hours later, a suicide car bomb rammed into a joint US-Iraqi army patrol in the south of the city, killing at least three bystanders and wounding eight others, he said.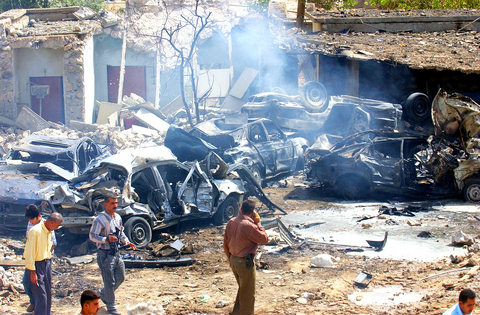 Iraqis view burned and damaged vehicles after a suicide car bomb attack in Kirkuk yesterday. A series of five bomb attacks left more than 20 people dead and nearly 80 wounded, police said.
PHOTO: AP
Two roadside bombs later targeted police patrols in separate parts of the city. One killed two civilians and wounded four, while the second wounded three civilians, Qadir said.
Shortly afterward, a parked car bomb exploded near the house of a Waasif al-Obeidi, a Sunni sheik, killing one of his bodyguards and wounding eight people -- two guards and six bystanders, Qadir said.
Al-Obeidi, the deputy head of the al-Obeidi tribe, was not in his house at the time.
In the truck suicide bombing, a gunman in the truck opened fire on civilians before the vehicle exploded near the city's criminal court and the headquarters of two main Kurdish political parties, the Kurdistan Democratic Party and the Patriotic Union of Kurdistan, Qadir said.
The Patriotic Union of Kurdistan is run by Iraq's President Jalal Talabani, while the president of Kurdistan, Massoud Barzani, runs the Kurdistan Democratic Party.
Meanwhile, a roadside bomb detonated in the center of Fallujah, 65km west of Baghdad, followed a few minutes later by a car bomb attack and a blast from an explosives-rigged motorcycle in separate areas of the city. All three attacks targeted police patrols, police Lieutenant Mohammed Ismail said.
The attacks killed a total of four people, including two policemen, and wounded 10 others, including four policemen, he said. He would not provide details of which attack the casualties resulted from.
Shortly afterward, a mortar round hit the area of a US and Iraqi police base in the center of the city, and clashes erupted between gunmen and police nearby. Another mortar fell on an Iraqi army base in western Fallujah but did not cause any casualties, Ismail said.
Meanwhile, the bullet-riddled bodies of four unidentified men were found in separate neighborhoods in east Baghdad yesterday. All were blindfolded and had their hands and legs tied, the police said.
Comments will be moderated. Keep comments relevant to the article. Remarks containing abusive and obscene language, personal attacks of any kind or promotion will be removed and the user banned. Final decision will be at the discretion of the Taipei Times.