Talk to us and leave HK alone: Chen
MUTUAL TRUST The president had both welcoming and caustic words for China, suggesting that economic talks represented the way forward in cross-strait relations
Negotiations on economic matters could facilitate mutual trust in the cross-strait relationship, which could then help create favorable conditions for political reconciliation, President Chen Shui-bian (陳水扁) said yesterday.
"Although a breakthrough in cross-strait political relations will be hard to obtain in the short term, both sides can still bring about improvements in relation to economic matters -- such as direct cargo links, opening up Taiwan's tourism market to Chinese visitors and cooperation in the fishery and agricultural industries," Chen said.
"That way, through government negotiations and expansion of exchanges, mutual trust can be cultivated, as can the conditions for eventual political reconciliation," he said.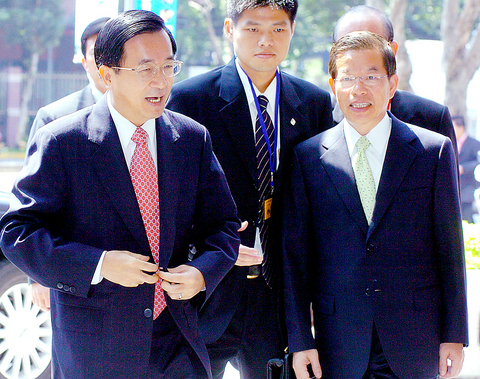 President Chen Shui-bian, left, and Premier Frank Hsieh, right, pose during the opening ceremony for the Executive Yuan's Seminar on National Development Studies at the Public Service Human Resources Development Center in Taipei yesterday.
PHOTO: LIAO CHEN-HUI, TAIPEI TIMES
But Chen also had harsh words for Beijing, criticizing it for interfering in Hong Kong's affairs.
The president's earlier comments were part of a speech to participants attending the opening ceremony for the Executive Yuan's training program.
While affirming the Democratic Progressive Party (DPP) administration's "willingness" to seek dialogue and rapprochement with China, Chen stressed that "the government will never change its pragmatic and rational policy upholding Taiwan's national sovereignty and insisting on Taiwan's national identity."
Chen said that exchanges over the past 10 years between people on both sides of the Taiwan Strait had developed into "extremely close ties which hold great value and significance in the development of bilateral cross-strait relations."
Chen also said that he hoped efforts would be made to resume cross-strait dialogue, "because only through dialogue can both sides shorten the distance between them and lay the foundations for building mutual confidence."
In addition to insisting on cross-strait rapprochement, Chen said his administration would continue to insist on constitutional reform, fairness and justice.
"This is what the people have been expecting, and this will enable our next generation to live in a fair and just Taiwan where social, economic, judicial, gender and international justice will prevail," Chen said.
He added that the government would not neglect the less privileged while generating economic development and international competitiveness.
But at another event later in the day, Chen lashed out at Beijing for encroaching on Hong Kong's autonomy since its return to China.
"Over the past eight years, Hong Kong has been one of the few regions in the world where personal freedom, democracy and law and order have suffered serious setbacks ... All peace and democracy lovers in the world should take careful note of this lesson," Chen said.
This year marks the eighth year of China's rule of the former British territory.
Chen made the comments while meeting a group of Hong Kong-based Taiwan Commerce and Industry Association rep-resentatives at the Presidential Office.
In addition, the president told his visitors that Beijing should put more emphasis on the spirit of "peace and freedom" in its slogan for the 2008 Beijing Olympics.
Beijing's Olympics organizing committee announced on Sunday that the slogan for the 2008 Summer Olympic Games is "One world, one dream." The slogan was selected to "embody the common aspirations of the 1.3 billion Chinese people in establishing a world of peace and a better future," according to the committee.
"China looks forward to joining the ranks of world powers through hosting the 2008 Olympic Games. However, a big power may not necessarily win respect and acclaim in the international community," Chen said.
"If Beijing changes its slogan to `One peaceful world, one dream of freedom,' then it would receive even more world recognition and esteem," Chen said.
He added that this revision would better embody the meaning and significance of the Olympic Games.
Comments will be moderated. Keep comments relevant to the article. Remarks containing abusive and obscene language, personal attacks of any kind or promotion will be removed and the user banned. Final decision will be at the discretion of the Taipei Times.