Lu's surprise flight to Jakarta backfires
CLOSED DOOR Despite denying having any such plans, the vice president flew to Jakarta yesterday but Beijing's political muscle kept her from being admitted to the Indonesian capital. She then flew to Bali instead
Vice President Annette Lu (呂秀蓮) flew to the popular Indonesian resort island of Bali late yesterday afternoon after being denied entry to the city of Jakarta, amid stark opposition from Beijing.
Lu's China Airlines flight landed at Jakarta's Soekarno-Hatta international airport at 1pm local time yesterday even as government officials continued to deny that the vice president was on a clandestine trip to Indonesia.
But China's strong opposition to her Jakarta visit disrupted Lu's plan to visit the Indonesian capital for two days before heading to Bali and possibly Australia, sources said.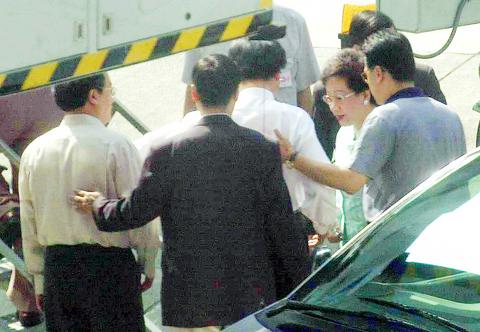 Vice President Annette Lu is flanked by aides as she boards a plane yesterday morning for Jakarta, where she was denied entry and had to fly on to Bali.
PHOTO: TONY YAO, TAIPEI TIMES
"To my knowledge, Chinese officials lodged a stark protest to at least three Indonesian ministers [in regards to Lu's visit]," said Lin Shui-chi (林水集), Taiwan's top representative to Jakarta.
After spending two hours in the VIP lounge at Jakarta's international airport, Lu flew on to the resort island of Bali.
Vice Minister of Foreign Affairs Michael Kau (高英茂) said Lu's visit to Bali shows the vice president's interest in studying Bali's success in promoting itself as a world famous tourist site.
"I don't consider it a setback," Kau said of what happened in Jakarta. "This arrangement [of flying to Bali] is one of our strategic options," he said.
Chinese Foreign Ministry Spokesman Kong Quan (孔泉) said yesterday that Beijing had made "stern representations" to the Indonesian government, saying it opposed any official contact between Jakarta and Taipei.
Kong also warned Indonesia not to have any dealings with Lu lest it run the risk of jeopardizing Beijing-Jakarta ties.
In a press release yesterday the Indonesian foreign ministry stressed that the government had no advance knowledge of Lu's arrival in Jakarta, while reiterating the country's long-standing "one China" policy.
"The government of Indonesia has not in any way arranged for the visit of Lu Hsiu-lien, certainly not in her supposed capacity as vice president of an entity that names itself Republic of China," said a statement issued by the Indonesian foreign ministry.
The statement also said that the Indonesian government had not arranged the visit and that no officials would meet with Lu while she visits Bali as a private citizen.
"We have no plans for a meeting between President Megawati Sukarnoputri and the Taiwanese vice president, either in an official or unofficial capacity,'' Indonesian presidential spokesman Garibaldi Sudjatmiko said yesterday.
Some Taiwanese officials said it would be unlikely that Lu would have the opportunity to go on to Australia. Lu reportedly wanted to make the trip for medical treatment for a bad back.
"China has recently offered Australia a multibillion contract for purchasing liquefied natural gas from Australia for over the next 20 years, the largest single order Australia has secured in recent years," said a foreign ministry official, who declined to be named.
Chang Jung-feng (張榮豐), deputy secretary-general of the National Security Council, said that "Taiwan is not a normal country to a certain extent," as it faces constant constraints from China with regards to the country's external relations.
"To avoid China's moves to suppress us, we need to do everything we can to conceal many of our diplomatic efforts," Chang said.
Presidential Office Spokesman James Huang (黃志芳) said the office could not offer any briefings on Lu's trip for the time being in view of pressure from Beijing.
Comments will be moderated. Keep comments relevant to the article. Remarks containing abusive and obscene language, personal attacks of any kind or promotion will be removed and the user banned. Final decision will be at the discretion of the Taipei Times.