Unsolved murder leads to prestigious art exhibition
It's a bizarre story, even for the art world.
In 1986, a promising 25-year-old Belgian artist named Stephane Mandelbaum was ever so slightly adrift. He'd left home and settled in a Jewish neighborhood in Brussels. Although he'd grown up in a secular household — his father was the son of Polish Jews who fled the Nazis, his mother was Armenian — he'd become preoccupied with Judaism as a teenager and had begun to teach himself Yiddish.
As he struggled to make it as an artist, he began to pick up work for what seems to have been Brussels' criminal underworld. His first known job was a theft of netsuke figurines, a type of Japanese miniature sculpture. After that, Mandelbaum was recruited to steal an Amedeo Modigliani painting from a wealthy woman in the suburbs.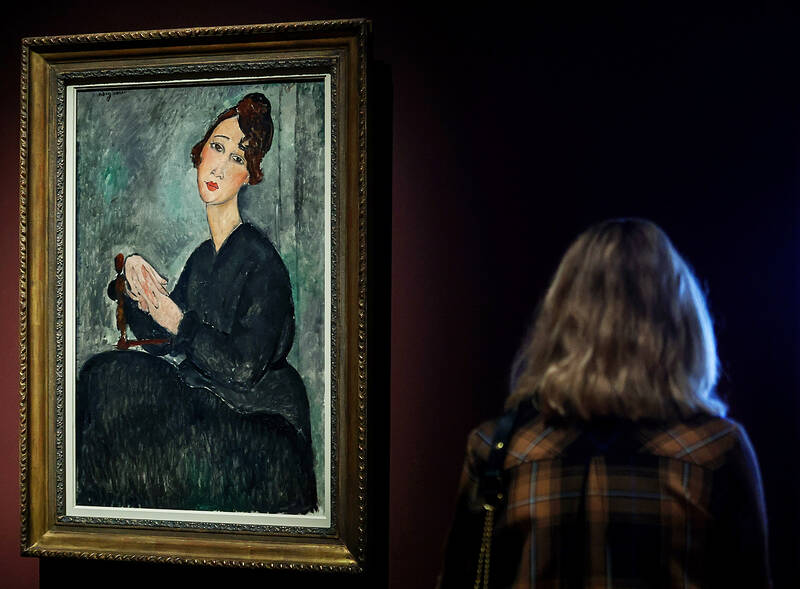 Amedeo Modigliani, Seated woman with black dress. A story, perhaps apocryphal, says that Belgian artist Stephane Mandelbaum was recruited by gangsters to steal a Modigliani, but when he discovered that the painting was a fake, it would lead to his death.
Photo: EPA-EFE
Incredibly, he managed to pull off the heist, only to discover the stolen painting was a fake. In a sequence of events that's still debated (the phrase "mysterious circumstances" is often used), Mandelbaum seems to have insisted on being paid for his efforts, at which point he was shot in the head, acid was poured over his face, and his corpse was dumped in a desolate section of the city. No one was ever charged.
Mandelbaum wasn't a famous artist during his lifetime, but his death briefly occupied the French and Belgian headlines. It took another 30 years for anyone to start seriously paying attention to his art.
Now, after a small show of his work at the Pompidou in Paris in 2019 and a subsequent exhibition at the Museum of Modern Art in Frankfurt (MMK) last year, Mandelbaum's work will be introduced in the US at New York's Drawing Center in SoHo. (The show will be a modified version of the MMK's.) Stephane Mandelbaum runs through Feb. 18.
"At first, I really wanted the exhibition to be additive and provocative," says Laura Hoptman, the Drawing Center's executive director, as she walks through the show. "Additive, because this is a completely unknown voice we're adding to the art discussion," she continues, "but I also wanted to broaden the notion of history, memory, trauma and identity."
NAZI PORTRAITS
There are roughly 60 works on paper in the show, along with a single painting. Sixteen pieces are large — about 5 feet tall — and they run the gamut from portraits of friends and family members to exquisite albeit defaced renderings of the Nazis Joseph Goebbels and Ernst Rohm. Many of the works include lewd elements. "They could be considered juvenilia in a way," Hoptman says, "but who makes these 5-foot-tall ginormous drawings of Nazis if you're not trying to do something in a public way? There's a tremendous maturity as well as certain adolescent qualities."
In between are pictures of Mandelbaum's heroes (the painter Francis Bacon, the poet Arthur Rimbaud, the filmmakers Rainer Werner Fassbinder and Pier Pasolini) and a few uncharitable self-portraits.
Over the years, Mandelbaum's story flared up in the French-speaking public interest, then subsided. There was a documentary done by a friend released in 1995, and a novel, Mandelbaum ou le reve d'Auschwitz (Mandelbaum or the Dream of Auschwitz) by Gilles Sebhan, came out in 2014.
There have also been a few monographs of his work in French. "It's a lot, actually, for a 25-year-old artist who had a short career," Hoptman says. "It's astonishingly a lot. But if you trace back to the people who were doing it, it usually goes back to either the family, his friends during the time or the Zlotowski gallery" in Paris, which represents his estate.
After the Pompidou exhibition, Mandelbaum's reputation began to grow. The Zlotowski gallery has brought several of his pieces to art fairs, and a flurry of his work has begun to show up at auction, though the results have been mixed. The most recent piece up for sale — a drawing at a small auction house in Brussels estimated at €4,000 to €6,000 (US$4,300 to US$6,400) — failed to find a buyer. But in May, a pen on paper drawing on notebook paper sold at a different Brussels auction house for €18,500, well above its high estimate of €5,000.
It's Mandelbaum's raw talent combined with his conflicted relationship with his Jewish heritage that gives the New York show a contemporary topicality, says Hoptman.
"Maybe there will be an excess of sympathy, in a way, for his struggles," she says. "Or maybe it will engender some sort of righteous anger. But it certainly is about grappling with who you are, and who you want to be."
Comments will be moderated. Keep comments relevant to the article. Remarks containing abusive and obscene language, personal attacks of any kind or promotion will be removed and the user banned. Final decision will be at the discretion of the Taipei Times.