China's gateway to North Korea waits in vain for border opening
Stranded North Korean workers and merchants who rely on cross-border trade see scant signs that the frontier with China will reopen soon, despite recent trips abroad by leader Kim Jong Un and the country's athletes
Stranded North Korean workers and merchants who rely on cross-border trade see scant signs that the frontier with China will reopen soon, despite recent trips abroad by leader Kim Jong-Un and the country's athletes.
The bustling northeastern Chinese city of Dandong has long offered a rare window into isolated North Korea and its trade with Beijing, its largest economic partner and benefactor.
But commerce ground to a halt in January 2020 when North Korea slammed its borders shut to insulate it from COVID-19 — marooning thousands of its citizens overseas.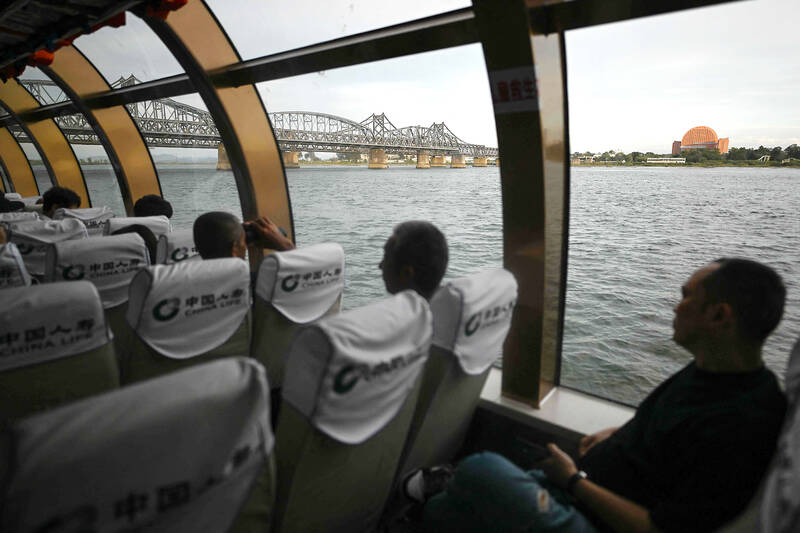 Chinese tourists on Sept. 20 look at the North Korean border on the Yalu river in the Chinese border town of Dandong, in China's northeastern Liaoning province.
Photo: AFP
Three years on, many have still not returned home.
In Dandong in September, diners at North Korean restaurants tucked into fresh seafood and nodded along to schmaltzy song-and-dance performances.
The entertainers — young women sent to work as waitresses before the pandemic — said they missed home but had not been told when they could return.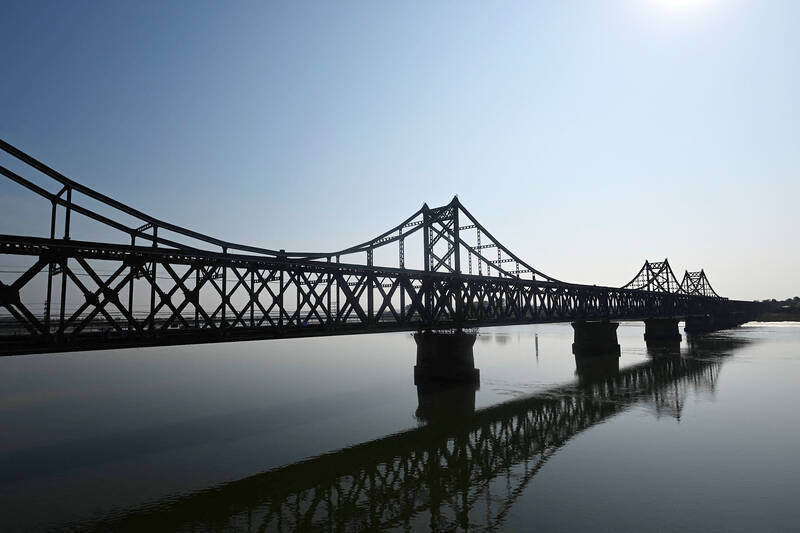 A general view on Sept. 22 of the 'Friendship Bridge' that connects the North Korean town of Sinuiju and the Chinese city of Dandong, in China's northeastern Liaoning province.
Photo: AFP
"Do you happen to know?" smiled a waitress at an eatery specializing in North Korean craft ale.
Two servers said they had come on "internships."
UN sanctions prohibit North Korean laborers from working overseas on the grounds that they generate funds for Pyongyang's nuclear weapons program.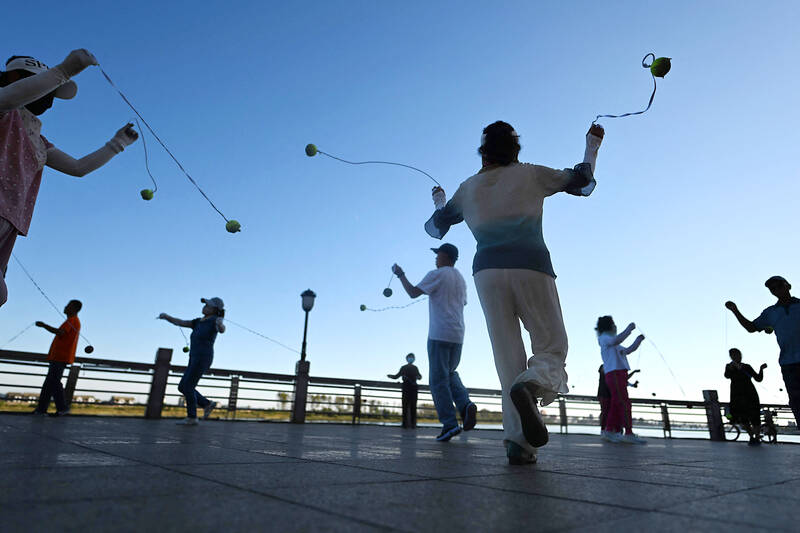 People on Sept. 21 exercise in the border city of Dandong, in China's northeastern Liaoning province.
Photo: AFP
But journalists have identified at least 10 restaurants and hotels in three Chinese cities staffed by North Koreans since the start of the year.
Western experts say such workers have virtually no control over their postings, endure miserable living and labor conditions, and have much of their wages confiscated by the North Korean state.
The diners in Dandong were forbidden from filming or photographing the performances.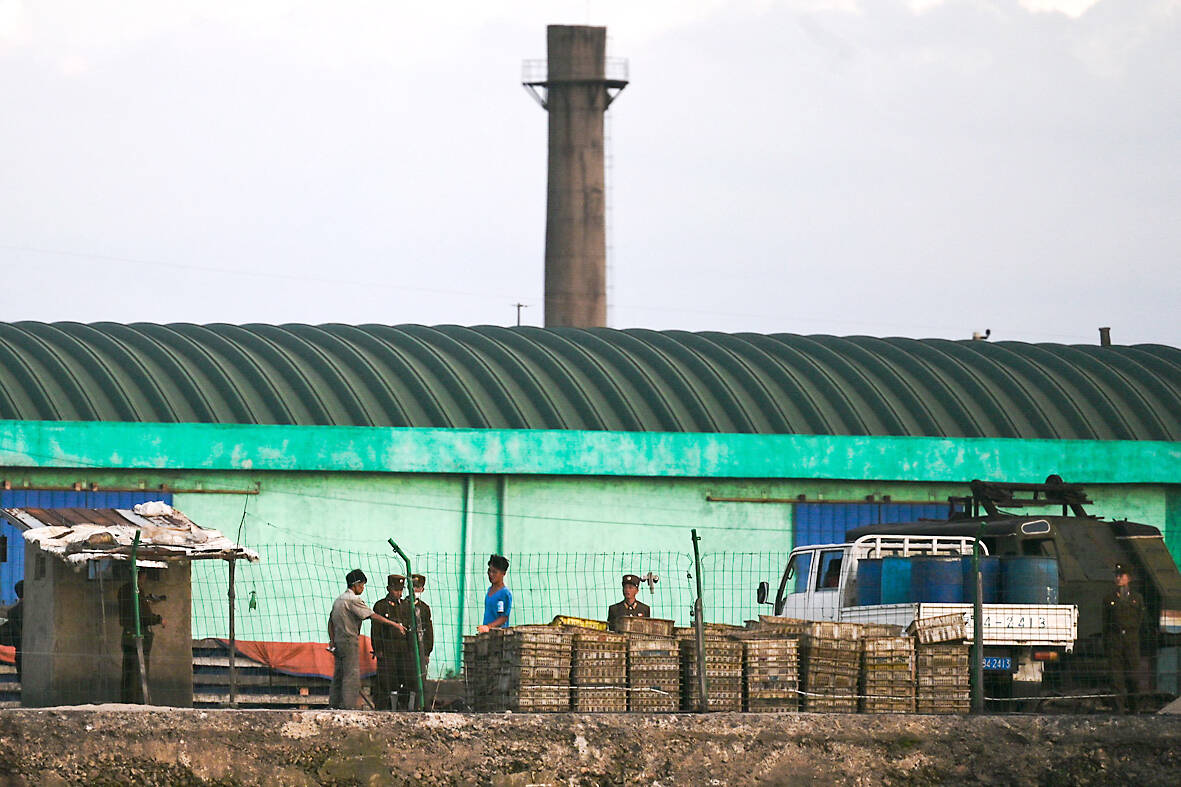 Soldiers and civilians on Sept. 20 work on a dock in the North Korean town of Sinuiju as seen from the border city of Dandong, in China's northeastern Liaoning province.
Photo: AFP
Restaurant patrons included at least eight North Korean men, some with red badges bearing their leaders' portraits pinned to their chests.
One replied in fluent English that he lived in Dandong, but shrugged and walked out when asked about the border reopening.
'STUCK WAITING'
North Korean athletes are now attending overseas competitions and leader Kim made a rare foreign trip to Russia last month.
But traders in Dandong said they have not seen that openness translate on the ground.
"We have no idea when they're going to open up," a Chinese cross-border trader said in a darkened office near the river separating the two countries.
"We're stuck waiting, with nothing to do except sit around and drink," another merchant said.
Nearby, dozens of import-export shops stood shuttered or derelict.
Beijing confirmed last year that rail freight with North Korea had resumed.
Reporters in Dandong this month saw a train clank into the North Korean city of Sinuiju at around 7:40am, returning about 45 minutes later.
China's volume of trade with North Korea has ticked up recently but remains about 30 percent lower than the month before the border closure, according to calculations based on figures from Beijing's General Administration of Customs.
But traders said restrictions on the movement of people and goods continued to hammer commerce.
"I haven't done any business from this in over three years," said an exporter specializing in household electronics.
He said he had pivoted to making clothing for domestic customers after trade and communications with North Korean clients dried up.
His income had fallen by around half compared to before the pandemic.
Traders declined to be identified in order to freely discuss the politically sensitive topic of dealing with North Korea.
Dandong's customs authority declined to comment on the current state of trade.
WIGS, SEAFOOD AND GINSENG
Doing business with North Korea is fraught, with Pyongyang's trade in everything from coal and oil to seafood and sporting equipment restricted.
Traders said it had still been possible to conduct limited commerce from China to North Korea in some medical equipment and certain types of clothing.
But the sweeping nature of the sanctions has pushed some into unorthodox ventures.
One merchant advertising wigs and fake eyelashes said he sent raw materials for processing in North Korea before reimporting finished hairpieces for sale.
Human rights groups and defectors say the hair market employs prisoners from the country's detention centers.
Other traders hinted that certain types of under-the-table commerce were also possible.
One at a Dandong night market touted North Korean seafood, saying Chinese fishermen often raided their waters for "fresher, higher-quality" produce.
Another shopkeeper said he had "channels" for importing the ginseng lining his shelves, "but what those channels are, I won't say."
A brighter spot appears to be tourism — restricted to the Chinese side for now.
Several Chinese travel agents in Dandong said domestic tourists were finally rebounding after years of virus curbs crippled internal travel.
Two tour operators geared towards Western visitors said they had not received an official notice but were quietly confident about a reopening next year.
"There are positive signs," said Simon Cockerell from travel firm Koryo Tours, stipulating that he didn't see a reason to "get over-excited just yet."
Before the pandemic, North Korea welcomed thousands of tourists every year.
On a boat along Dandong's river, around 30 people gazed at Sinuiju's rusty docks, smokestacks and near-empty roads.
A guide declared that North Korean authorities had not allowed most of the city's residents to work near the water since the pandemic for fear of contagion.
"It's just like China in the 1970s or '80s," she told the crowd.
"Very backward."
Comments will be moderated. Keep comments relevant to the article. Remarks containing abusive and obscene language, personal attacks of any kind or promotion will be removed and the user banned. Final decision will be at the discretion of the Taipei Times.