Doom busters: why some things aren't (quite) as bad as we think
Don't worry about an asteroid hitting earth, young people avoiding sex and AI ruining our lives — experts debunk common misconceptions
We live in worrying times. From the climate crisis to the culture wars, there is always something to keep us fretting. But sometimes the facts tell a different story — a more hopeful one. Here, experts provide some optimism and find many reasons to be a little more cheerful
IS AI A FORCE FOR EVIL?
Kriti Sharma, a chief product officer for legal technology at Thomson Reuters and the founder of AI for Good, says that her project is about building AI in the right way and using it for social good.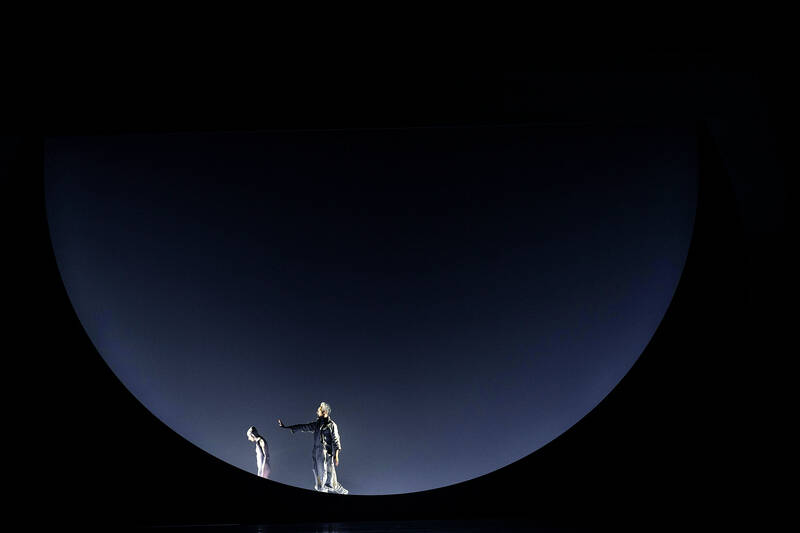 Members of the Les Ballets de Monte-Carlo, the ballet company of the Opera of Monte Carlo, last month perform the shows Coppel-iA at Liceu Theater in Barcelona, Spain. Coppel-iA is a futurist version of the dance classic Coppelia which seeks to reflect over the impact of artificial intelligence in human relations.
Photo: EPA
"We're embedding our philosophy into organizations the world over, with more backing from business leaders, boardrooms, regulators and policymakers than ever before. We've learned there are good business reasons for building this technology safely — if you want people to adopt it and use it, they need to be able to trust it," she says.
Sharma says that her organization has done a lot of work around helping domestic abuse victims in South Africa, with a chatbot called rAInbow. It was designed to help people understand their legal rights. It can be quite overwhelming to take that first step to getting help and trusted information if you don't know where to begin.
"I think it's important to acknowledge the risks this technology brings, but there are also tremendous positive opportunities," she says. "I spend a lot of my time building AI that helps improve the justice system and helps people understand their legal rights. With this technology, we can produce legal drafts in minutes that used to take days. Courts can function better and faster, so people can get their hearing dates and we can make the system more efficient."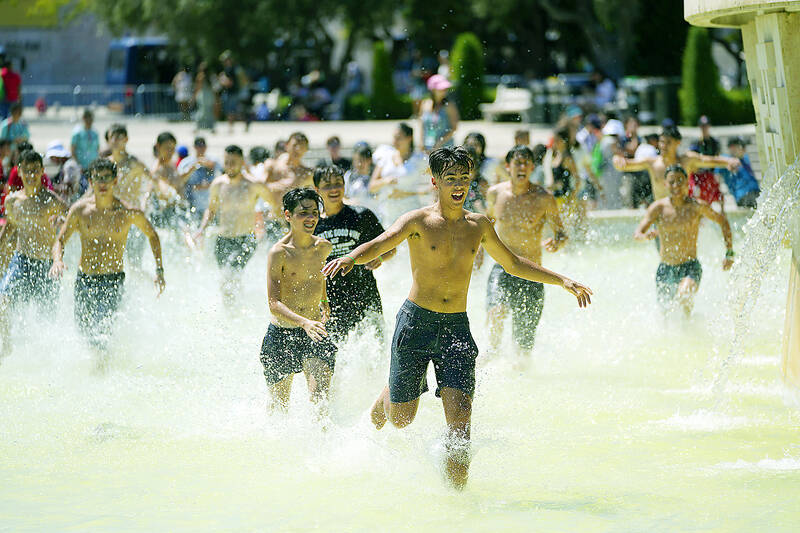 Generation Z are set to be the most diverse — and best educated — generation yet: expert.
Photo: AP
What excites Sharma is that the new generation of technologists don't have to her my background.
"I went to geek school after geek school, but the newest programming language is human language. This means we can bring in people from many different backgrounds to build it. If we do this right, we will be opening up the profile of people who work in technology and AI."
CLIMATE OPTIMISM REALISTIC?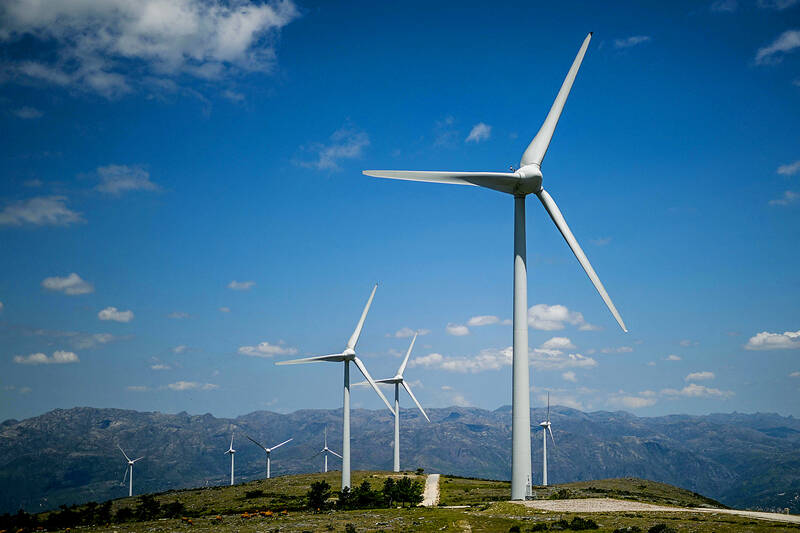 A wind farm is pictured last month at Vieira do Minho, north of Portugal.
Photo: AFP
Marcy Franck, author of The Climate Optimist newsletter from The Center for Climate, Health, and the Global Environment at Harvard University, talks about a saying that's often bandied around: Climate doom is the new climate denial.
"Essentially, with climate denial we don't take action because we don't think it's a problem, but with climate doom we don't take action because we think it's a problem we can't solve," she says.
When they published their first issue of The Climate Optimist in early 2019, America had a government that was not exactly prioritizing climate action.
"It seemed as if every other day we saw yet another news story that rolled back another rule or regulation put in place to tackle climate change. But the world has made significant progress since then. Last year, worldwide spending on carbon-free energy passed US$1trillion. That means, for the first time ever, we spent as much on clean energy as we did on fossil fuels. We've now entered a 'new industrial age' of clean energy — by 2024, renewables will supply a quarter of US electricity. By 2030, it's projected to supply 80-90 percent. And carbon emissions are slowly bending in the right direction: in 2022 global carbon pollution related to energy rose by under 1 percent, less than originally feared."
Climate optimism isn't about denying what we can see or ignoring our grief for what we've lost, she says. It's understanding the fact that we know how to prevent things from getting worse, that we are making real progress.
"There's also been a shift in how we see climate action: it's not just about stemming climate change, it's about making our lives better. Climate action is lowering our energy costs, advancing equity, creating jobs, cleaning our air and improving our health. When you take a fossil-fuel power plant offline, the pollution it produces goes away, too. You see immediate health benefits. And these aren't small benefits: we see declines in the number of asthma flare-ups, heart attacks, strokes and premature births."
YOUNG PEOPLE DON'T WANT SEX
In the UK as well as the US, Sweden, Japan and other countries, there has been an overall decline in partnered sexual activities, with adolescents specifically delaying partnered sex. Should we be concerned about this decline?
"Not necessarily," says Debby Herbenick, a professor of Public Health at Indiana University and the author of many books, including Sex Made Easy and Because It Feels Good: A Woman's Guide to Sexual Pleasure and Satisfaction.
"Fewer teenagers and young adults are drinking alcohol, so at least some of the decline may be attributed to less substance use. Also, there's likely to have been some small but meaningful percentage of people who feel more confident in self-identifying as asexual and/or choosing to abstain," Herbenick says.
Conversations around consent on campuses have also become more mainstream, meaning young people feel empowered to set boundaries. And anyway, researchers believe that happiness with your sex life peaks at once a week.
MY BEST DAYS ARE BEHIND ME
By the time we hit our mid-20s, we're often led to believe that the best bits of our lives are firmly in the past. In fact, the data here is entirely inconclusive. One study last year suggests that our early-30s see us at our happiest; another reckons from our mid-50s we're at our smiliest.
Yes, there's some research to suggest the 40s can be the most challenging decade for positive attitudes. Although that, too, is far from conclusive; there is evidence to show your mental health is — in general terms — on a constant upward trend. So, look on the bright side: the statistics show that your happiest days lie ahead and the most fulfilled among us are in their late 70s, 80s and 90s.
KIDS AND THEIR DEVICES
Too much solo screen time is a bad idea, but television can prove a useful tool for cognitive development. A University of Portsmouth study found that focused, supervised viewing of appropriate-age content can be beneficial for kids, particularly when an adult is on-hand to discuss what's happening and answer questions. Just think quality over quantity.
Always shoving on the subtitles, meanwhile, can also be hugely beneficial. In a study of 2,350 children, 34 percent became good readers with schooling alone. When exposed to 30 minutes a week of subtitled broadcasting (in this case, Hindi film songs), that proportion more than doubled to 70 percent.
Meanwhile, children watching foreign-language films with subtitles have been shown to have incidentally improved both their proficiency and vocabulary.
WE LIVE IN ECHO CHAMBERS
There's been hysteria for a while now about the massive growth of social media, which has seen us retreating into filter bubbles and echo chambers. As a result we only see and hear ideas that we self-select, which cuts us off from other opinions and perspectives. But Amy Ross Arguedas of Oxford University's Reuters Institute for the Study of Journalism, says this simply isn't backed up by evidence.
"Contrary to much of the public discourse on the topic, empirical evidence has quite consistently shown that politically partisan online echo chambers are much less widespread than is commonly assumed," she explains, "typically it's in the lower single digits. For example, in the UK, one survey study found that the proportion estimated to be in a left-leaning echo chamber was around 2 percent and the proportion in a right-leaning echo chamber was around 5 percent."
CONSPIRACY THEORIES ON THE RISE?
Joseph Uscinski, a professor at the University of Miami and author of American Conspiracy Theories, says that most Americans think more people believe conspiracy theories now than in the past.
"We call it the 'post-truth' world; we think we're living in an 'infodemic,'" he says. But are conspiracy beliefs actually on the rise in the Internet age? To find out, we went to the Roper Center for Public Opinion at Cornell University, which is the biggest database of surveys taken in the past. We tried to identify all the surveys that had asked about a conspiracy theory to a national sample. We then re-polled them in 2021 to compare the data. We found conspiracy theories have not risen."
Uscinski says there are good reasons for this – people don't just believe anything they see. They are resistant to ideas that don't tell them what they already believe. Exposure to conspiracy theories doesn't do much to convert them.
It's also not the case that everyone who believes a conspiracy theory is taking to the streets and killing people. Most QAnon believers, for example, do not commit acts of violence. Most people who believe that the US election was rigged did not riot on Jan. 6, 2021.
"I don't want to say, 'Oh, there's nothing to see here.' Misinformation is bad. I'd prefer people's beliefs to be tethered to the truth. But are things getting worse? No," he says.
THE INTERNET IS ROTTING MY BRAIN
There's no denying that digital technology has the potential to adversely affect adult users. Over-exposure can affect our sleeping patterns and cause addictions, with impacts on younger users particularly profound. But a recent study from medical experts at the David Geffen School of Medicine at the University of California found a string of benefits in the use of digital tech, especially for older adults: online searching allowed for neural activation of circuits controlling decision-making and complex reasoning; video-games supported multitasking, reaction times and memory; online communities can also do vast amounts of good for our mental health.
KIDS TODAY ARE SNOWFLAKES
You've heard the gripe: Gen Z are soft and mollycoddled snowflakes unwilling and unable to grow up. Not so, says Stanford University anthropologist Roberta R Katz, co-author of Gen Z, Explained: The Art of Living in a Digital Age.
"Older people," she says, "often evaluate young people based on their own experiences, without taking into consideration how much life has changed since the introduction of the Internet."
In the US, they're set to be the most diverse — and best educated — generation yet.
"Our study found that Gen Zers are actually quite hardworking and pragmatic — far from being snowflakes. When we started our research, we were quite confused by and, I'll admit, even a little negative about today's young people. But after talking in depth with well over 100 of them in the US and Britain, and then surveying 2,000 more Gen Zers in the two countries, we could see that this is a remarkable generation."
WILL AN ANSTEROID HIT EARTH?
OK, yes, there are probably hundreds of thousands of asteroids floating around in the sky up above us all with the devastating potential to smash into our planet and bring an end to life on Earth as we know it.
According to the European Space Agency, based in Paris since 1975, near-Earth asteroids make up about a third of the roughly one million asteroids which have so far been observed in the solar system to date. But you can relax. There's really no need to panic. Currently, none of these near-Earth asteroids are thought to be a concern to the welfare of this planet for at least the next 100 years or so. And the scientists really do know their stuff: on April 13, 2029, for instance, Nasa predicts that the 340-metre wide asteroid Apophis will pass within about 20,000 miles of the Earth's surface — close enough to be clearly visible in certain parts of the sky — but it will cause no harm. We're in the clear when it's due to reappear in 2036 and 2068, too. In fact, the most common asteroids are also the smallest and have little effect, except for creating shooting stars as they beautifully burn up in the night sky. Lie back and enjoy the spectacle
Comments will be moderated. Keep comments relevant to the article. Remarks containing abusive and obscene language, personal attacks of any kind or promotion will be removed and the user banned. Final decision will be at the discretion of the Taipei Times.