Viral disease killing felines on 'cat island'
A sickly ginger kitten named Bebe is pulled out of a cat carrier at a veterinary clinic in the Cypriot capital, Nicosia.
The six-month-old is suffering from a strain of feline coronavirus that is wreaking havoc on the prolific cat population of Cyprus.
Cats are everywhere on the eastern Mediterranean island, home to the earliest evidence of the animal's domestication and known by some as the "island of cats."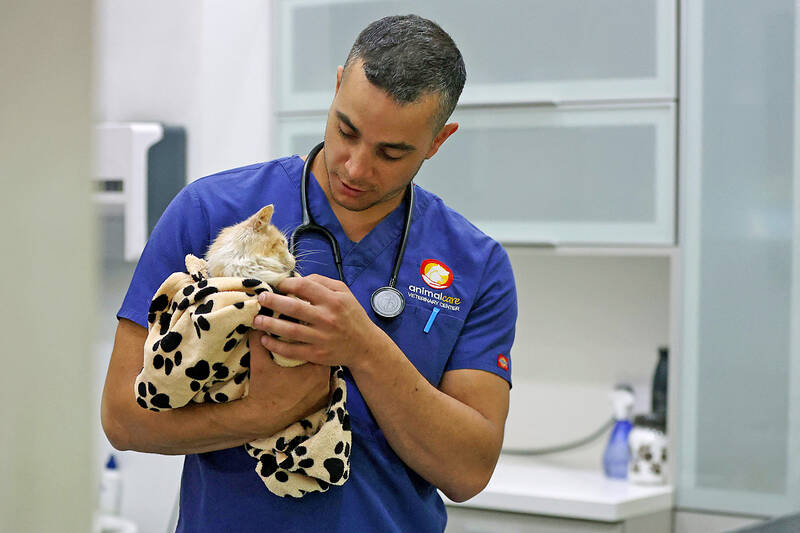 Veterinarian Kostis Larkou last month tends to a cat suffering from Feline Infectious Peritonitis (FIP), at clinic in Nicosia.
Photo: AFP
Many of the island's felines are strays. They wander at will into people's gardens, sit expectantly beside restaurant diners in hopes of a tasty morsel and loiter near garbage bins.
Feline infectious peritonitis (FIP), which is not transmittable to humans, has rapidly spread across Cyprus in recent months, being "highly contagious" among cats, veterinarian Kostis Larkou said as he gently examined the visibly disoriented Bebe.
Animal advocates say the number of cats dying from disease is significantly higher than the 107 cases of FIP officially reported by the agriculture ministry in the southern part of the island.
"We have lost 300,000 cats since January" from the virus, said Dinos Ayiomamitis, head of Cats PAWS Cyprus and vice-president of Cyprus Voice for Animals.
Cyprus has been split since a 1974 Turkish invasion in response to a Greek-sponsored coup. The self-proclaimed Turkish Republic of Northern Cyprus, which covers the northern third of the island, is recognised only by Ankara.
But cats on both sides of the UN-patrolled buffer zone are dying from the illness.
Experts say the island's cat population is equal to or even exceeds the human population of a little more than one million.
In the south, Ayiomamitis estimates that a third of the cats have succumbed to the virus. Cats with FIP have symptoms including fever, abdominal swelling, weakness and sometimes even aggressiveness.
But with so many stray cats, the contagion has proven difficult to diagnose and document.
ANCIENT CAT HISTORY
Cypriots have a long and intertwined history with their furry friends.
Legend has it that a Roman empress, Helena, first brought cats to Cyprus to do away with poisonous snakes about 1,700 years ago.
But archaeological evidence of cats' domestication on the island dates back further than anywhere else in the world — to 9,500 years ago at the Neolithic village of Shillourokambos, where the remains of a cat and a human were found deliberately buried together.
That bond between feline and human has continued through the millennia, leaving animal lovers like Ayiomamitis taking care of the island's cats today.
He has fears, though, for the roughly 60 cats he has been feeding at a cemetery in the capital for a quarter of a century.
"The colony is doing well, but we are worried because if one is infected, the others will be too," says the retiree, 70, as cats scampered up marble tombstones.
Several people who feed stray cats said that many of their regulars are disappearing, and very few corpses are found, noting that when cats are sick, they often self-isolate and die alone.
An outbreak is suspected to be also spreading across cat populations in nearby Lebanon, Israel and Turkey, but in the absence of studies, that cannot be confirmed, said Demetris Epaminondas, vice president of the Pancyprian Veterinary Association.
To contain the spread, two treatment options have been considered. One is molnupiravir, an anti-COVID pill which officials say could not be authorised for use on animals in Cyprus.
Another antiviral tablet, GS-441524, chemically similar to the COVID-19 treatment remdesivir, is approved for animal use in Britain and for importation to Cyprus, with restrictions.
But its cost, at 3,000 to 7,000 euros (about US$3,300-US$7,700) per cat, is prohibitive, and there is no supply in Cyprus.
BLACK MARKET
For weeks, Epaminondas has been trying to obtain government authorization for molnupiravir, which would cost a far more affordable 200 euros per cat.
The agriculture ministry said it was examining all possible means of addressing the issue through "various therapeutic preparations available on the European market."
Some have resorted to clandestine methods to save their pets.
"We bought our medicines on the black market online, or from Facebook groups. But we keep our suppliers secret so that we can continue to treat our animals," said one Cypriot, requesting anonymity because of the questionable legality of her actions.
Vasiliki Mani, 38, a member of several animal welfare organizations, is demanding a swift solution.
In January, she spent 3,600 euros to treat two stray cats with FIP.
"I have spent all my savings," she said, denouncing the cruelty of "allowing animals to die" in Cyprus.
If FIP continues to spread, Mani lamented, Cyprus will become "the island of dead cats."
Comments will be moderated. Keep comments relevant to the article. Remarks containing abusive and obscene language, personal attacks of any kind or promotion will be removed and the user banned. Final decision will be at the discretion of the Taipei Times.