Glimmer of hope for filial foreign residents?
Aging noncitizen parents of most long-term residents remain unable to legally reside in Taiwan, and although the government says it is examining the issue, change will take time
In two articles last November, the Taipei Times highlighted the challenges faced by long-term foreign residents and naturalized citizens who hope to bring their parents to Taiwan, so they can care for them here. They contrasted Taiwan's highly restrictive policies with those of countries — like Canada — in which many thousands of Taiwanese have settled.
The National Development Council (NDC), the central government unit responsible for developing policies to attract and retain foreign talent, and the National Immigration Agency (NIA), which controls entry to and exit from the country, have been willing to respond to questions on the issue. But not all of their answers have been satisfactory.
Last October, the NIA told this reporter that any noncitizen parent of a naturalized Taiwan citizen who wishes to live in Taiwan must apply for residency on his or her own merits. Oddly, the agency didn't mention a surprising exception to this rule.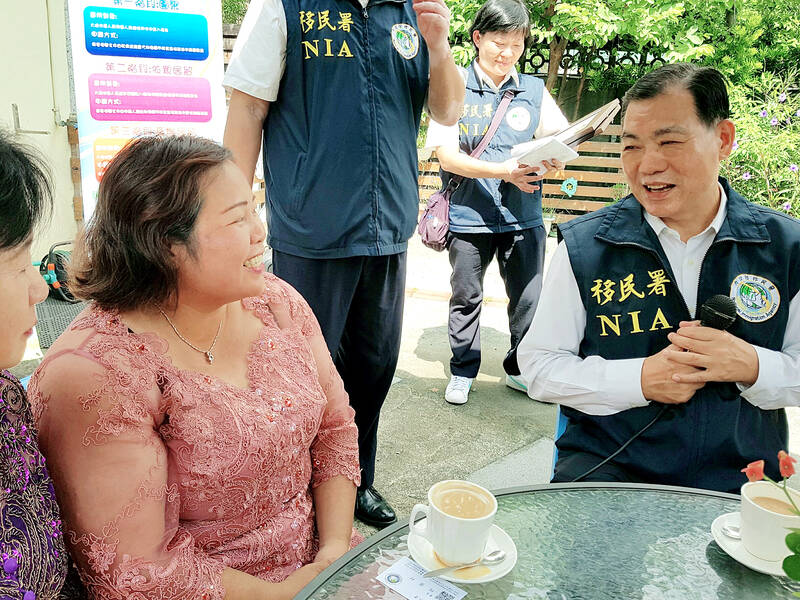 A foreign spouse speaks to a National Immigration Agency official about the prospects of her aging parents moving to Taiwan so she could care for them.
Photo: Chien Hui-ju, Taipei Times
According to the Web site of the Mainland Affairs Council, a person from China who's been married to Taiwanese citizen for 10 years and obtained a Taiwan ID card can apply to settle their mother or father here, so long as that parent is 70 or more years old. A quota limits the number of elderly Chinese who can move to Taiwan under this provision to just 60 per year.
This route to resettling aged parents is discussed on Chinese Web sites such as www.qutaiwan.com.cn, which shares information for Chinese citizens who've relocated to Taiwan or married a Taiwanese citizen.
Why a provision is made only for people who've come from a country that repeatedly threatens to invade Taiwan, and not for citizens of neutral countries or countries that express political support for and sell defensive weapons to Taiwan, is unclear. In an Mar. 30 E-mail to this reporter, the NIA didn't explain their failure (or conscious decision not) to point out this exception in their answers last year.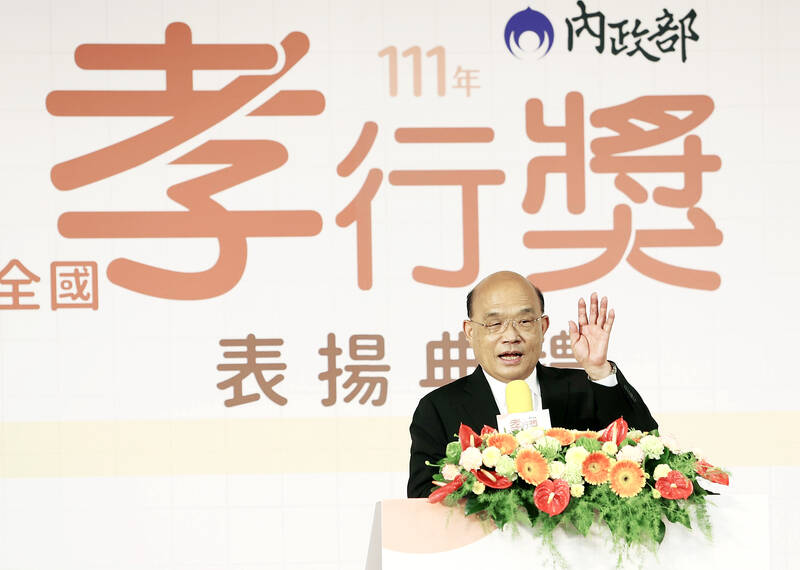 Former premier Su Tseng-chang speaks at an event in August of last year commemorating acts of filial piety.
Photo: CNA
LAW CHANGE?
In 2020, the central government finalized plans to implement the UN International Convention on the Elimination of All Forms of Racial Discrimination. "While the convention does not apply to discrimination against non-citizens, permitting some settled ex-Chinese citizens to sponsor their parents, but not permitting other naturalized citizens from doing so, is arguably prohibited discrimination," says Michael Fahey, an American lawyer living and working in Taipei.
Last year, when the NDC asserted that "family is an essential element of our culture [and] Taiwan has a long-standing practice of supporting family reunion within our visa regime," readers of the Taipei Times familiar with immigration rules in places like the US, the UK and Singapore were — like this reporter — baffled. This year, when given another chance to reconcile their statement with policies that prevent almost all foreign residents from having their parents join them in Taiwan, the NDC implied the issue is being reexamined.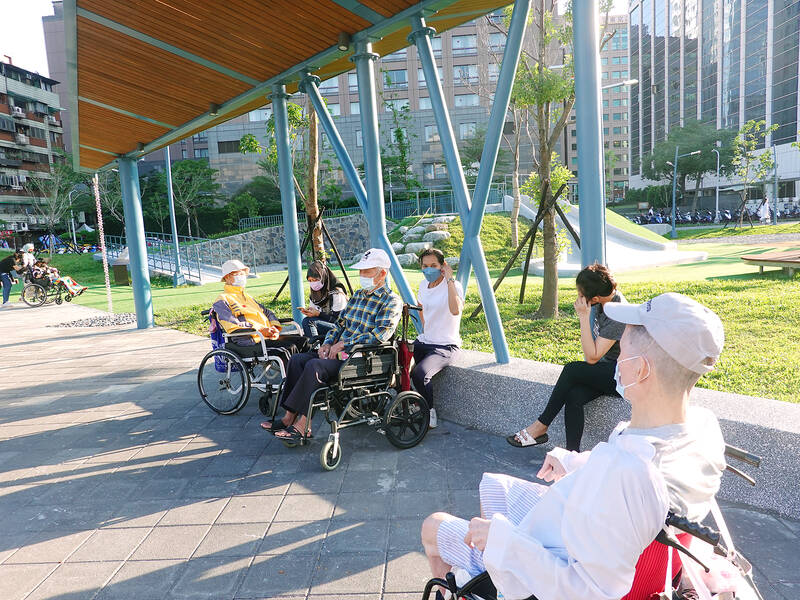 Xinguo Park is Taipei's first age-friendly park.
Photo courtesy of Taipei City Parks and Street Lights Office
On Mar. 15, they told this reporter by E-mail: "We gathered relevant ministries to study potential amendments to relevant laws, regulations, and supporting measures in January 2023. It was decided that the inter-ministerial working group should continue to discuss feasible methods and the possibility of relaxation of the rules without amending the law. The ministries are expected to reach a consensus in a few months. We will provide you with the information once the decision has been made."
Asked if revisions to the guidelines that govern visas, without any change to the actual law, would really help families in situations like the one Bert Salt found himself in [see article on previous page], or whether those foreign nationals would still depend on the kindness and good mood of bureaucrats when seeking to extend their stay, Fahey says: "The Immigration Act makes no provision for lineal ascendants such as parents to reside in Taiwan as dependents. Thus the NIA has no power to issue alien resident certificates (ARCs) to parents and they'd be acting unlawfully if they did. Only the Legislative Yuan can empower them to grant residence to parents, and that'll take time."
HEALTH INSURANCE
Fahey predicts that National Health Insurance coverage could well be a stumbling block. The law stipulates that holders of ARCs who've been in Taiwan for at least six months are eligible for health insurance, so if it weren't amended, aged parents who become residents would be covered.
In political terms, "that's a very big ask, since they'll be older people who haven't contributed to the system and would inevitably need more healthcare resources. I'm of the view that an exception would need to be carved out for this class of dependents. A requirement that they have their own health insurance might also have to be considered," he says.
"Those of us who want our parents to join us could write waivers and buy private medical insurance. My mother's insurance company paid all her bills when she received treatment in Tamsui Mackay Hospital," Bert Salt's daughter Elaine Salt says.
She thinks it'd be fair for the government to insist that, before someone can bring an aged noncitizen parent to Taiwan, they must sign an affidavit of support similar to that required when an American sponsors a spouse or family member for a Green Card. Financial conditions, such as proving a far-above-average annual income or assets in Taiwan exceeding NT$3 million, would be reasonable, she says.
Estimates provided by international insurance companies suggest that a 70-year-old moving to Taiwan should budget at least US$900 per month for comprehensive private health-care coverage.
RETAINING TALENT
Since the Taipei Times began reporting on this issue, around a dozen foreign residents — all of them currently working and paying taxes here — have reached out to this reporter to say they'd bring their mother and/or father to Taiwan if it was feasible. If it isn't, some of them expect to eventually return home to care for their parents.
Most of these individuals say they wouldn't hesitate to sign a document guaranteeing they'd cover all of their parents' medical and care expenses in Taiwan. A few already give their parents financial support, and one stresses that if he could bring his father here, the money he currently sends overseas would be spent in Taiwan.
A well-designed pathway for older noncitizens wishing to reunite with their adult children in Taiwan needn't cost the country a dollar. If a quota was set, it wouldn't lead to a large influx of outsiders. But it could help to retain foreign talent and prop up consumer spending.
Comments will be moderated. Keep comments relevant to the article. Remarks containing abusive and obscene language, personal attacks of any kind or promotion will be removed and the user banned. Final decision will be at the discretion of the Taipei Times.