Notes from Central Taiwan: Broken immigration bureaucracy
In addition to unnecessary paperwork and pointless requirements, Taiwan's marriage process for Southeast Asian migrant workers imposes ridiculous demands that scream racism
Last April, I married a migrant worker from the Philippines at the household registration office in my local district in Taichung. Our marriage process generated a novel's worth of paperwork, but at least it was straightforward: the required documents and notarizations were clearly spelled out by the bureaucracy, and once obtained, the process moved almost without hitch.
The future was foreshadowed in the marriage paperwork: it took three months for Philippines to process my wife's Certificate of No Marriage (CENOMAR). The reasons for the slow CENOMAR arrival became apparent later: it appears to be a feature, not a bug.
The real problems began when my wife and I attempted to apply for a spousal visa for her to join me here in Taiwan. More than 10 months after our marriage, we finally received her visa this month.
Getting married at the local household registration office was the easiest part of the process.
Photo courtesy of Taichung City Government
That length of time is both completely normal and completely unacceptable, a slow-motion human rights violation created by Taiwan's unnecessary document demands. These policies give every appearance of targeting Southeast Asians.
TARGETING SOUTHEAST ASIANS?
The Ministry of Foreign Affairs (MOFA) lays out the requirements for a spousal visa on its Web site, one of which is a document showing that the marriage in Taiwan is recognized in the home country. Without that, no visa will be issued.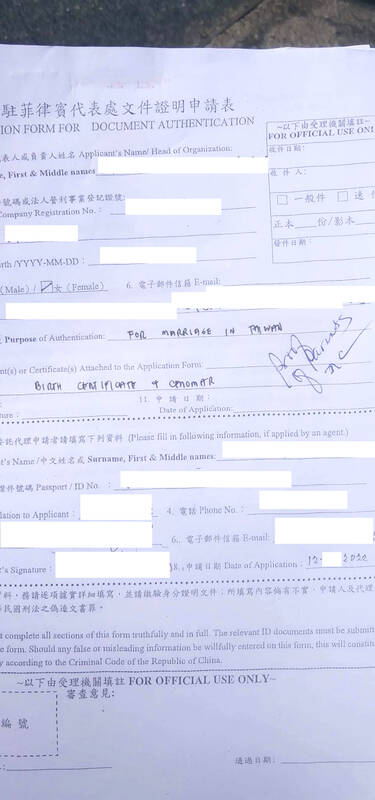 This photo shows the application for authentication of a CENOMAR for a Filipino. MOFA demanded that the applicant supply the parents' marriage certificate, and has handwritten "proof of parents" across it.
Photo: Michael Turton
Let the implications of this requirement sink in: effectively, MOFA does not recognize marriages between foreigners contracted in Taiwan. It waits until two other nations have recognized the marriage, and then it will proceed with the visa process. If one applicant happens to be from a nation with a sclerotic bureaucracy, well, that is their problem. It is just a coincidence that migrant workers tend to be from such nations, of course.
Thus, you can't just get married and then use that legal marriage certificate, issued in Taiwan, in a timely manner to get a visa for your spouse to live with you in Taiwan. That would be too rational and intelligent — newlyweds might settle down and make baby citizens right away, which everyone knows Taiwan does not need, after all. Note that this policy comes from a nation whose officials have publicly fantasized about attracting tens of thousands of "foreigners" (read: not migrant workers, already here in the thousands and many eager to naturalize) to live and work here.
The requirement for "recognition" of the marriage by the respective governments is completely unnecessary because applicants for marriage in Taiwan must supply proof that they are single when they are married at the local household registration office. The senseless requirement throws up an additional barrier to marriage, which keeps migrant workers in their jobs longer.
Faced with this long wait, my wife was forced to finish out her contract with her company. We lived separately for months, her in Hsinchu, me in Taichung.
We applied for the marriage recognition document from the Philippines last May. It finally came down in December.
Since applicants for a spousal visa must process it in their home country, my wife had to fly to Manila to present all her documents in person (at no small expense, two weeks in Manila and three trips to the Taiwan office were required). That too is a deterrent to marriage for migrant workers, since such trips would represent an appreciable chunk of their meager savings. I will leave it to the readers to decide whether that is a feature or a bug.
My wife had been in Taiwan for years when we applied, and migrant workers have regular health checks. Police clearances are simple to obtain here. Her papers could easily have been processed at the MOFA office in Taichung, which would have been cheaper and more convenient for all.
In Manila, she was able to obtain her police clearance and health checkup results in a few days. The reason for that efficiency is obvious: these documents are necessary for locals and their employers. If they took months to come, locals would scream.
But the marriage recognition is necessary only for people marrying outside Philippines, the bulk of whom would be migrant workers. If it comes down at a glacial pace, migrant workers can't leave their jobs for marriages, and that sweet flow of remittances to Philippines goes on unhindered. Feature or bug? You decide.
MOFA has dealt with countries supplying migrant workers for decades, and knows perfectly well that Philippines will take forever to supply a recognition of marriage document. It looks a lot like collusion to keep migrant workers in their jobs as long as possible.
CONVOLUTED AND CONFUSING
Another issue was that the US has no centralized marriage registry and no national "marriage recognition." But at the MOFA office in Taichung, no one could say for certain what specific document would be accepted. After five E-mails to the Taiwan office in Manila, what apperaed to be an answer bot finally replied something like, "You give them what document is necessary."
The American Institute in Taiwan (AIT) will process an affidavit for applicants, which, the very kind lady processing it told me, the Taiwan side "usually" accepts. No guarantees, of course.
On my wife's third trip to the Taiwan office in Manila, she calls and says they're demanding that I supply some form of US state ID.
My wife pointed out that such a document was not required, and that I had been living in Taiwan for years and couldn't possibly (or legally) have such a document, to no avail. Finally, 90 minutes later, the staffer called her boss and the requirement was nixed.
Predictably, the marriage affidavit AIT supplied also generated problems. My wife was told they had only been accepting that document due to the pandemic, but not what document they would accept in lieu of it. That problem too was nipped in the bud by another phone call to the boss.
What this shows, very clearly, is the senselessness of the requirement for "marriage recognition" and the way it punishes Southeast Asians. Why stop there? Let's really protect Taiwan and require a DNA test of my wife to ensure it is the same woman who married me at the household registration office in Taichung.
Speaking of arbitrary bureaucratic demands, a friend who works with Filipinos applying for marriage documents informed me that recently officials have begun demanding the marriage certificates of the parents of Filipino applicants. This is ridiculously unnecessary and insulting. It may be impossible to fulfill if the parents weren't married, are unknown or are deceased. Naturally this document is not listed on the Web sites as necessary. The demand for it simply appears, out of the blue, and not in all cases.
Another insult described to me is to ask for the "local civil registrar" copy of a birth certificate, a document issued only once when a Filipino is born, and reject that copy because it is "too old."
Another friend of ours was denied an application to marry in Taiwan because her mothers' middle name on her birth certificate was spelled with an initial instead of being spelled out completely.
TAIWAN IS KILLING ITSELF
Now that we have a visa for my wife, we have run into a longstanding problem: she can't legally work here for years. Such foreign spouses either cannot deploy their talents in building Taiwan (and fall behind in their own careers), or else are dodging taxes doing illegal work. How does this help Taiwan?
The government can hardly claim my wife is stealing jobs from Taiwanese when over 500,000 Taiwanese are working overseas and jobs in Taiwan go begging for workers even as the country is becoming a super aged society sorely in need of warm bodies.
Anyone who follows the discussion forums for Gold Card holders has seen numerous requests for easier paths to naturalization and family reunification. Ironically, the VIPs of Taiwan's visa caste system face the same roadblocks.
This year the government will be preparing its 2024 report on Taiwan's compliance with the UN International Convention on the Elimination of All Forms of Racial Discrimination.
I hope that the government will shine a spotlight on its own immigration bureaucracy.
A longtime journalist here noted that government officials often ask him why more foreign businesses and people don't move to Taiwan. All of us who have experienced firsthand Taiwan's bureaucratic hostility to foreigners, and especially to foreigners whose skins are a bit too brown, know the answer to that question.
Anyone who wants to understand the arbitrary savagery of Taiwan's immigration bureaucracy, and the human costs it imposes, should read "From Taiwan Gold Card to Taiwanese Citizenship," an account by a Pakistani citizen who married a Filipina in Taiwan and obtained citizenship in Taiwan.
This is not only an informed, articulate and detailed critique of Taiwan's Gold Card system, but also of the immigration bureaucracy's insensate demands. At one point in this long, expensive process, which involved marriage certification from three nations and getting married more than once, officials demanded that he supply a CENOMAR from Philippines for their six month old baby who had never left Taiwan.
Control Yuan, are you listening?
That writer too concluded that the system was targeted at preventing Southeast Asians from immigrating.
"It's interesting to note that I knew international students who married locals and were able to change their ARC status without leaving Taiwan," he says. "This meant that even international students had more rights than migrant workers."
My own experience was normal by comparison, even banal. It's the very normality of it that makes it so wrong. It has left me deeply angered at the official racism and pointless, arbitrary demands.
This process has forced me to confront a bitter fact that has become a staple of pro-China caterwauling: Taiwan is killing itself. Its workers are leaving in droves. They refuse to have babies. Its population is both aging and shrinking. Its elites pay no taxes and maintain dual citizenships. Salaries remain DOA. The government has no serious policies to boost its somnolent birth rate and no serious immigration policy.
Meanwhile, this bureaucracy is choking off immigration, especially from Southeast Asia whose nations have deep historical connections to Taiwan. Yet Taiwan desperately needs immigrants.
So, I ask myself, increasingly: why should I or any other outsider waste their time and energy in support of a nation that has decided to commit suicide?
Notes from Central Taiwan is a column written by long-term resident Michael Turton, who provides incisive commentary informed by three decades of living in and writing about his adoptive country. The views expressed here are his own.
Comments will be moderated. Keep comments relevant to the article. Remarks containing abusive and obscene language, personal attacks of any kind or promotion will be removed and the user banned. Final decision will be at the discretion of the Taipei Times.