Chinese count cost of Xi's snap decision to let COVID rip
After three years of lockdowns, the country was ill prepared for its abrupt 'freedom.' Now, with some estimating 1 million deaths, public anger is growing
When Sunny thinks back to March last year, she laughs ruefully at the ordeal. The 19-year-old Shanghai student spent that month locked in her dormitory, unable to shop for essentials or wash clothes, even banned from showering for two weeks over COVID fears. In April, the entire city locked down.
It was the beginning of the chaos of 2022, as local Chinese authorities desperately tried to follow President Xi Jinping's (習近平) zero-COVID decree while facing the most transmissible strain of the virus yet: Omicron.
"Everyone was panicking, no one was ready," she tells the Observer.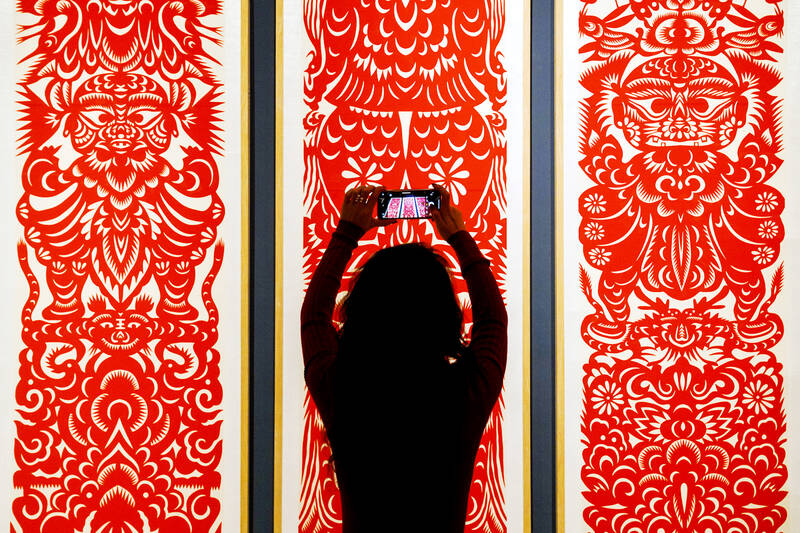 A woman on Sunday takes a smartphone photo of the Chinese traditional paper cutting arts exhibited at the Beijing Art and Craft Museum during the Lunar New Year celebrations in Beijing.
Photo: AP
By the end of the year, zero-COVID was gone. Sunny, who is using a pseudonym to protect her identity, says she felt instantly "relieved" that lockdowns were over but her feelings soon turned to anger as it became clear China's government had opened up the country, knowing it wasn't ready.
"I felt it was all for nothing," Sunny says.
Over the last two months, the virus has rapidly spread through the country. Up to 10,000 critical cases were registered in hospitals every day. Morgues were overwhelmed, pharmacies reported shortages of basic medications, and supply of antiviral drugs was held up by protracted negotiations with foreign suppliers. Online and in the streets, people spoke of almost everyone they knew having caught COVID, and of elderly relatives dying.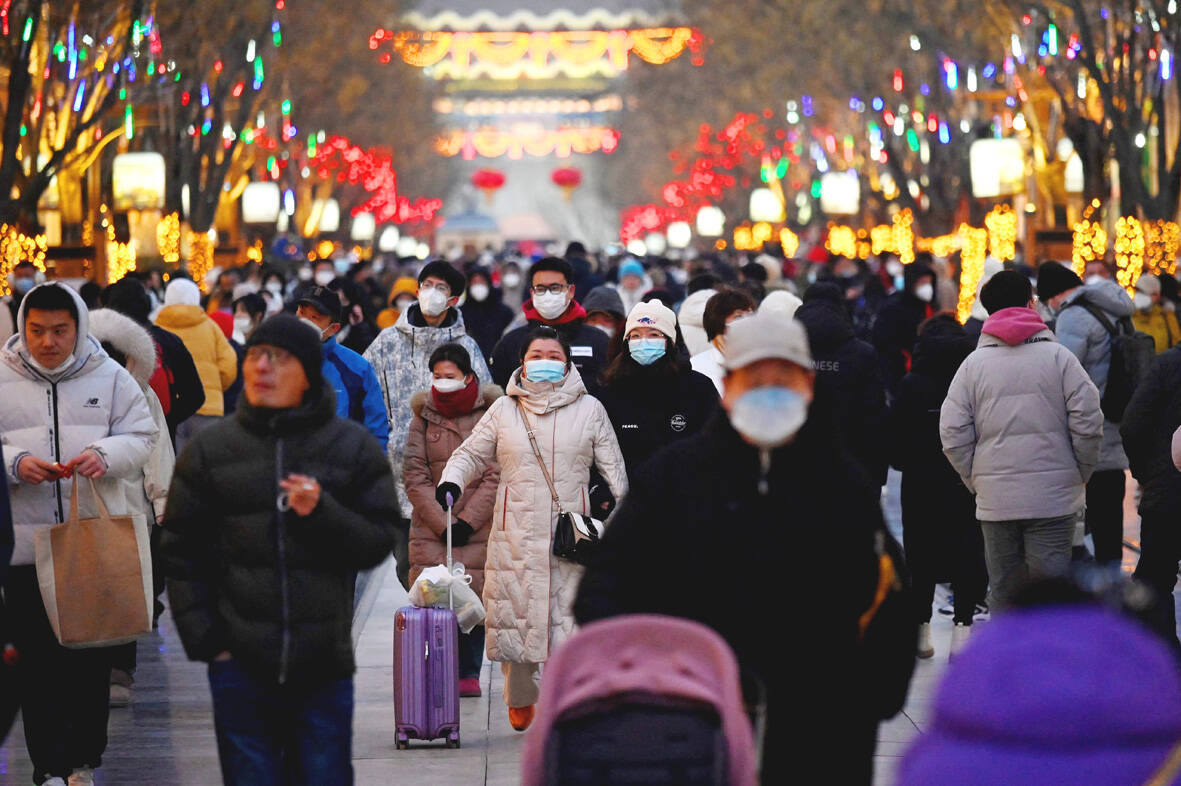 People on Wednesday visit a business street during the Chinese Lunar New Year in Beijing.
Photo: AFP
Sunny's grandfather was among those who died in that wave.
"It was the morning, and my mum walked into my room and said: your grandpa is in the emergency room," she recalls. "A few hours later, he passed away. My grandmother was in tears, saying he had left her behind."
'LET IT RIP'
Xi's extraordinary backflip left analysts alarmed and confused. China was not the only country to choose a zero-COVID strategy, and certainly not the only one to "let it rip" once it dropped it. But it was the last, and global health experts say there were plenty of lessons it could have heeded — primarily, making sure vaccinations and health resources were high before the tsunami of cases hit.
"All governments had to decide to open up at some stage or risk the consequences of lockdowns far outweighing the problems of COVID," says Professor Emma McBryde, an epidemiologist at James Cook University, Townsville, Queensland, Australia.
"Most models suggest that it would be better for the health system to open up slowly. Although there would be little change in how many people get infected, it could mean some lives are saved if the health system can function well."
But Xi threw the gates open. Right up until the day of repeal, local governments were still developing and enforcing zero-COVID measures and infrastructure. The city of Chongqing was building a 21,000-bed quarantine center.
Experts on health and Chinese politics have told the Observer they believe the local authorities were hamstrung. Any preparations for ending zero-COVID would be seen as a vote of no confidence in both the policy and Xi — an act of political suicide.
So when cases spread, there weren't enough doctors, nurses, intensive care beds, fever medication or antiviral drugs, and vaccination rates and options were inadequate. According to Chinese government data, the first 55,000 deaths recorded in this wave were at an average age of about 80. In China, the vulnerable elderly are also the most likely to be unvaccinated.
"My sense is there is no strategy in this critical area," says Professor William Hurst, deputy director at the Center for Geopolitics at the University of Cambridge, about China's vaccines. "I'm surprised by how quickly they are moving, but more so by the apparent lack of attention to basic measures with vaccines."
Chinese writer Murong Xuecun (慕容雪村), who interviewed Wuhan residents in the first lockdown in 2020, says China's abrupt U-turn "was a rash, one-man decision" made without consultation.
"Within 24 hours we saw a total turnaround — we had no idea what happened in those 24 hours, what changed Xi Jinping's mind, why there was a 180-degree change from one extreme to another."
There is a lot of debate about the impact of the November protests against zero-COVID on his decision. Some experts say there were probably so many cases already — the numbers hidden — that Xi just realized the policy had to end. Other theories feature financial considerations, because China's economy has been battered by zero-COVID.
Chen Daoyin (陳道英), a former associate political science professor at Shanghai University of Political Science and Law, said Xi probably acted when he felt the economic situation was no longer sustainable.
"When the leader is acting on a whim, there is no predictability and no certainty."
HERD IMMUNITY
One oft-shared suspicion is that Xi wanted to speed up economic recovery by quickly building herd immunity with one massive wave. This theory was bolstered by Chinese health authorities claiming last week that 80 percent of the population had been infected, and so the possibility of a second wave was "very small." Some health experts have cautioned against this assumption.
"Herd immunity seemed to be occurring for the original strain and for Delta, but seems to be much less applicable to the Omicron strain," says McBryde.
Other countries, including the UK, have previously hung hopes on herd immunity, and Professor Chi Chun-huei (紀駿輝), director of the center for global health at Oregon State University, says there's nothing inherently wrong with aiming for herd immunity if you do it right.
"Ideally, if you are going to take this 180-degree, you have to be prepared … and the goal should be minimizing deaths and severe symptoms.
"This was a common problem of countries that practiced zero-COVID — they were overconfident … and underprepared."
In one example, Taiwan took note of Hong Kong's hospital system collapse and was better prepared than it might have been when Omicron arrived.
Estimates of COVID fatalities in China range from the official count of about 75,000 to more than a million. The picture is clouded by a lack of transparency, rigid definitions in attributing a COVID-related death and data collection failures.
Often when there are mass deaths, families struggle with their relative being reduced to a statistic. In China, few were even given that courtesy.
Among dozens of Chinese people who contacted the Guardian and Observer about their experience, Ms Chen, a young Shanghai resident, tells of the friend who died of COVID, a teacher in his 30s who she describes as a "treasure of a human."
Melody, a Chinese woman living abroad, wrote of her "selfless and generous" uncle. After recovering from a stroke last year, he died at home of what she believes was COVID.
"I'm astonished that the three years of COVID haven't been used for a humane exit strategy. It shows me: protecting lives was never the motor behind zero-COVID. Power was. Now the Chinese people also see it."
Comments will be moderated. Keep comments relevant to the article. Remarks containing abusive and obscene language, personal attacks of any kind or promotion will be removed and the user banned. Final decision will be at the discretion of the Taipei Times.