Walking into Taiwan's history
The National Museum of Taiwan History in Tainan has the entire history of the island on display, from prehistory to the 21st century, and features an indoor town, unique artifacts and lots of ways to interact with stories from the past
It is perhaps fitting that Tainan, the political and economic center of activity on Taiwan for over two centuries, is now the site of a museum telling the story of the nation's human history. Starting in prehistoric times, Taiwan has been a center for trade. This and the ensuing power struggles among the indigenous, Europeans, Japanese and Chinese are presented in fascinating detail at the National Museum of Taiwan History.
Children will enjoy the hands-on activities, the virtual train ride and the outdoor grounds, which include a large lawn and fish pond. Those without a strong interest in history will still be captivated by the gorgeous life-size mock-ups of historical living and working spaces, as well as the variety of peculiar artifacts, many of which have been donated by Taiwanese themselves. And for those who'd really like to delve into the fascinating story of Taiwan's development, there is enough to keep one busy for an entire day.
Overall, what this museum does best is present the story of the people who have made their home on Taiwan from an insider's perspective. With the help of walk-in dioramas, interactive exhibits where visitors have to imagine themselves in the past and artifacts that represent the unique experience of certain individuals, visitors learn about Taiwan's past in a way that is at once highly subjective yet not overly biased.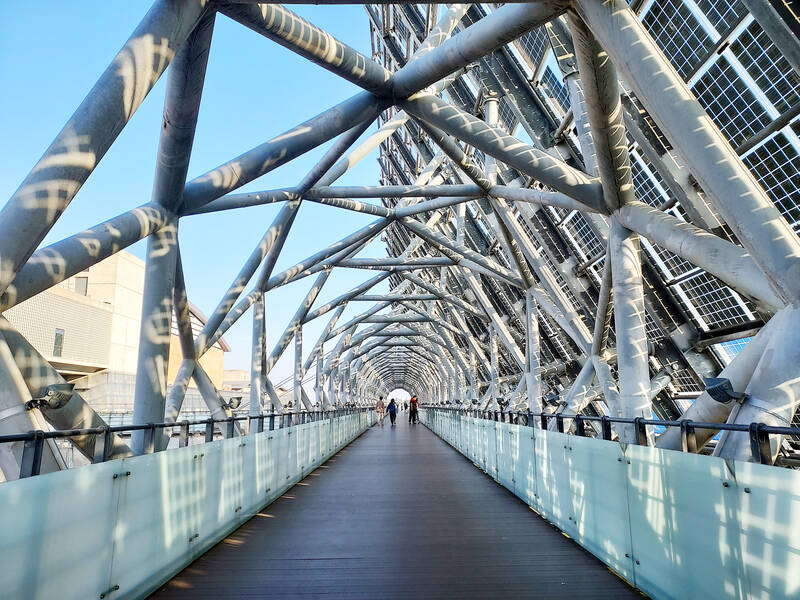 The elevated walkway behind the solar panel wall is highly photogenic, especially near sunset.
Photo: Tyler Cottenie
ARTIFACTS
The museum includes prehistoric archaeological finds. Their ability to paint a picture of life in these times is limited, but the distant source of some artifacts tells us people then still had an awareness of life beyond these shores.
Moving into the historical period, there are items that demonstrate that interactions between indigenous people, Han settlers, Japanese merchants and Dutch colonizers were not as simple as oppressed vs oppressors, and that people then had conflicting loyalties that shifted with time and varied greatly even with one group.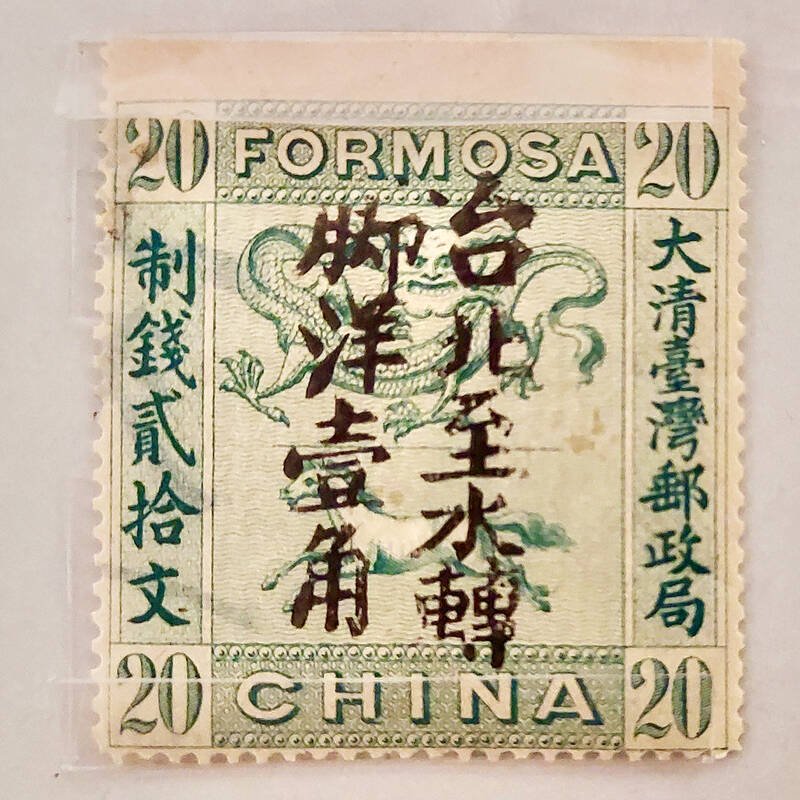 A Qing Dynasty-era postage stamp used as a ticket on Taiwan's first railroad.
Photo: Tyler Cottenie
Indigenous resistance to outside rule is well known and documented here. However, the story is not so black and white. After the Dutch succeeded in subjugating many plains indigenous communities, they held regular public meetings with important leaders to cement the power hierarchy and reward compliant leaders with symbols of authority, including a staff with the Dutch East India Company logo in silver on top.
A sketch of one of these meetings ("Landdags") is on display here. The loss of sovereignty was a setback for some communities, but a boon for previously weaker ones, who found that alliance with the Dutch offered better protection from their enemies. Furthermore, contracts in a Romanized script for the indigenous languages offered legal protection for commercial agreements and land leases among indigenous people and Han Chinese. These "Sinckan manuscripts" are on view at the museum.
During the Qing Dynasty, indigenous opposition to imperial rule was not universal, either. For instance, Baokeh Dawai was a plains indigenous leader who became a military officer for the Qing; his uniform is on display in the museum. Emperor Qianlong also bestowed several gifts on a chief of the Pazeh community for his family's continued help in restraining rebellions. A bowl, vase and court necklace were treasured heirlooms handed down within the family that are now on display.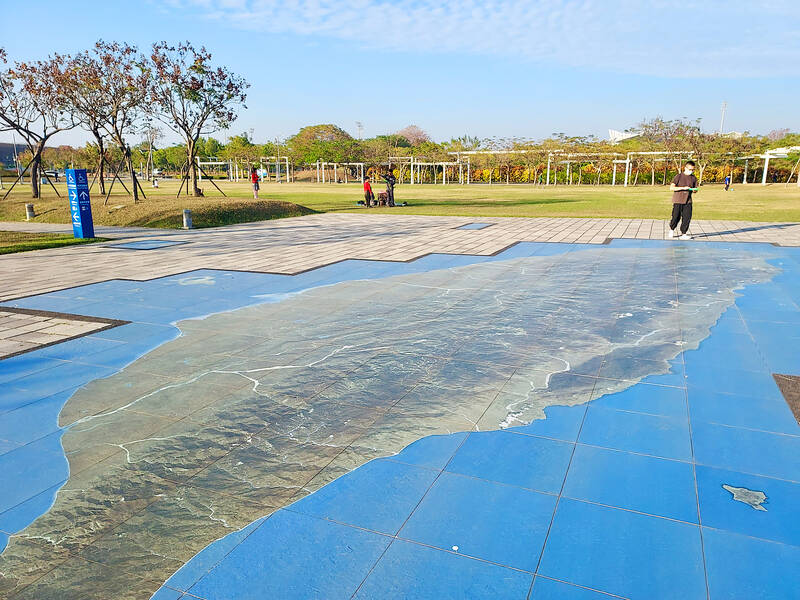 The museum grounds feature an aerial view of Taiwan with all traces of human activity digitally removed.
Photo: Tyler Cottenie
Other artifacts tell the story of Han immigrants who continued to adapt and succeed throughout the shifting tides of authority. Large dioramas present rice farming practices and the religion of the Han. Also on display are the flag and postage stamps of the Republic of Formosa, a last-ditch attempt by local Han to avoid Japanese rule. Under Japanese rule, they continued to value education, as evidenced by a certificate in Japanese for academic achievement in primary school that was awarded to a local girl and kept in pristine condition until its donation to the museum.
Coastal areas in Tainan used to be an inland sea with fish farms, salt fields and little in the way of ground transportation. Low-draft boats with sails that could be poled forward were a favored means of transportation for Han merchants. One such punt (a tshiu-the-a in Hoklo, also known as Taiwanese) was eventually abandoned on the shore of the Yanshui River and later rediscovered and dredged up. It now occupies a prominent spot on the museum's first floor.
IMMERSED IN HISTORY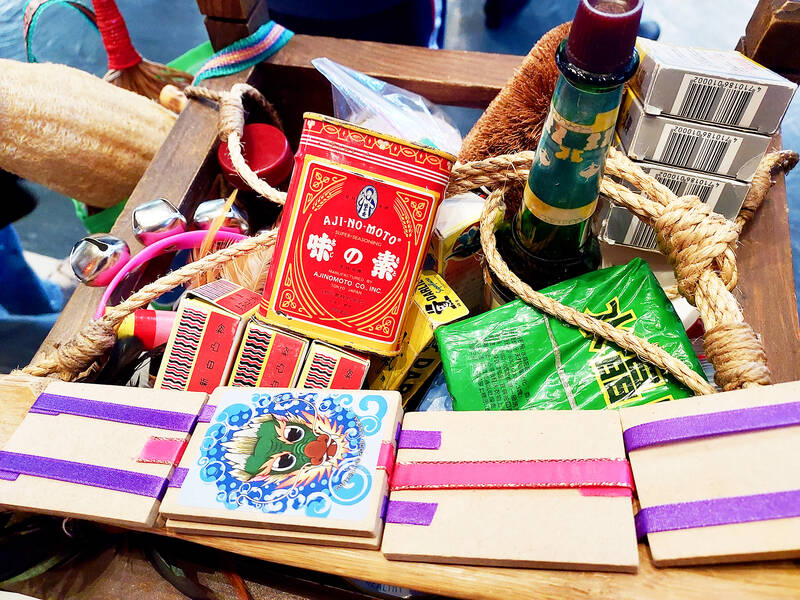 A basket of old household goods that visitors can pick up, including a flip-board toy and an old MSG container.
Photo: Tyler Cottenie
Much of the second floor is taken up by life-size dioramas depicting 20th-century life. Visitors can walk into realistic re-creations of different shops and learn more about how life changed with the modernization brought by colonialism and technological advancement. There is a traditional grocery store from the days before 7-Eleven, which served as a center of both economic and social activity. Visitors can walk into a store selling Western clothes, a concept that was imported by the colonial Japanese. Just down the road is a photographer's studio where people might have had their pictures taken wearing their new Western garments, and a cafe; playing the latest popular music from around the world on a gramophone, where people might have gone to socialize and show off their new clothes.
Although colonial rule is generally considered exploitative and oppressive, along this street the museum does highlight the greater benefits and rights women enjoyed under Japanese rule. For example, the Japanese put an end to foot binding, and encouraged women's education and participation in the workforce.
Also on the second floor are a series of interactive learning experiences presented as card games on touch screens, which give visitors a first-person understanding of the motivations of individuals in Taiwan's past. Players are presented with a real scenario from the past, such as an indigenous person going to trade with Han and Japanese at a local market, or the Dutch governor of Formosa being kidnapped by Japanese merchants. Players must then choose an action and suffer the consequences, or enjoy the benefits, of their choice.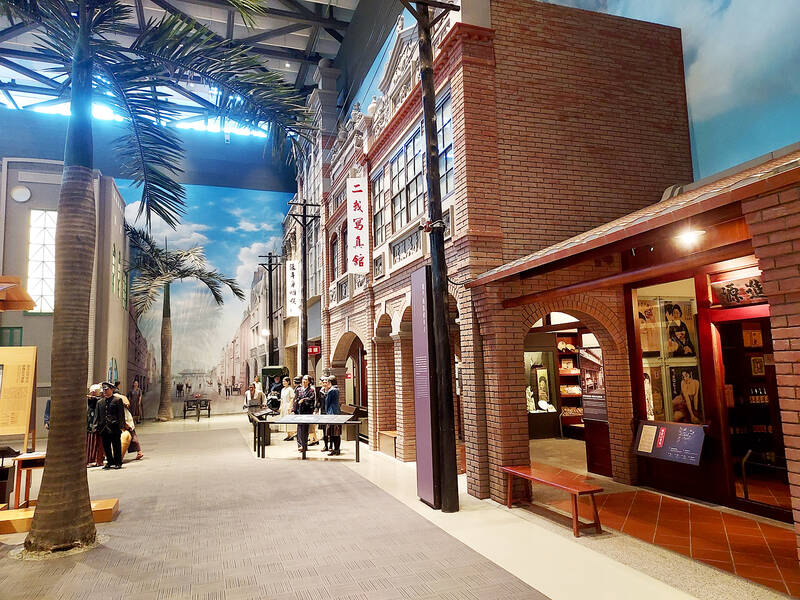 The museum's life-size mock-up of an urban Taiwanese street in the early 20th century.
Photo: Tyler Cottenie
Museum personnel also regularly bring out a collection of old household goods and toys that people can actually get their hands on and try out. Some of these will be part of recent living memory for parents and grandparents visiting the museum, and are a great way to start conversations between generations and let children feel a more direct connection with the past.
Finally, three video exhibits provide another way to get immersed in Taiwan's history. On the second floor, there is a VR experience (requires a reservation) depicting the Japanese military expedition against the Paiwan in 1874. On the first floor, short videos are played twice an hour in the Circular Theater outlining Taiwan's history. Finally, the Time Station exhibit is a realistic mock-up of a Taiwan Rail car wherein visitors take a ride through Taiwan's past. The train car's movement and video scrolling outside the windows on both sides makes for a fun experience that also gives children a rough framework of Taiwan's history before visiting the rest of the museum.
PLANNING YOUR VISIT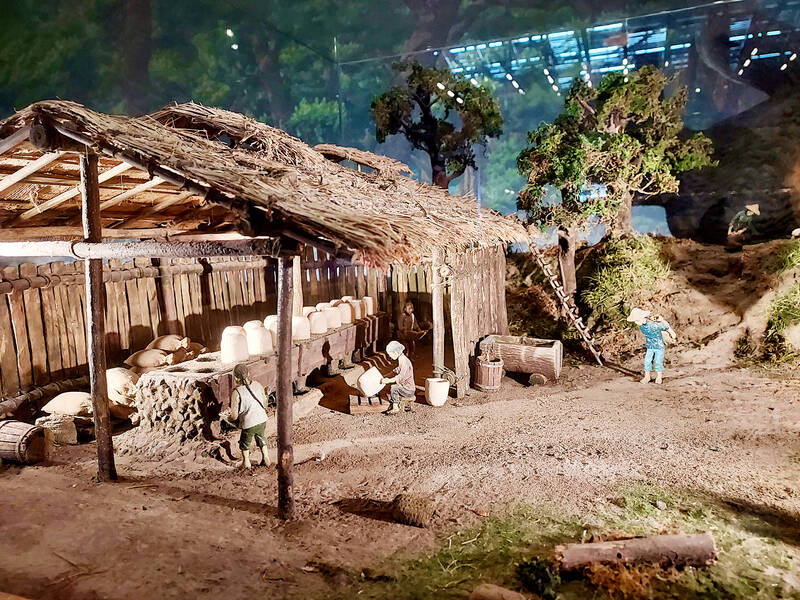 A diorama demonstrating how camphor trees were processed on site in Taiwan.
Photo: Tyler Cottenie
The museum is open Tuesday to Sunday, 9am to 5pm. Regular admission is NT$100, students are NT$60. Bus 20 from TRA Yongkang Station or Bus 18 from TRA Tainan Station both serve the museum. For more information, visit: www.nmth.gov.tw.
Tableware from an older Taiwan Rail train that featured meal service.
Photo: Tyler Cottenie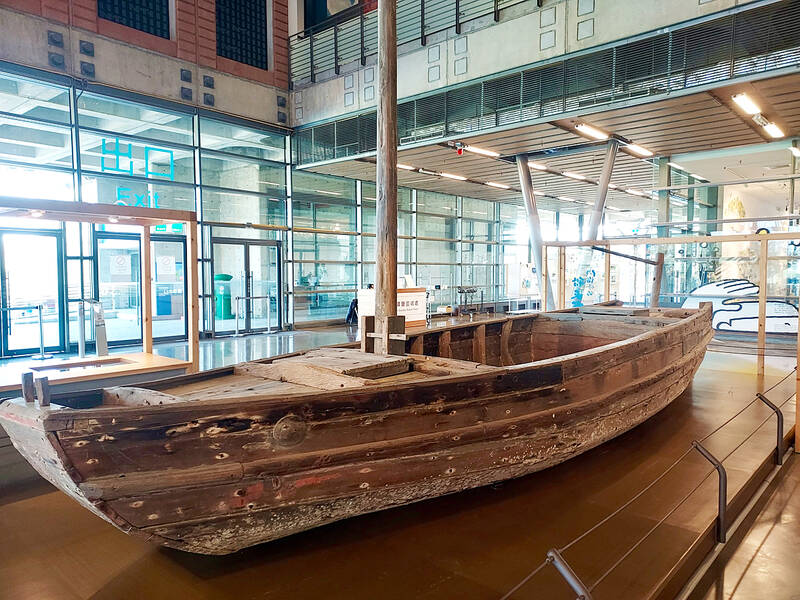 This punt, known as a tshiu-the-a in Hoklo (more commonly known as Taiwanese), was used for transporting goods on the waterways of coastal Tainan.
Photo: Tyler Cottenie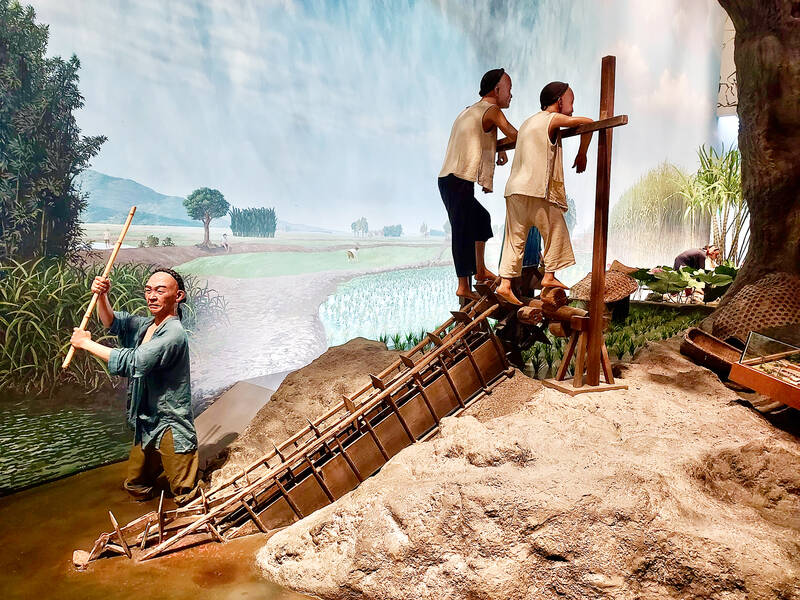 A diorama demonstrating manual irrigation of rice paddies.
Photo: Tyler Cottenie
Comments will be moderated. Keep comments relevant to the article. Remarks containing abusive and obscene language, personal attacks of any kind or promotion will be removed and the user banned. Final decision will be at the discretion of the Taipei Times.