Notes from Central Taiwan: Island of the lost Ximendings
Car-free, pedestrian-friendly shopping areas like Taipei's wildly popular Ximending used to punctuate the nation, but sadly the government has chosen a model that discourages uniqueness over conformity
What place in Taipei is universally acknowledged in tourism sites, in the media and among the denizens of the Celestial Dragon Kingdom (天龍國) as one of Taiwan's premier historical and shopping areas, attracting millions of visitors each month?
Ximending (西門町), of course. Its superlative success is based entirely on restricted vehicle access. As a pedestrian zone, Ximending has been transformed into a shopping mecca. Yet, weirdly, the cities outside of Taipei all have MRT-envy, when they could be emulating Ximending.
The pedestrian zone has been so popular that in 2008, as development elsewhere in the city drew shoppers away, it was expanded. The assumption was that expansion would bring more shoppers.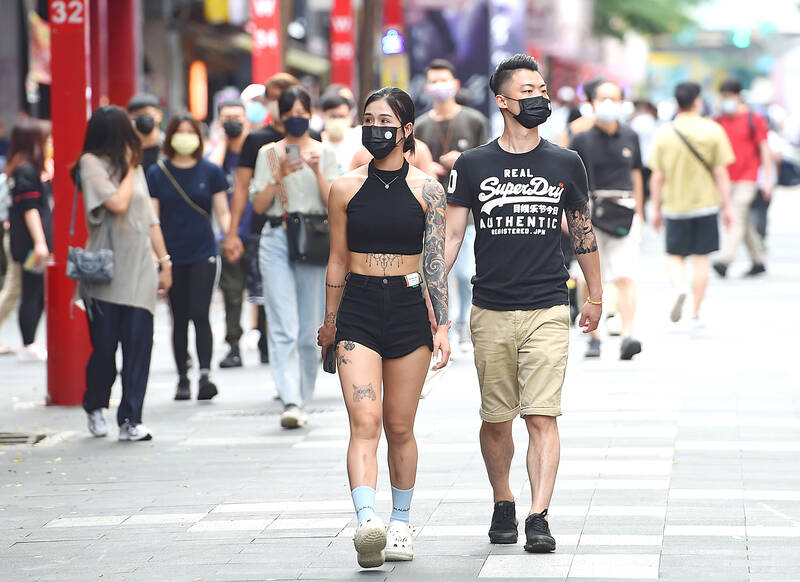 Pedestrians in July walk along a car-free roadway in Taipei's Ximending.
Photo: Liu Hsin-Te, Taipei Times
It's almost as if car-free zones attract people to spend money. Who would've thunk it?
Given the love for the car in Taiwan, it's surprising to recall that walkable shopping is an immovable feature of Taiwanese life. Morning, evening and night markets are good examples of how integrated retail shopping is with walking, yet I have never been in such a market closed to vehicles.
Large buildings like Taichung's Second Market and First Square house shopping spaces filled with pedestrians, places so attractive that the areas around them are crammed with small shops, yet vehicles roll nonchalantly into them, and everyone is used to making space for them.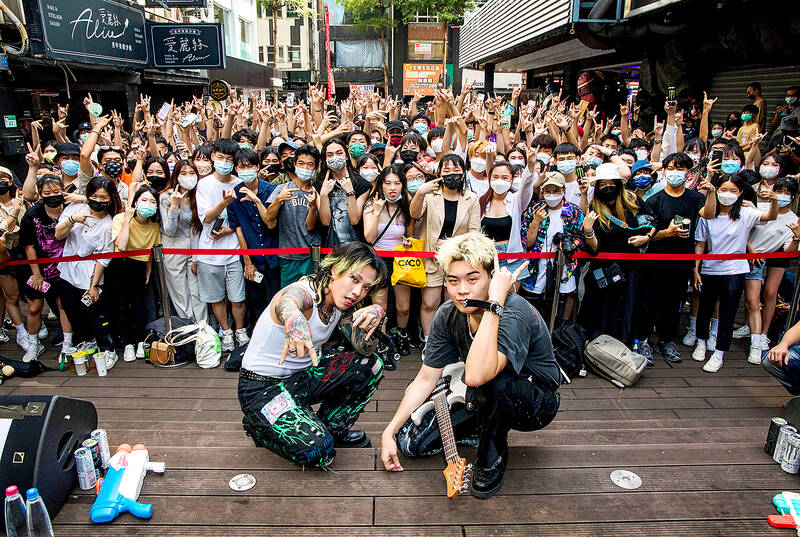 Marz23 in July performs for fans in Ximending.
Photo courtesy of Warner Music
These spaces not only offer walkable shopping experiences, historically, they have permitted entrepreneurs to gain a foothold in retail businesses by starting with low-rent stalls in large shopping arcades. The arcades that sprung up across Taiwan in the 1980s fostered the growth of retailers marketing to an increasingly consumption-conscious society.
'MAKING STREETS'
According to scholar Hsu Ching-wen (許?文), in the late 1990s the central government's Council for Cultural Affairs began to promote the development of heritage narratives for local towns and villages, to create a basis for heritage tourism. As this program to "make towns" was taking off, the Department of Commerce began the Businesses and Streets program to "make streets." These programs were then absorbed into a Ministry of the Interior initiative sometimes called the Township Renaissance Initiative.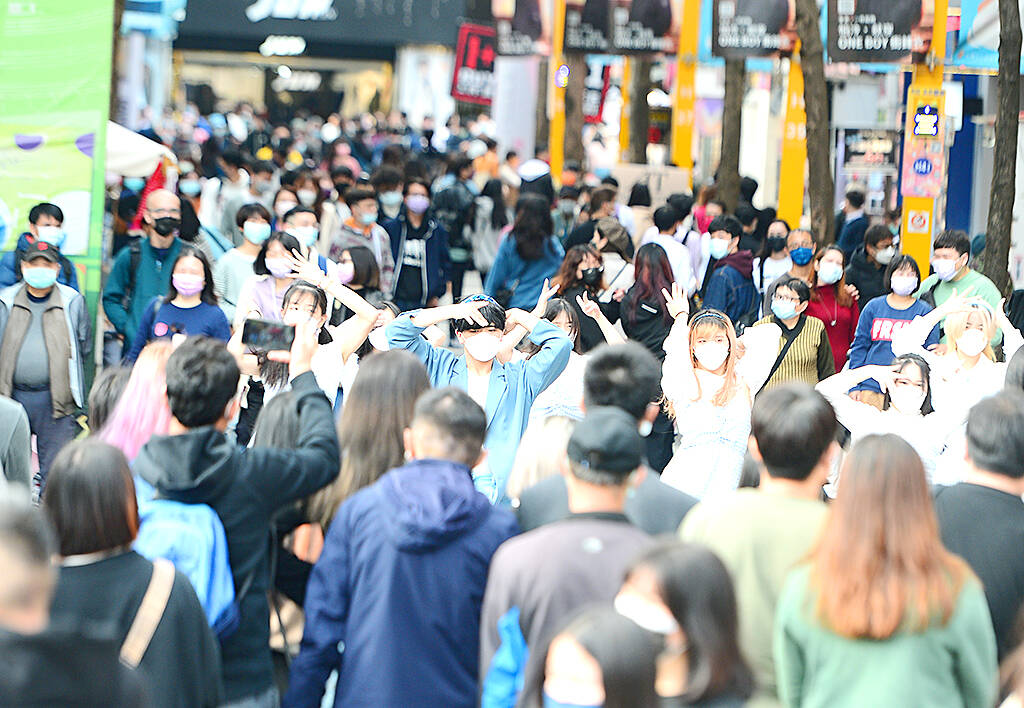 People visit Taipei's tourist district Ximending in this undated photo. Millions of people visit the shopping district every year, in part because it is safe for pedestrians.
Photo: Wang Yi-sung, Taipei Times
These projects were conceived not to preserve an authentic local space but to reconstruct it in the name of modernization. Hsu notes that local businesses and governments were dependent on the flow of subsidies and thus could not refuse. As she describes: "the stress on tidy and legible streets with easily recognizable local differences …. reflects …. an official vision of progress informed by an imaginary 'modernity' characterized by cleanliness and prosperity."
Ostensibly inspired by history and locality, the spaces reconfigured under these programs were not imagined as reproductions of or heirs to an existing local tradition. Rather, traditional spaces that had been longtime shopping areas were redone as what planners imagined shopping areas in advanced countries looked like, particularly Japan. They were cankers of the globalized, homogenized consumer world plunked down into longtime shopping spaces in Taiwan.
It is easy to see the results of this driving through smaller towns. Under the guise of introducing order and cleanliness, this led to programs mandating that street signs look the same, that spaces all be designed to a single color scheme and street vendors be removed, or at least discouraged by forcing them to adhere to local aesthetics. No thought was given to the ergonomics or individual needs of businesses.
The result was the hideous sameness that has wrecked places like the famed Miaokou Night Market (廟口夜市) in Keelung during the first decade of the century. Miaokou went from an authentic, wonderful, Taiwanese anarchy to an unpleasant monotony of identical stalls, rather like replacing a jungle with a palm oil plantation.
These programs are the reasons almost every "old street" in Taiwan feels exactly the same, with the same stores selling the same authentic souvenirs made in factories in China, and the authentic and enjoyable places are usually the older areas of town where the planners have not yet manifested their divine will.
VEHICULAR INTRUSION
Hsu observes that in many cases this planning envisioned the reconstructed places as pedestrian zones free of vehicles. The goal was, as she put it, "the 'malling' of urban centers into engineered environments devoid of negative urban elements, and a nostalgic conception and construction of 'urbanity' according to an imagery of urban public space that presumably existed before shopping malls."
Many of these spaces, designed to be vehicle free, were quickly occupied by scooter drivers and the usual struggles between pedestrians, street vendors and scooters for space. Occupation of vehicle-free spaces is a problem in Taiwan, where the government does nothing, despite its tax power, to stop the growth in vehicle size and numbers.
Walkable shopping spaces may thus be viewed with suspicion by local businesses because they are frequently "planned" by bureaucrats for whom order equals sameness, an understanding that governs everything from school uniforms to land development programs consisting of identical cookie-cutter homes. More importantly, these plans generally do not reflect the lived experiences of local businesses.
Consider street vendors. Because this planning involved the recreation of "clean" spaces inspired by shopping malls in advanced countries, vendors were discouraged or even forbidden. Street vendors are naturally considered neither clean nor modern by planner standards.
Yet, businesses all over Taiwan generate extra income by renting out the space in front of their businesses, a social norm and a "right." In many of these situations, vendors quickly move in. As scholars have noted, street vendors in Taiwan are critical in creating the kind of vibrant, energetic street that attracts consumers.
Why don't we have more places like Ximending? These government's retail spaces programs have in many ways prevented them from emerging. The public likes to experience urban malls in Japan, where they are part of the exotic foreign flavor, not in Taiwan.
Here in Taiwan they want their anarchic market shopping experience. Years ago Taiwan-based researcher Clyde Warden compared retail TV shopping shows in the US, Japan and Taiwan, finding that American shows tended to offer the "neighborly" experience, Japanese shows presented themselves using department stores as models and Taiwanese shows offered a raucous night market experience.
Potential Ximendings often grow around, rather than in, places that the government reconstructs to provide a globalized urban mall experience to shoppers. Countless places that have the Ximending potential lack the political courage to implement car-free zones.
Even worse, transportation planners often ignore this potential. In Taichung, our MRT studiously avoids any of the major shopping areas along the city's main drag, Taiwan Boulevard.
Predictably, it loses money. If only the MRT went to Ximending.
Notes from Central Taiwan is a column written by long-term resident Michael Turton, who provides incisive commentary informed by three decades of living in and writing about his adoptive country. The views expressed here are his own.
Comments will be moderated. Keep comments relevant to the article. Remarks containing abusive and obscene language, personal attacks of any kind or promotion will be removed and the user banned. Final decision will be at the discretion of the Taipei Times.