Daniel Pearl World Music Day returns
Sponsored by Reporters Without Borders, the event features its usual program of eclectic music, food and drink selections at no cost
Even though Daniel Pearl World Music Day is held in hundreds of countries, the late journalist's father Judea Pearl remembered to give a shout out to Taiwan.
"Don't be intimidated by military exercises and other dark clouds over Taiwan," he tweeted last week. "If you find yourself strolling in Taipei on October 1, drop in to enjoy some good music and press freedom."
Now in its 21st year, the nation was among the first to hold the event to commemorate the life of Daniel Pearl, who was abducted and killed by terrorists in 2002 while working for the Wall Street Journal in Pakistan. He was also an avid musician. Sponsored by Reporters Without Borders, the event features its usual program of eclectic music, food and drink selections at no cost.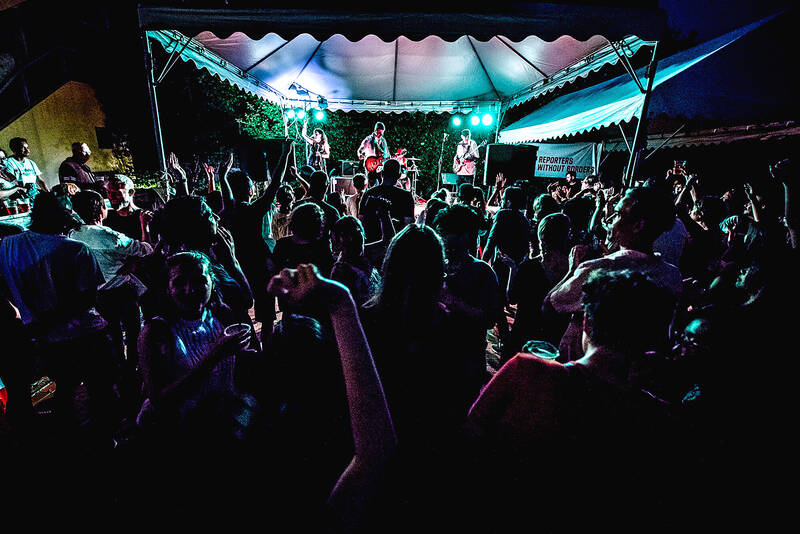 Concertgoers enjoy the music in November 2020 at Daniel Pearl World Music Day.
Photo courtesy of Daniel Pearl World Music Day
Reporters without Borders East Asia Bureau Head Cedric Alviani says that it's an important event that celebrates the values of democracy, human rights and freedom, ideas that were embodied by Daniel Pearl's commitment as a reporter.
"It's very important that we carry high these values of friendship, peace and mutual understanding, and the best way to share these values is to have fun together and have a festival," he says.
Over the past decade, more than 1,500 journalists were killed on assignment, with more than 500 detained, Alviani says.
"Hatred against journalists is not something you only find in authoritarian countries, but also in democracies where more and more politicians are very aggressive against journalists," he says. "We know that the media system is not perfect, but democracy cannot work without a third party scrutinizing it from the outside."
Taiwan is a good example, because even though it's free, the media needs to be more effective and not just focus on entertainment and sensationalism, Alviani says.
"Unfortunately, Taiwanese journalists aren't given sufficient protection to ensure that in every case they could report free of pressure from the management," he says.
Publication Notes
Event notes:
What: Daniel Pearl World Music Day When: Tomorrow from 2pm to 8pm Where: C-Lab, 177, Jianguo S Rd Sec 1, Taipei City (台北市建國南路一段177號) Admission: Free Details: www.facebook.com/danielpearl.tw
Comments will be moderated. Keep comments relevant to the article. Remarks containing abusive and obscene language, personal attacks of any kind or promotion will be removed and the user banned. Final decision will be at the discretion of the Taipei Times.