Notes from central Taiwan: The shifted media discourse
China's increasing aggression and Russia's invasion of Ukraine have changed the way in which the international media reports on Taiwan
I was looking at old media pieces on President Tsai Ing-wen's (蔡英文) early days when I stumbled across a hit piece on the president in the Los Angeles Times from July of 2017. Realization then hit me: it was the last hit piece I saw on Tsai in the major English-language media.
Since then, as the consensus on China has shifted in the Western capitals and, above all, in Washington, major media editors have duly followed, altering their previous gatekeeping stances.
The near-extinction of hit pieces on Tsai have been mirrored by the fading number of pieces on her perpetually falling poll numbers. Decontextualized, uninformed pieces on Tsai's poll numbers were a regular feature of foreign media reporting in the first few years of her administration. Indeed, it was possible in October of 2017 for a piece in the East Asia Forum ("Tsai's mid-term blues," Sheryn Lee, Oct. 26, 2017) to contend that Tsai's approval was falling while posting numbers showing that it had risen nearly 17 percent to 46.4 percent from July to September of that year.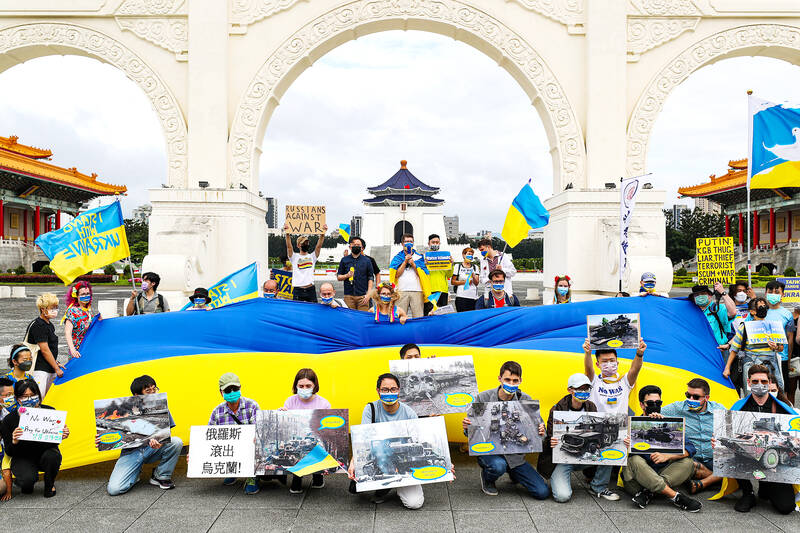 Slavic people living in Taiwan display posters and a Ukraine flag in May during a rally at the Free Square in front of the Chiang Kai-shek Memorial Hall in Taipei.
Photo: AFP
The last burst of that particular form of odious stenography was after a Taiwanese Public Opinion Foundation (TPOF) poll in May of last year, which reported on TPOF Chairman Michael You's (游盈隆) claim that the 8.7 percent drop in her approval was an uncommonly large shift, to a 21-month low of… 45.7 percent. Few such pieces have appeared since.
Such shifts are mirrored across the discourse on Taiwan. For example, it used to be a staple of media pieces that the "1992 consensus" existed and was an agreement to disagree between Taiwan and China or some such drivel. That has simply disappeared, a relic that now largely surfaces only in pro-China pieces. The major media has finally gotten the message that there was never any such agreement and has quietly stopped including it in their "background," which, like the scenery in a Marvel superhero flick, was pure imagination brought to life on a green screen of Chinese Nationalist Party (KMT) propaganda.
Naturally, none has ever published a mea culpa for forwarding this nugget of pro-China, pro-KMT propaganda year after year. Yet these claims remain as unretracted information on thousands of Web sites, still shaping the discourse on Taiwan, zombie claims eternally eating the brains of readers.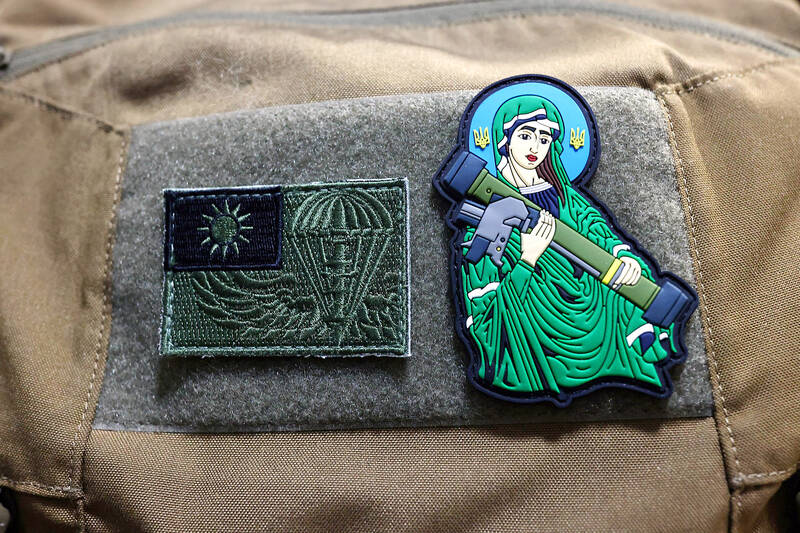 Patches depicting Taiwan's flag and a symbol known as Saint Javelin of the Virgin Mary holding an anti-tank weapon and Ukraine's coat of arms, are pictured in May in New Taipei City.
Photo: Reuters
TAIWAN-UKRAINE LINKS
In the old days media organizations routinely portrayed Eastern European states as plucky democracies resisting colonial invasion from Russia, yet presented Taiwan as the "provoker" of tensions with China. Writers carefully contextualized their reporting on Eastern Europe by signaling what was reality and what was Russian propaganda. No such pains were taken in reporting on Taiwan. Hopefully, Russia's invasion of Ukraine has killed that trope: even the most staid establishment reporting can't miss the obvious ethnonationalist similarities in Russian and Chinese dreams of expansion.
The other nails in that coffin were China's attacks on India in the Himal the last couple of years and of course, the South China Sea situation and Beijing's military build-up. China's manifest, multi-faceted aggression has made it impossible to contend that other nations are at fault.
Now I await the pieces that integrate China's claim to Taiwan with its expansionist aggression against other neighbors, to give readers a full and fluent picture of the moderately-sized Han-centric state that is attempting to inflate its boundaries out to those of the old Manchu Empire. China, as scholar Dru Gladney once observed, "as it currently exists, including large pieces of territory occupied by Mongols, Turkic peoples, Tibetans and so forth, is three times larger than China was under the last Chinese dynasty, the Ming, which fell in 1644." The China we know is a construct of other empires, recast as Chinese.
The Taiwan-Ukraine links are also having another effect on the commentary: it is becoming increasingly difficult for commentators to pretend to be neutral analysts. The space between moral judgments about each side has shrunk since Russia declared on Feb. 24 that it was a violent colonialist state bent on expansionist aggression.
That in turn is reducing pieces that ask us to sympathize with China or see things from Beijing's point of view. Because reporters in Taiwan are understanding things from the local point of view, the trope of "poor put-upon China" is disappearing. Gone too are the Beijing-centric views that colored much media reporting on Taiwan, in the old days produced by reporters stationed in China. At present asking for Taiwan to take Chinese wishes into account is a signal that the writer is pro-China.
China's expulsion of foreign media workers has been a boon for Taiwan because many of them took up residence on the Beautiful Island. It is becoming routine for pieces on Taiwan to actually quote people from Taiwan, a major change from a decade ago. The range of media topics has expanded dramatically, as has the depth of coverage.
DANGEROUS RADICALS?
Another aspect of these changes is the way pro-independence politicians are no longer presented as dangerous radicals. Remember the flurry in the media when Tsai appointed "independence hardliner" William Lai (賴清德) as her Premier? That position is so important that I bet most people reading this can't quickly name our current premier, who has held that position twice.
The presentation of people like Lai as dangerous radicals is no longer possible in a media environment in which everyone recognizes that the provocative aggressor is China. Implicit in this absence is the media realization that independence is the mainstream in Taiwan. Perhaps they will make that explicit someday.
As portraits of pan-green politicians as "radicals" have vanished, so too has the media habit of referring to KMT leaders as "pragmatic." Although I admit I miss laughing at media presentations of the pragmatic Ma Ying-jeou (馬英九), whose administration once demanded, in December of 2013, that school materials marking Nanjing as the national capital be procured.
These changes also led to the media deep-sixing the phrase "anti-China" to describe Taiwanese taking pro-Taiwan positions. Sadly, the term "pro-Taiwan" still sticks in the media's collective throat, while media dictionaries continue to leave out the word "annex."
Given all these changes great and small, it is almost reassuring to watch the media sex up tensions, those mysterious tensions that arise for no reason, the Augustinian First Cause of cross-strait cosmology.
Yet despite those issues, it is clear we have entered a kind of Golden Age, and I fully expect things to get better.
Notes from Central Taiwan is a column written by long-term resident Michael Turton, who provides incisive commentary informed by three decades of living in and writing about his adoptive country. The views expressed here are his own.
Comments will be moderated. Keep comments relevant to the article. Remarks containing abusive and obscene language, personal attacks of any kind or promotion will be removed and the user banned. Final decision will be at the discretion of the Taipei Times.