Expats play key role in boosting Taiwan's tourism
Locally-based, foreign-born tourism professionals and entrepreneurs are convinced of Taiwan's appeal — even if official efforts to promote it are often flat-footed
China's abrupt announcement at the end of July that it would stop issuing permits to its citizens who wish to visit Taiwan independently was followed by rumors that Beijing may soon make it impossible for Chinese tour groups to come to the country. Some tourism professionals expressed panic, while others repeated what they've been saying for the past decade: If the industry is to thrive long term, it must cast its net further afield.
Of the 11.07 million foreign visitors Taiwan received last year, almost a quarter came from China. Other Asian countries and territories within five hours' flying time accounted for well over half. At the same time, long-haul markets showed strong growth. While total arrivals increased by 3 percent compared to 2017, the number of visitors from the US rose by 3.3 percent, from Europe by 6.1 percent, and from Australia by 12.8 percent.
Locally-based foreign-born tourism professionals and entrepreneurs who have positioned themselves to serve the growing number of Western visitors are convinced of Taiwan's appeal — even if they characterize official efforts to promote the country as flat-footed, or feel constrained by regulations.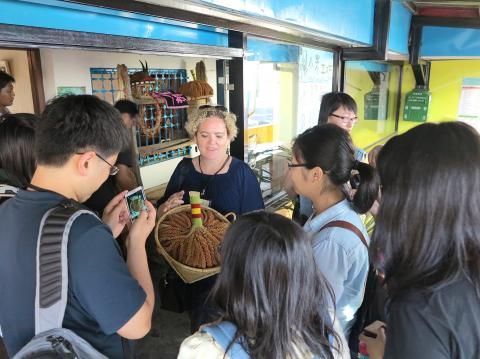 Cheryl Robbins leads a group of tourists during a visit to an indigenous community in Taitung.
Photo Courtesy of Cheryl Robbins
In 2017, inbound tourists spent an average 6.39 nights in Taiwan, but there's some evidence that those whose journeys take several hours might stay longer. In economic terms, therefore, they're fish especially worth reeling in.
"Our clients tend to stay eight or nine days on the island, five or six of them touring, plus two or three before or after the tour for free time and self-guided travel," says Mark Pemberton, founder and managing director of Life of Taiwan. (This reporter writes and consults for Life of Taiwan on an ad hoc basis.)
"Upward of 75 percent of our clients come from Western countries. I'd say another 10 percent are Westerners living in Asia. We also get a fair amount of Taiwanese-Americans doing homecoming trips," he adds. For the time being, Life of Taiwan's Web site and advertising are 100 percent English.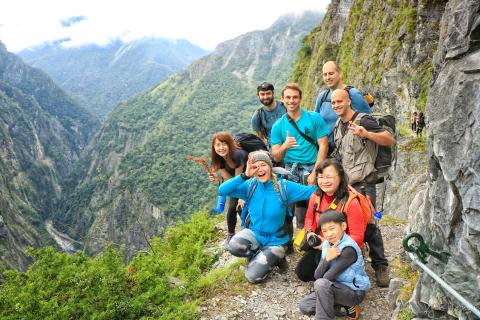 Taiwan Adventure Outings clients and guides on the Jhueilu Old Trail in Taroko Gorge.
Photo Courtesy of Ryan Hevern
"We need to really understand what our clients want, and our obvious advantage is understanding what service levels and standards international tourists expect," says Pemberton, an Englishman. "Local tour companies, it seems to me, focus too much on low prices, rather than really listening to their customers and curating tours to their needs. Being native English speakers gives us an advantage with regards to offering first-class service."
TOUR-GUIDE LICENSE
Cheryl Robbins, who's lived in Taiwan since 1989, is one of the few non-Taiwanese holding a local tour-guide license.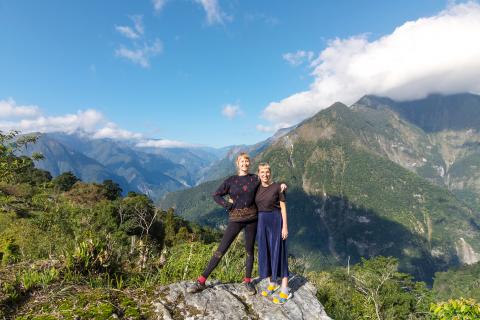 Taiwan Adventure Outings clients in a less-visited part of Taroko National Park.
Photo Courtesy of Ryan Hevern
"There's a lot to study for the tour guide licensing test, and after passing the written and oral tests, I had close to 100 hours of training. Getting a license wasn't a huge investment in terms of money, but did take a lot of time," says the Californian.
Her license and considerable experience notwithstanding, regulations stipulate that when Robbins guides a group, she has to work with a travel agency.
"Many agencies have no clue about specialty tourism. I'm trying to provide value-added, high quality tour products — but their mindset is 'cheap and low quality,'" she says.
"Travel agents sometimes tell me 'That's too expensive,' or 'We can't use that hotel because we don't have a contract with them.'
Robbins says her clients want in-depth, unique experiences, but they also care about where they stay. She adds that they don't mind spending a little extra if the travel agency doesn't have a special rate.
"It's difficult to communicate this to agencies who mostly deal with customers whose priority is to save money," Robbins says. "Such regulations are hampering the development of specialty tourism in Taiwan. It can be very frustrating and sometimes lonely to promote specialty tourism to Taiwan, but it's important that those of us who see the potential continue to fight the good fight. Hopefully, the government and the tourism industry will wake up and join in one day."
Robbins also serves as an examiner for Taiwanese English-language guides finishing their training, and asserts that while some speak excellent English, "a shockingly high proportion don't."
She's heard similar gripes from some of her clients: "I'm told local guides tend to be long winded but not answer the questions put to them. Clients often tell me that they like that I don't talk very much and that I answer questions very directly."
Robbins sees a cultural dimension in this: "I understand that Westerners are very OK with asking questions if they want to know more."
Californian Ryan Hevern, who set up Taiwan Adventure Outings with Dustin Craft of North Carolina in early 2018, "strongly believes that bringing a Western mentality to tourism in the country — by having more foreigners as licensed tour guides or operating tours — would increase inbound travel from the Americas, Europe, and Australia. It would also help shift Taiwan towards a more responsible model of tourism focusing on conservation, culture and adventure."
Hevern thinks some Taiwanese-run tour operators have a protectionist mindset, which he dismisses as "unnecessary… our clients wouldn't travel with them, and theirs wouldn't travel with us. Among businesses run by expats, there's competition, but also a common desire to help build tourism that's right for Taiwan. We connect adventurers to small-scale initiatives which promote the culture, environment and local communities. The island deserves sustainable tourism, and we're here to help."
Hevern isn't alone in seeing the drop-off in Chinese visitors as an opportunity.
"We can shift the way Taiwan is marketed, and shine a spotlight on the adventure paradise it is," he says. "However, a big issue in Taiwan is that it's nearly impossible for travel-related small enterprises to start up. You need something like NT$6 million in capital to establish a travel agency, because the rules assume a travel business must take care of flights, visas, accommodation, tours and so on. This is an archaic template."
GOING LOCAL
Pemberton, who accumulated years of business experience in other fields before setting up Life of Taiwan in 2011, has successfully negotiated the sector's red tape.
"We're a member of the Taiwan Visitors Association and have been welcomed and supported into the community. Taiwan has a wonderfully free market which has always impressed and endeared me," he says.
The co-founder of another expatriate-run tour company, who wishes to remain anonymous, says legal issues haven't seriously complicated the running of his business.
"But I think if we were to ever have a major problem, being foreigners would mean we'd get extra attention from the authorities and the media," he says. "That spurs us on to make sure that we do everything 100 percent right and 100 percent to the best of our ability."
Pemberton adds that being native English speakers is a big plus because their clients feel more comfortable on hikes putting their safety in the hands of people they're able to communicate with easily.
The same entrepreneur argues that a greater Western presence would be good for the tourism sector. "An injection of ideas about how to run tours that would interest foreigners would go a long way. Local companies offer daytrips to Taroko Gorge from Taipei, and there's just no way a trip like that can be done with any level of quality. We'd spend a minimum of two days and two nights. Less than that and it's not worth going!"
Simon Foster's situation is different to that of Hevern, Pemberton and Robbins. As destinations managers at the Taiwan office of Grasshopper Adventures, he and his wife, Tot — both Britons — organize fully-guided and self-guided bike tours for a Bangkok-headquartered company that now operates in 14 countries in Asia.
"We're well-received and treated fairly in Taiwan. Generally speaking, processes are clearly laid out — increasingly in English — easy to follow, and reasonably transparent," says Simon Foster.
While praising "the geographic and cultural diversity of this beautiful island," he laments how little known Taiwan's attractions are in the wider world.
"When I tell people we have East Asia's highest mountains, hot springs, thousands of temples, the world's deepest marble gorge, indigenous tribal culture, rugged Pacific beaches and some of the world's best food and cycling, they often look incredulous. One of the main challenges is overcoming this knowledge gap which continues to limit tourist numbers."
Pemberton thinks the Tourism Bureau could do a better job of promoting Taiwan at the international level.
"I would love for them to reach out to companies like ours so that we could assist in building campaigns. We know what appeals to Westerners. Also, we need to continue to internationalize the island. That said, there's nothing wrong with Taiwanese people. We've had great reviews on Tripadvisor, but I always say these reviews are actually reviews of Taiwan. Taiwan is a five-star destination because of the people and their warmth."
Comments will be moderated. Keep comments relevant to the article. Remarks containing abusive and obscene language, personal attacks of any kind or promotion will be removed and the user banned. Final decision will be at the discretion of the Taipei Times.