Highways and Byways: Gangshan: the real hometown of beef noodle soup?
This small town between Tainan and Kaohsiung played a big role in Taiwan's culinary development
If the town of Gangshan (岡山) in Kaohsiung is known for anything, it's the Republic of China Air Force Academy and goat-meat restaurants.
Founded in China in 1928, the academy has since 1949 been located in Gangshan, which is roughly equidistant between central Tainan and central Kaohsiung.
Nowadays more than 90 percent of the goat meat served in the town's eateries is imported, yet hircine protein is still regarded as one of Gangshan's three treasures (岡山三寶). The others are honey, and a spicy paste made of soybeans and broad beans. It's argued by food historians that the last of these was instrumental in the emergence after World War II of beef noodle soup as one of Taiwan's favorite dishes.
Bungalows that once housed air force officers and their families crumble as they await demolition.
Photo: Steven Crook
Many assume beef noodles first appeared in Mainlander-dominated neighborhoods in Taipei. But as Chen Yu-jen (陳玉箴), now a professor in the Department of Taiwan Culture, Languages and Literature at National Taiwan Normal University, wrote in her doctoral thesis, an alternative theory has gained currency since the 1990s.
Chen writes that essayist Lu Yao-tung (逯耀東) was perhaps the first scholar "to argue that the so-called Sichuan-style beef noodle was actually an invention in Taiwan and perhaps originated in military dependents' villages at Gangshan."
"According to Lu's argument, 'hot bean paste' (辣豆瓣醬) is an essential ingredient of the so-called 'Sichuan-style beef noodles' and is also an important specialty of Gangshan," Chen adds.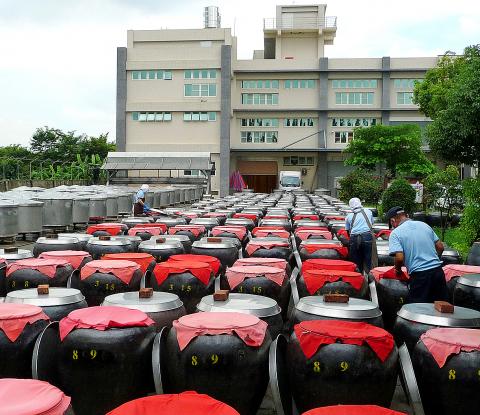 At the Ming Teh Food Industry Co Ltd factory, workers check on vats of beans left to ferment under the sun.
Photo: Steven Crook
Lu, a Jiangsu native who spent almost all of his adult life in and around Taipei, presumably had no particular ulterior motive for talking up Gangshan. Even the Taipei City Government, in articles published to promote its beef-noodle festival several years ago, embraced the Gangshan theory. Given the competing claims made by those who supposedly invented bubble milk tea, it's surprising no one has stepped forward to say they (or their parents or grandparents) were the first people in Taiwan to cook the kind of beef noodle soup now enjoyed by millions each week.
Soy has been grown in the Gangshan area for generations, but the distinctive paste that Lu regarded as an essential ingredient isn't a traditional local product. It seems the first entrepreneur to make and sell this condiment was himself a Mainlander, albeit one who arrived in 1948, a little ahead of the Chinese Nationalist Party (KMT)-led influx that eventually totalled more than 2 million (at a time when the local-born population of Taiwan was under 7 million).
Air force clerk Liu Ming-teh (劉明德) and his wife were Henan natives, but they spent much of World War II in Sichuan. There they learned how to make various spicy sauces and pastes, "never imagining that these skills would become a magic weapon, enabling them to survive later in life," to quote the Sept. 3, 2015 issue of the Chinese-language Next magazine.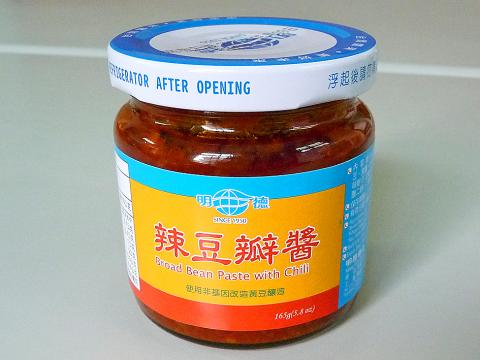 A jar of Ming Teh Food Industry Co Ltd's signature broad bean paste with chili.
Photo: Steven Crook
After Liu was kicked out of the air force in 1950 for propagating the then-proscribed religion of I-Kuan Tao (一貫道), he struggled to support his family. According to some accounts — which gloss over the reason for Liu's separation from the military — at one point he had a mere NT$10 to his name. Liu and his wife resorted to fermenting their signature flavoring, which he sold a dab at a time, each ration wrapped in a lotus leaf.
The company Liu founded, Ming Teh Food Industry Co Ltd (明德食品工業股份有限公司), is still going strong under his grandson's leadership. For the past couple of decades, their main factory (which isn't open to the public) has been located just outside Gangshan in neighboring Alian District (阿蓮區).
Foodie tourists can see and buy Ming Teh products at the company's shop, Old Chili House (岡山明德老醬舖), at 128 Heti Road, Section 2 (河堤路二段128號), about 900m southwest of Gangshan's railway station. Here I was told that the company's broad bean paste with chili (辣豆瓣醬) is the closest to what Liu was making and selling more than 60 years ago. Its key ingredients are red chili pepper, non-GMO soybeans, water, broad beans, liquid sugar, sesame oil, wheat flour and powdered star anise.
Old Chili House is in a part of Gangshan heavily imprinted by the ROC military. Several old officers' bungalows still stand near the intersection of Lequn Road (樂群路) and Zhongxiao Road (忠孝路). Only one, as far as I could tell, remains occupied. On the other side of a landscaped waterway, there's a residential street named Kongyiyuan Road (空醫院路, Air Force Hospital Road). At the western end of it, you'll find Gangshan Armed Forces Hospital (國軍高雄總醫院岡山分院).
The river is the Agongdian River (阿公店溪), the name of which is derived from the original name of Gangshan. The Aboriginal people who lived here before the Han Chinese incursion called this place Agongtoan; Fujianese migrants pronounced it A-kong tiam, writing it with characters that mean "grandpa's shop." Gangshan is the Mandarin version of the name given to the town by the Japanese colonial authorities, Okayama.
If you've come all this way to explore food heritage, consider dropping by the Taiwan Soya-Mixed Meat Museum (台灣滷味博物館; slightly different English names appear on their Facebook page and on road signs).
It's a "tourism factory" rather than a museum in the traditional sense, and belongs to D.E. Chung Hua Foods Co Ltd (得意中華食品有限公司), a company which established its reputation by making "iron eggs" (鐵蛋). The founders started off selling homemade food in a nearby night market in 1993.
The museum focuses on luwei, the category of braised, savory foods often eaten alongside noodles, or bought from a night-market vendor and taken home as a late snack. Luwei wasn't invented in Taiwan, let alone Gangshan. Some scholars believe Tang Dynasty literati enjoyed something similar with their wine.
Located at 25 Bengong 1st Road (本工一路25號) on the northern outskirts of Gangshan, the museum is open from 8am to 5pm, seven days a week. A little bit of English can be found on their Web site, museum.de-food.com.tw, but there isn't much at the museum itself. That's a pity, as many gourmands would be interested in reading about the 60-plus ingredients that, in various combinations, are used to braise quail eggs, duck heads, and slivers of cow stomach. Among them are such exotic items as sweet osmanthus seeds (桂子), candied winter gourd (冬瓜糖), and a medicinal plant of which I'd never heard: amomum tsao-ko (草果). There's something to be learned every day, even in a corner of Kaohsiung few people would think of visiting in their free time.
Steven Crook has been writing about travel, culture and business in Taiwan since 1996. Having recently co-authored A Culinary History of Taipei: Beyond Pork and Ponlai, he is now updating Taiwan: The Bradt Travel Guide.
Publication Notes
IF YOU GO
GETTING THERE Gangshan is well served by conventional trains. The fastest expresses from Taipei take less than five hours. From Kaohsiung, a local train will get you to Gangshan in about 25 minutes.
Comments will be moderated. Keep comments relevant to the article. Remarks containing abusive and obscene language, personal attacks of any kind or promotion will be removed and the user banned. Final decision will be at the discretion of the Taipei Times.