Highways and Byways: Beating the heat in the mountains
A walk along the Tefuye Historic Trail from Zihjhong to Dabang Village rewards with its shaded paths and temperate woodlands
Taiwan has superb hiking and — if you are patient and can read some Chinese — public transportation that is reliable, if infrequent, in rural areas. Unfortunately, these two advantages do not fully overlap.
That was my excuse for not completing one of the finest hikes in Alishan (阿里山) until a few months ago. The 6.32km-long Tefuye Historic Trail (特富野古道) cuts through temperate woodlands between Alishan National Forest Recreation Area (阿里山國家森林遊樂區) and Yushan National Park (玉山國家公園). However, hardly any buses pass the eastern end of the path at Zihjhong (自忠) on Highway 18, a road also known as the New Central Cross-Island Highway (新中橫公路). And none go near its western terminus.
On three occasions over the last dozen years, while driving or riding between Tataka (塔塔加) and Alishan, I parked my car or motorcycle at Zihjhong. Each time, after covering a kilometer or so of the trail, I turned around, wishing I had both more time and a magic wand — the former so I could go further, the latter to teleport my vehicle to the other end of the path. Chatting with hikers, I got the idea that for every person who completes Tefuye Historic Trail, at least 20 have to be content with doing only part of it.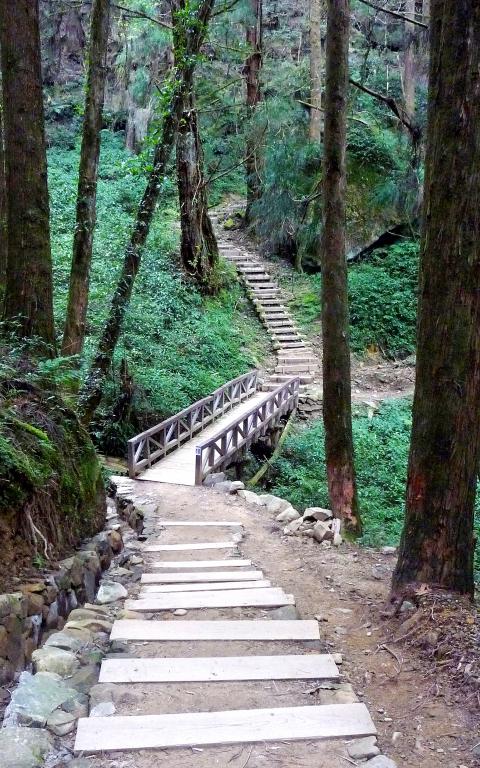 There are few steps along the eastern half of the Tefuye Historic Trail in Chiayi and Nantou counties, but a great many near the western entrance.
Photo: Steven Crook
GENESIS OF A TREK
Zihjhong is 2,280m above sea level and named for Chang Tzu-chung (張自忠), a senior Chinese Nationalist Party (KMT) military leader and the highest ranking Allied general killed in battle during World War II. The name was chosen by Chiang Kai-shek (蔣介石) when he visited the area in 1951. The landscape reminded the generalissimo of the mountainous region in China's Hubei Province where Chang died trying to hold back the advancing Japanese.
Six and a bit kilometers is not a problem. Nor is a drop of approximately 600m. But driving well over 100km to get to the trailhead, completing the hike in one direction and then doing it all again uphill to get back to my car, looked like biting off more than I could chew.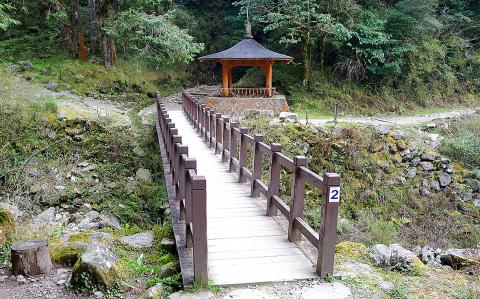 By the second bridge along the Tefuye Historic Trail in Chiayi and Nantou counties, a Japanese-era gazebo has been restored as a rest-stop for hikers.
Photo: Steven Crook
The solution was returning by evening bus from Dabang Village (達邦) to Chiayi City. Dabang is an indigenous village near the upper reaches of the Zengwen River (曾文溪), and looking at various maps, it seemed the village could not be very far from the western end of Tefuye Historic Trail.
Getting as far as Alishan by public transportation has never been difficult. Regular buses set out from both the high-speed and conventional railway stations in Chiayi. Journey time is about two and a half hours. My Tefuye hike coincided with sakura-appreciation season, which this year ran from March 15 to April 10. Because the Alishan National Scenic Area Administration had added extra buses, within 20 minutes of stepping off the train at Chiayi I was en route to the mountain resort.
Alishan National Forest Recreation Area is 7.9km from Zihjhong, but the only public buses connecting these two places depart from Alishan at 1pm and 2pm.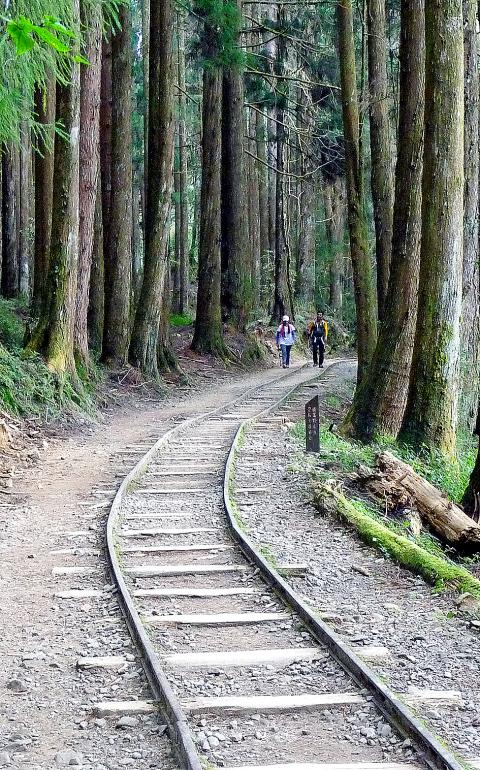 Most of Tefuye Historic Trail in Chiayi and Nantou counties is shaded, and for most of the first half hikers follow the old logging railway line.
Photo: Steven Crook
I had walked to Zihjhong before and was prepared to do it again. The traffic is usually light and the scenery is alluring. There are no steep gradients, and for much of the distance you can walk on the road verge rather than hard blacktop.
Thumbing a lift was another option, but rather than wait for a car heading toward Tataka, I began marching. The sun was not especially strong, and I reached Zihjhong in under two hours.
I was relieved to see nothing at Zihjhong had changed since I last passed through. The long-shuttered police station and associated structures on the right side of the road were intact. On the left, the empty three-story building, perhaps intended to be a homestay, still clung to the top of an immense landslide chute.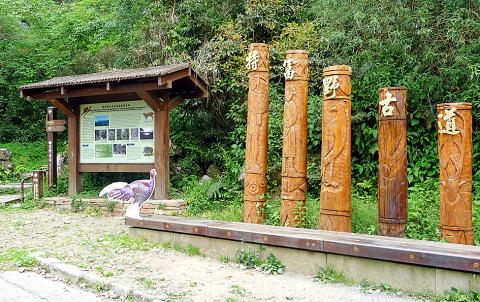 The western end of the Tefuye Historic Trail in Chiayi and Nantou counties is several kilometers from the nearest human settlement.
Photo: Steven Crook
My stomach was delighted to see the blue farmer's truck that is often parked here. From the back of this vehicle, a Hakka lady from Alishan sells hot snacks ideal for people about to set off on a calorie-burning hike.
THE TRAILHEAD
Fortified by turnip-and-mushroom soup and "rice sausage" (糯米腸), I set off down the trail. Very soon, I was walking alongside narrow-gauge railway tracks. Just before World War II, Alishan's logging railway was extended deep into the mountains to better exploit the area's cypress stands. By hiking-path standards, the first 3.7km of the Tefuye Historic Trail is broad, straight and fairly flat, because it was cut for trains rather than humans. This railroad, a spur of the Shueishan Branch Line (水山線), operated until the late 1970s.
Despite decades of logging, the forest here looks very healthy. Hikers are seldom exposed to direct sunshine, but at only a few locations is it possible to see across the valley, let alone down to the plains.
Approaching the halfway point, I ran into a group of outdoorsmen who told me they had hiked down to the western trailhead, rested there and were now returning to Zihjhong. When I told them I would be continuing on to Dabang, one said: "That's more than nine kilometers!"
Seeking clarification, I asked: "From here?"
"No, from the western entrance."
"I'm a fast walker," I replied. Because I had gotten on the trail earlier than expected, and the environment was so profoundly restful, I had actually been moving quite slowly. Deciding to speed up, I soon reached the spot where the trail veers off from the rail route and begins to follow an ancient Tsou tribe (鄒族) hunters' trail. This is why the path is called "historic."
Over the final 2.6km, I descended 500m. Rough stone steps brought me to western trailhead, where an information board confirmed what I had been told. The village of Tefuye (特富野) was 6.3km away, and Dabang was 3km beyond that community.
The road was like many in Taiwan's hills: just one vehicle wide, surfaced with concrete rather than asphalt and punctuated with corners so sharp and cambered I was glad I had not driven my Nissan up here.
Anxiety about the distance I still had to cover was outweighed by the energizing joy I always feel in the mountains. I passed vegetable patches and carefully-cultivated bamboo groves, but did not see another human until I was almost in Tefuye. There, reckoning it would be more scenic and more direct than the road, I decided to follow Tefuye Trail (特富野步道, entirely separate to Tefuye Historic Trail). It saved me 1km or more, and I reached Dabang with enough time for a bowl of noodles before catching the 7:10pm bus.
It had been a long day and a long trek (about 22km).
Steven Crook has been writing about travel, culture, and business in Taiwan since 1996. Having recently co-authored A Culinary History of Taipei: Beyond Pork and Ponlai, he is now updating Taiwan: The Bradt Travel Guide.
Publication Notes
If you go: An alternative
In 2014, the Taiwanese outdoors enthusiast who blogs in Chinese at skoda-eddie.blogspot.com and his companion cycled to Zihjhong from the lowlands, then took their bikes down Tefuye Historic Trail, pushing or carrying them where riding was impossible.
Comments will be moderated. Keep comments relevant to the article. Remarks containing abusive and obscene language, personal attacks of any kind or promotion will be removed and the user banned. Final decision will be at the discretion of the Taipei Times.