Taiwan in Time: The reluctant debaters
The now-common practice of televised presidential candidate debates got off to a rocky start, taking three tries and much wrangling to finally get all parties on board in 2004
Feb. 12 to Feb. 18
About 4.5 million viewers tuned in to their radios and televisions on Feb. 14, 2004 as moderator Wu Feng-shan (吳豐山) announced, "This is one small step for the two candidates, but a giant leap for Taiwan's democracy."
It was a cliched thing to say, but it was true — after two unsuccessful attempts, all presidential candidates had agreed to take part in the same televised debate. Granted, there were only two candidates as opposed to five in the previous election, but it's still considered a historic moment.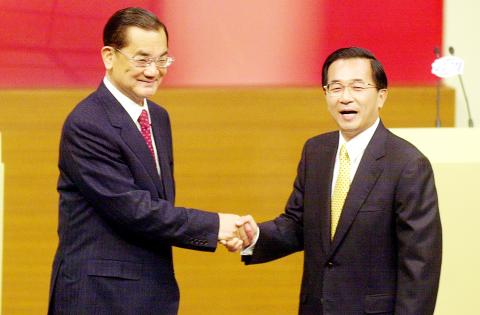 Lien Chan, left, and Chen Shui-bian shake hands prior to the presidential candidate debate on Feb. 14, 2004.
Photo: Chien Fung-jung, Taipei Times
Candidates Chen Shui-bian (陳水扁) of the Democratic Progressive Party (DPP) and the Chinese Nationalist Party's (KMT) Lien Chan (連戰) shook hands, politician-style, with the other hand grasping each other's elbows, and headed to their respective podiums. The show had begun.
INITIAL ATTEMPTS
Televised debates were hardly a novelty. In 1993, the candidates for Changhua County commissioner squared off on national TV, and the Taipei and Kaohsiung mayoral hopefuls followed the year after.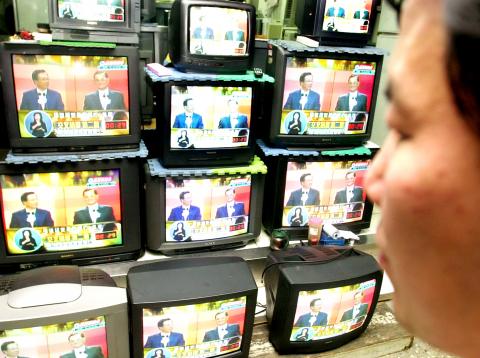 A passerby watches the second televised debate between Lien Chan and Chen Shui-bian on Feb. 21, 2004.
Photo: Chen Tse-ming, Taipei Times
Technically, a series of televised debates did take place for Taiwan's first ever presidential elections in 1996, but incumbent Lee Teng-hui (李登輝) did not participate, leaving the stage to the three challengers of Peng Ming-min (彭明敏), Lin Yang-kang (林洋港), Chen Lu-an (陳履安) and their respective deputies.
"Due to the amount of public attention these debates received, the absent Lee was frequently asked to explain why he did not participate as well as respond to the contents of the debate, so in a sense he did take part in the events," Wen Wei-chun (溫偉群) writes in the book, Televised Presidential Debates: A Generic Criticism of Rhetorical Strategies (總統電視辯論: 語藝策略與類型批評).
Despite Lee not participating, more than 20 percent of voters tuned in. According to a United Daily News (聯合報) poll, 18 percent of total voters — including 7 percent of Lee's supporters — reacted negatively to his absence. But the same poll showed Lee still leading other candidates by a wide margin.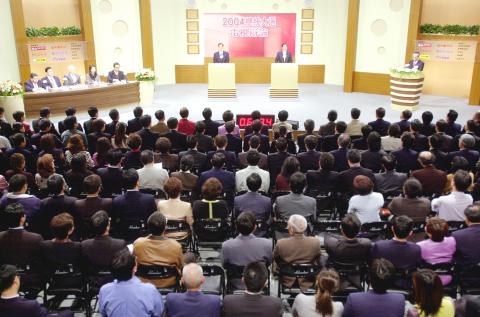 Lien Chan, left, and Chen Shui-bian debate on Feb. 14, 2004, in the lead up to the presidential election, which Chen won in March.
Photo: Chien Fung-jung, Taipei Times
"Lee's camp was confident that it could withstand the negative effects of not participating," Wen writes, noting that Lee ignored public accusations by the other candidates of "not respecting public opinion" and "being too scared to participate."
Lee's camp provided some rather vague explanations, the most frequent of which was that he had plenty of avenues to meet voters and express his views, and did not need to take part in the debate. Wen writes that with him comfortably in the lead, there was no reason to take any sort of risk. Lee won the election with 54 percent of the votes.
A televised debate featuring all candidates was scheduled for the 2000 presidential election on Feb. 27. However, two days after agreeing to participate, Lien Chan told the organizers that he only wanted to square off with Chen Shui-bian. In turn, Chen requested to only debate with Lien and James Soong (宋楚瑜), refusing to entertain the remaining candidates, Li Ao (李敖) and Hsu Hsin-liang (許信良).
A compromise was struck, and the five candidates simply expressed their political views and platforms one after another in a series of televised presentations.
THE SHOWDOWN
Fast forward to 2004. Lien and Chen were the only candidates for that year's election. Even though they were willing to debate with each other four years earlier, it was still a struggle to get them on the same page.
Talks about a potential debate began in November 2003, but it took three months of negotiations before both sides came to an agreement. Wen writes that as the incumbent, Chen had plenty of media avenues and had little incentive to take part. Lien, on the other hand, was leading Chen in the polls and felt that joining the debate would only give Chen more chances to bolster his support base.
While the two sides initially showed a willingness to participate, they accused each other of being too scared to debate. Items they argued over included whether both sides were truly equals (with one being the incumbent), the format of the debate and the number of events to be held. Both sides insisted that they were happy to participate and that it would be the other side's fault if the event fell through.
However, public pressure was much more intense than in previous years. In January 2004, Formosa Plastics Group founder Wang Yung-ching (王永慶), then-Academia Sinica president Lee Yuan-tseh (李遠哲) and Cloud Gate Dance Theatre founder Lin Hwai-min (林懷民) issued a joint advertisement in the nation's major newspapers, imploring the two candidates to stop sniping at each other and to participate in the debate.
Surveys also showed that about 70 percent of voters wanted a televised debate as well. Chen and Lien had no choice but to comply.
The debate was organized by a number of media outlets, including the Liberty Times (the Taipei Times' sister newspaper), and was broadcast on 11 television and five radio channels. Polls show that Chen performed better in the first debate, while Lien took the second one. Between 4 to 6 percent of voters were swayed by the first debate, while between 3 to 7 percent changed their mind after the second.
Lien was still the favored candidate at that point, but Chen had the last laugh, barely beating his opponent by 0.22 percent of the vote.
Taiwan in Time, a column about Taiwan's history that is published every Sunday, spotlights important or interesting events around the nation that have anniversaries this week.
Comments will be moderated. Keep comments relevant to the article. Remarks containing abusive and obscene language, personal attacks of any kind or promotion will be removed and the user banned. Final decision will be at the discretion of the Taipei Times.