Taiwan in Time: Surviving on human flesh and a prayer
Chou Tsung-lu, the lone survivor of the Haishan Tunnel No. 1 mining disaster, was sustained by urine, human meat and sheer faith in his struggle to survive 93 hours trapped underground
Dec. 4 to Dec. 10
Chou Tsung-lu (周宗魯) prayed as usual before he headed into Haishan Tunnel No. 1 in New Taipei City's Sanxia District (三峽) in the late morning of Dec. 5, 1984.
"I must pray every time because it's quite dangerous down there," he writes in his biography, Run from Death (突破死亡線), by Ho Hsiao-tung (何曉東). "If I don't have the protection of Jesus, there's a huge chance I'll die."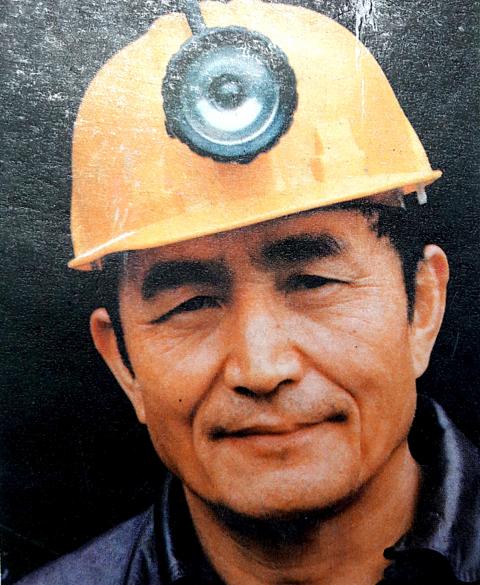 A portrait of Chou Tsung-lu found in his biography, Run From Death.
Photo: Han Cheung, Taipei Times
Chou was about to start drilling when he was thrown to the ground by a violent burst of wind, knocking off his helmet. Smoldering coal dust scorched his face, and when it subsided he had to make sure he was still alive.
Screaming "Lord," Chou ran as fast as he could out of the tunnel, past a charred body into a chamber where survivors were all frantically praying to different deities. He kept running upward and found an airpipe several levels above, which kept him alive as his 92 companions dropped one by one to carbon monoxide poisoning.
Surviving underground for 93 hours by drinking urine and eating human flesh, Chou was the sole survivor of the Haishan No. 1 Tunnel mining disaster, the final of three deadly incidents in 1984 that killed at least 270 miners and accelerated the demise of Taiwan's coal industry.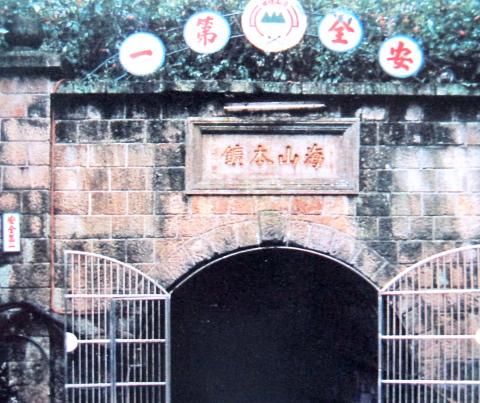 An undated old photo of Haishan Mine in New Taipei City's Tucheng District.
Photo: Hsin Yue-hung, Taipei Times
BOOMING INDUSTRY
The closing of Taiwan's last operating coal mine in Sanxia in 2001 marked the end of 125 years of coal mining in the country, starting with the Badouzih mine (八斗子) in Keelung, which opened in 1856.
According to a document by the Chinese Institute of Mining and Metallurgical Engineers, between 1945 and 1996, a total of 130 million tonnes of coal was procured from these underground passages, peaking between 1964 and 1969, when each year's production exceeded 5 million tonnes. In 1967, an estimated 58,000 people toiled in 366 mines across the country.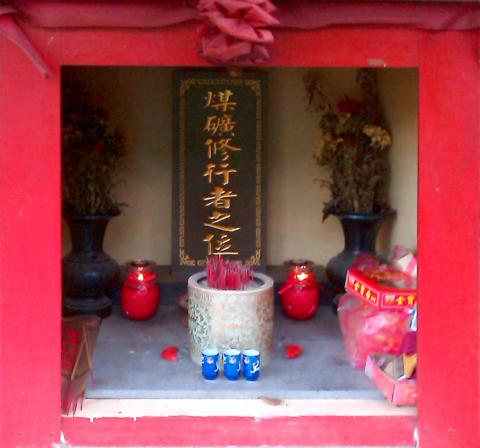 This memorial tablet outside of Tucheng's Haishan Mines commemorates the many miners who died in various disasters over the years.
Photo: Liu Yen-fu, Taipei Times
It was a dangerous operation, but with coal providing up to 60 percent of the nation's energy in the 1960s, production was valued over safety and on average there were 83 accidents and 111 deaths per year between 1946 and 1969. The most common cause was falling rock, followed by gas and dust explosions.
The Bureau of Mines was established in 1970. It established safety laws and regulations in 1974 and 1976 and set up emergency response centers near mining districts. The death toll greatly decreased, with 22 in 1983. But things took a turn for the worse the following year.
On June 20, 1984, the first major disaster struck at the Haishan Mine (海山煤礦) in New Taipei City's Tucheng District (土城). A rail car came loose and slid down a slope, hitting a high-voltage electric box and causing an explosion. Many survivors succumbed to carbon monoxide poisoning. The second incident on July 10 at Ruifang District's Meishan Mine (煤山煤礦) was due to an electrical fire. The disaster Chou was involved in occurred due to an explosion of undetermined origin.
A portrait of a coal miner taken in the 1980s.
Photo courtesy of Huang Liang-yi
Taiwan's coal industry was already struggling due to competition from imported coal and the advent of other types of energy such as petrol, and these deadly incidents only sped up the decline. By 2000, there were only four operating mines in Taiwan, all located in Sanxia.
The Haishan No. 1 Tunnel incident was not the first disaster Chou encountered. In 1979, he missed work for reasons he can no longer recall, narrowly avoiding several explosions in the Chungyi mine (忠義煤礦), also in Sanxia.
The Chungyi mine was one of the hottest and most dangerous mines — Chou says two miners could drink 5 liters of water in two hours. They also had fans blowing cold air from a block of ice, but Chou says they still tried to get in and out as quickly as possible.
Deputy manager of the Haishan Mine, Lai Ke-fu, left, takes a photo with former president Chiang Ching-kuo in front of the tunnel entrance.
Photo: Liu Yen-fu, Taipei Times
The conditions in Haishan Tunnel were much better, but Chou says he almost died there as well — once from accidentally inhaling poisonous gas from a wind pipe. The second time, he went into the tunnel unaware that there was an unexploded stick of dynamite hidden behind a rock. Luckily, his drill malfunctioned and only later did he find the dynamite right under where he was about to drill.
URINE AND HUMAN FLESH
After the mining disaster, Chou was afraid to leave his life-saving air pipe. Extremely thirsty, he urinated into his helmet and tried to drink it.
"No wonder people joked that it was 'Shandong hot and sour soup,'" Chou writes. "I did not want to take another sip, but I didn't want to dump it either. So I left it there, occasionally using the urine to wet my cracking lips."
He dipped a cloth in urine and used it as a face mask to explore the area, finally finding half a sip of water left in a canteen. Later, he managed to find water dripping from a crevasse. It took two hours to fill up the canteen.
With his thirst quenched, Chou was now hungry. He had gone hungry before, going for several days without food while in the army and also took part in Christian fasts several times. There was absolutely nothing to eat in the tunnel, and Chou prayed: "Lord, I'm going to have to eat human meat."
"God didn't stop me, but who would find it an easy feat to eat human flesh — especially those of my compatriots?" he says. "Someone asked me later how human flesh tasted. I can't really say — it was raw and I swallowed it with water without chewing."
It took several attempts before Chou was able to swallow the piece of meat without vomiting it back out. This would impact his social reputation later on.
"After I was rescued, I heard someone say, 'Chou Tsung-lu ate human meat, we can't be friends with him anymore!'" Chou says.
A newspaper report came to his defense, announcing that it was not illegal to consume human flesh in dire situations, and also deemed the act acceptable from both Christian and Buddhist perspectives.
Chou now had enough energy to plan his escape — but the passageway was blocked. After frantically digging for a while, he retreated to his original location to wait for help. As he was about to give up on the fifth day, he returned to the blocked tunnel and found that there was now a small opening. He passed through and continued upward until he heard the voices of rescue personnel. He was saved.
In the aftermath, the Bureau of Mines conducted inspections of coal mines across the country, finding 70 of them not up to par. The Ministry of Economic Affairs also established stricter safety policies for coal mining the same year. There were still about 16,000 miners in Taiwan by 1984, but the government started phasing them out in 1985 by helping them find new professions and assisting the mines with severance pay.
By 1994, there were only about 1,000 miners left. When they retired, Taiwan's coal industry was done for good.
Taiwan in Time, a column about Taiwan's history that is published every Sunday, spotlights important or interesting events around the nation that have anniversaries this week.
Comments will be moderated. Keep comments relevant to the article. Remarks containing abusive and obscene language, personal attacks of any kind or promotion will be removed and the user banned. Final decision will be at the discretion of the Taipei Times.