Creative cowherds for a week
At Hsinchu's 'Water Buffalo School,' children take care of the animals, learn traditional crafts and survival skills and exercise their creativity through projects such as water buffalo battles
Brandishing their spears, swords and other weapons, the diminutive warriors glare at their rivals on the other side of the Siaoli River (霄裡溪).
Yelling battle cries, each side's representative charges into the river on the back of a water buffalo. Actually, it's more of a trot due to the buffalo's slow pace, but the two sides eventually meet in the middle. Blows are exchanged, and Team Mimi's fighter defeats her Team Lala rival by touching his body with her foam-tipped spear.
The children are in a frenzy, with some crying foul and others cheering loudly. They are all friends again when the battle ends, as they play on a self-made tire swing, swim in the river and enjoy being dragged around by the water buffalo on a wooden grass sled.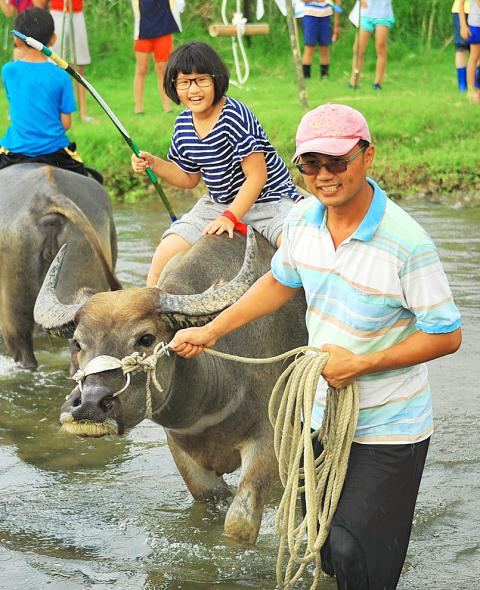 Peter Lee, founder of Water Buffalo School, leads a student into battle on the Siaoli River last month.
Photo: Han Cheung, Taipei Times
Video by Sofia Kuan
It's just another afternoon at the Water Buffalo School (水牛學校) in rural Hsinchu, a summer camp where children spend five days taking care of water buffalo, learning survival skills and exercising their creativity through different projects that vary week to week. The previous week focused on fine art, while the one before that saw children making floating devices.
After the fun, they head back to their "school building" to shower and enjoy some grass jelly before they start preparing firewood to make dinner. There are no shops in the vicinity, and the building is bare bones with no air conditioning and poor cell phone reception so the children — largely from urban areas — can experience a lifestyle from a simpler time.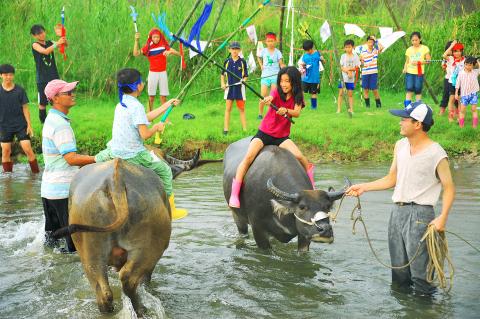 Team Mimi clashes with Team Lala on the Siaoli River.
Photo: Han Cheung, Taipei Times
A GREAT COMPANION
The camp is run by Peter Lee (李春信), an artist who began raising water buffalo about nine years ago. He became interested in eco-friendly farming methods after moving to rural Hsinchu.
"I wanted to learn how humans and water buffalo worked together before machines were invented," he says. "I realized there's much artistic value in water buffalo farming — the land is your canvas, and the human and the buffalo are your brush. So I started incorporating water buffalo culture into my art classes."
Eventually, it evolved into summer and winter programs for children, while adults are welcome during farming season to help with the labor.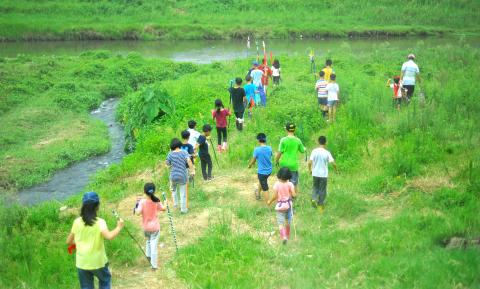 Water Buffalo School campers head toward the Siaoli River with weapons in hand.
Photo: Han Cheung, Taipei Times
"The water buffalo is a great companion," Lee says. "In the old days, children would interact with them and develop games involving the animals. I want them to spend time with the animals and even develop an emotional bond with them. Before they came, their understanding of bovines probably did not go beyond eating them for dinner."
Lee also shows the children documentaries and discusses the aesthetic value of traditional farming culture developed over thousands of years. The water buffalo battle is a new element in the camp as Lee continues to devise ways for children to warm up to the buffalo quickly.
"At first they are nervous, but through the battle they will forget about their fears," he says.
Lee adds that there needs to be constant adult supervision due to the sheer size of the animals, but the children will also train their reflexes and concentration by learning how to move around the buffalo, whether riding them or leading them to the pasture for grazing.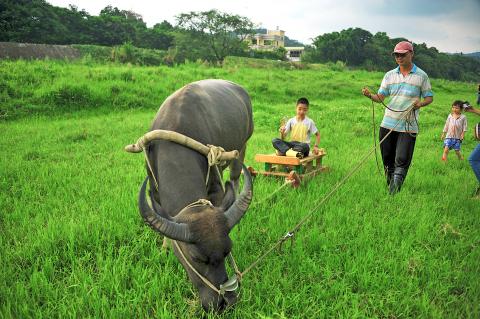 Water Buffalo School campers enjoy a ride on a homemade sled.
Photo: Han Cheung, Taipei Times
LEARNING TO BE GRATEFUL
Having grown up in a farming village, Lin Li-chi (林麗琪) says that she sent her two Taipei-raised children here to have a taste of her childhood.
"I want to let them know that life wasn't easy when we were growing up," she says. "At home, all they do is watch TV in an air conditioned room. There's none of that here. Their father jokes that they're here to learn how to be grateful."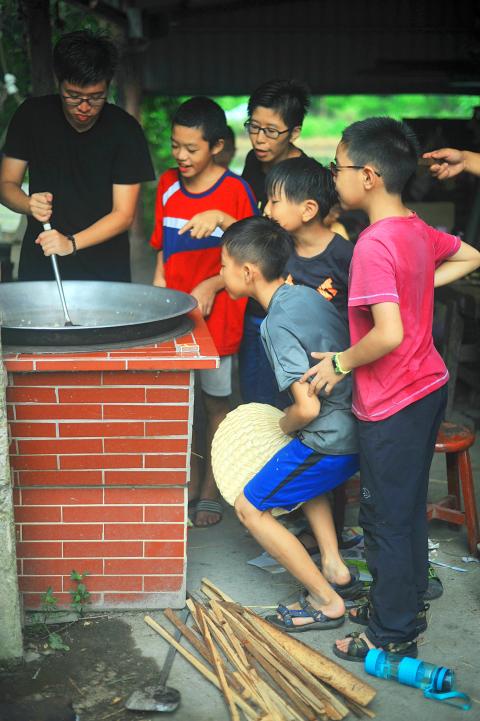 Campers at Water Buffalo School learn how to start a fire and help with the cooking.
Photo: Han Cheung, Taipei Times
Liu Tzu-chien (劉子謙), who will be a sixth-grader next month, is from Hsinchu City had never played in a river until he arrived at the Water Buffalo School.
Liu says the main draw for him was riding the water buffalo, but he also came to enjoy activities such as making a fire and weaving rope from straw.
"It's super fun to experience a traditional lifestyle," he says. "[Lee] purposely chose a half-finished house so we can learn what it was like to live in the old days."
The children have to clean the water buffalo dung everyday, which initially disgusted Liu. But soon, he learned about the many uses of buffalo feces, such as turning it into soap and using it as mosquito repellent.
"Once I learned that it has many functions, I didn't find it gross anymore," he says.
Comments will be moderated. Keep comments relevant to the article. Remarks containing abusive and obscene language, personal attacks of any kind or promotion will be removed and the user banned. Final decision will be at the discretion of the Taipei Times.