Baptism by DNA transmission
Raelians, who believe that humans were created by aliens, are becoming increasingly active in Taiwan, holding seminars and initiation ceremonies across the country including one earlier this month
Wang Kuo-liang (王國亮) has transmitted the DNA of numerous people to aliens on another planet over the past few years, but he is especially excited today.
His daughter, Wang Min-ju (王敏如) has decided to undergo the procedure.
The two are standing in a basement dance studio in downtown Taipei. A man holds a large bowl of water behind Wang Kuo-liang, who dips his hands in it and places one hand on his daughter's forehead and the other on the back of her neck.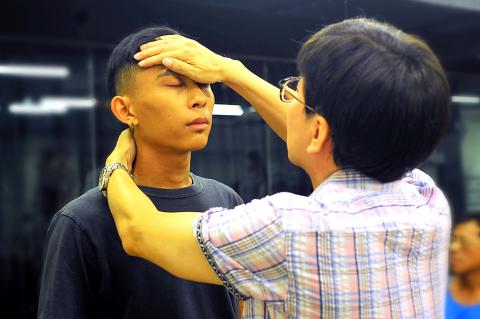 Wang Kuo-liang, a Raelian priest, performs the "transmission of cellular plan" on Tsai Tung-yuan.
Photo: Han Cheung, Taipei Times
The two stand in silence for about 10 seconds and the ceremony is complete. Wang Kuo-liang hugs his daughter, and so do several people in the room.
Land of the Dead
Video by Sofia Kuan and music courtesy of Kevin MacLeod
"We welcome you to join us," a woman says.
This "transmission of cellular plan" ritual is the main rite of baptism for Raelians, a group of people who believe mankind was created by aliens called the Elohim. The movement, religion or cult, depending on whom you speak to, was founded in 1974 by Frenchman Claude Vorilhon, or "Rael," a year after he claims to have met the aliens who asked him to be their messenger.
It's been a slow-growing movement in Taiwan until recent years, when members started to ramp up its social media presence and hold "extraterrestrial seminars" regularly around the country. Taiwan branch leader Shoga Peng (彭韋銘), who has spearheaded this effort, says there are between 30 and 40 official members and about 500 people who have been "baptized."
Eleven people were added to the count during this particular ceremony on Aug. 6, the same date that the US dropped an atom bomb on Hiroshima. It's a sacred day for Raelians, who believe the US' actions ushered in the age of the Apocalypse. There are only four days each year the ritual can be performed, usually with concurrent ceremonies in Taichung and Tainan.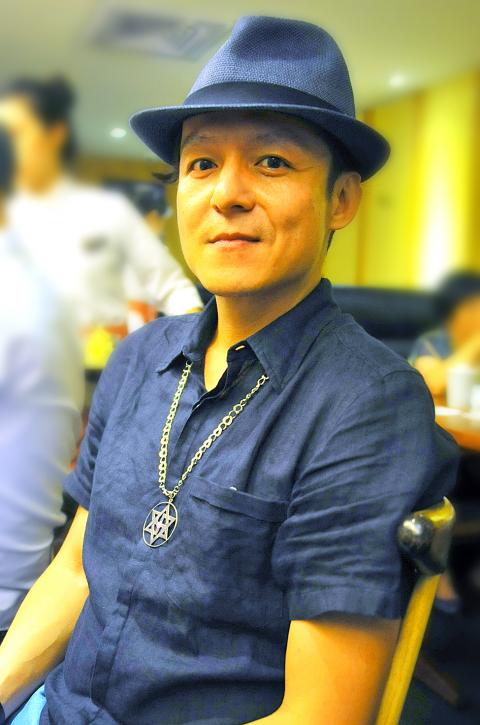 Shoga Peng is the leader of Taiwan's branch of Raelians.
Photo: Han Cheung
ABSOLUTE FREEDOM
Wang Min-ju believes that through the ritual her DNA is now stored in a giant Elohim computer orbiting the Earth. Wang says recent data provided by the aliens show that humans are on a surefire path to self-destruction, with only a 0.5 percent chance of avoiding this fate. If it does happen, the Elohim will judge a person's behavior in their past life from the DNA, and give the worthy ones a chance to be resurrected through cloning technologies on their planet, a Utopian world where everything is taken care of by robots and nobody has to work.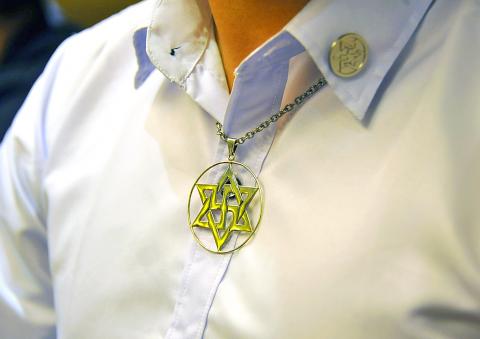 This is the official Raelian symbol, which members wear as jewelry and have as tattoos.
Photo: Han Cheung
Official Raelian "structure members," who pay an annual fee of NT$6,000, are required to spread the Elohim's "message" to as many people as possible, and most of their funds go to promoting Raelianism and the building of an embassy to receive the aliens.
"None of us live off of this," Peng says. "Except for Rael."
Peng says it's important to get the message to as many people as possible because the Elohim feel that if they arrived today, humans would likely react with hostility.
"We need to reduce people's animosity toward aliens, and also ensure that they don't panic when the Elohim arrive," he says.
The members also participate in events that match their beliefs, such as world peace, cloning and personal — including sexual — freedom. The group marches in Taipei's gay parade and supports the right for women to be topless in public.
"The Elohim often wonder why we insist on hiding the bodies they created for us," Peng says. "If you wear clothes for fashion or to stay warm, that's understandable. But why are you just wearing them to cover yourself up?"
Peng stresses that freedom means that people can be adventurous if they want to, but they can also choose to be conservative.
"For example, personally, I've never participated in an orgy," he says, referring to common speculation about what happens in Raelian meetings. "But if someone does, that's their personal behavior. People should not be bound by morals and say that it's wrong. We respect each other's differences and we encourage those with differences to stand out."
Despite his Raelian beliefs, Peng still prays at the family altar to make his mother happy.
"There's no taboo," he says. "I know the truth. But Rael teaches us that one should choose being merciful over being correct. Some people need religion. It makes her happy."
The only rule, Peng says, is not to cause harm to others.
NEW RAELIANS
Not all of those who went through the ritual will become official members. Wang Min-ju says she has no plans to become involved just yet. Wang was busy with her studies when her parents became Raelians about six years ago, and she says they never asked her to join. They did share the message with her, however, which she "accepted quite quickly."
"I underwent the ritual today simply to show that I believe [in Raelianism]," she says.
Wang's father and Peng have similar back stories. They both started reading Raelian texts as science fiction, but soon came to believe in the "message."
"It just made sense," Peng says. "It was a very reasonable explanation for why humans exist."
Discussions often involve pieces of evidence, both historical and modern, that Rael's teaching are true. They also analyze new messages transmitted by the Elohim through Rael's words. The previous seminar's discussion lasted for more than two hours, debating topics ranging from UFOs in ancient paintings to the existence of souls to the development of cloning technology.
"That's why I don't think it's a religion," a freshly-baptized Fan Te-lu (范德魯) says. "We are not simply force-fed all the information. We discuss and understand it together."
Fan's interest stems from many people close to him claiming extraterrestrial encounters. He pulls out a newspaper clipping about a UFO landing in his family's backyard about 50 years ago. His aunt and great-grandmother were the only witnesses as the UFO reportedly circled around and flew away.
"I never went through it myself so I don't quite understand it," he says. "That's why I want to know more. I do think humanity is in a very dangerous situation right now. We have to protect the world and stop hurting each other. Some people hear about aliens and choose to run away. I choose to believe."
Tsai Tung-yuan (蔡東元), on the other hand, says joining the ceremony is part of his exploration of spirituality. He says he's felt like an alien since he was a child, and believes that he's one of the "indigo children" or "star children," a New Age concept referring to a group born after the 1970s who have extraordinary, even supernatural abilities.
"I want to delve into this and see if their beliefs are the same as the ones of my understanding," he says.
Comments will be moderated. Keep comments relevant to the article. Remarks containing abusive and obscene language, personal attacks of any kind or promotion will be removed and the user banned. Final decision will be at the discretion of the Taipei Times.