Opera review: NSO and guest stars shine in Puccini's 'Il Trittico'
Opera lovers were well rewarded for their patience in sitting through the long production, with stellar performances by several of Taiwan's finest singers
I would have to agree with attendees of the Dec. 14, 1918, premiere of Giacomo Puccini's Il Trittico at New York City's Metropolitan Opera. As much as one might like Puccini, an almost four-hour production of three little-known one-act works, albeit with two longer than normal intermissions, was almost more than I could handle despite great performances by the National Symphony Orchestra (NSO, 國家交響樂團) and its guest artists.
Like those long ago audience members, I felt the famed composer had saved the best for last, with the final opera, Gianni Schicchi, practically bringing down the house on Friday night at the National Theater.
NSO conductor Lu Shao-chia (呂紹嘉) should be commended for tackling the rarely staged triptych, which the NSO coproduced with South Korea's Daegu Opera House, likely accounting for the number of South Korean singers in key supporting roles.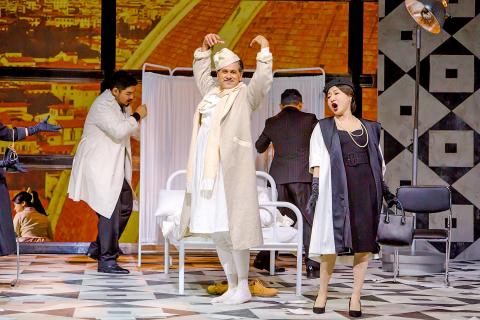 Italian baritone Lucio Gallo, center, shone in the title role of Giacomo Puccini's one-act opera Gianni Schicchi, part of the National Symphony Orchestra's production of Il Trittico at the National Theater last week, alongside Lo Jung-yin as Simone, right.
Photo: Courtesy of Wang Yongnian / National Symphony Orchestra
In a possible money-saving move, the producers chose Opera Theater of St. Louis director James Robinson and set designer Allen Moyer, who recreated the sets and staging they did for the New York City Opera and then the San Francisco Opera. The sets looked terrific, especially the black and white pop-art motif for Gianni Schicchi, where almost everything and everyone was clad in black and white.
Death is the common thread linking the three operas: Il Tabarro (The Cloak) is a dark brooding melodrama that ends in murder, Suor Angelica (Sister Angelica) ends with the suicide of the main character and Gianni Schicchi sees a wealthy dying man's end hastened by greedy relatives.
Il Tabarro was my least favorite, although the singing was fine. The brutalist modern set of the top of a barge docked next to a wall looked dark and dank, with watery reflections of light along the back wall.
Although many people are milling about at the beginning, it is really a three-character opera: barge owner Michele, sung by South Korean baritone Paul Byong-woo Kong, his wife Giorgetta, wonderfully sung by Taiwanese soprano Hanying Tso-Petanaj (左涵瀛) and her lover Luigi, sung by Mexican tenor Hector Sandoval.
Tso-Petanaj's shriek at the end when sees her lover's body was suitably blood-curdling.
After the darkness of Il Tabarro, the blue and white brightness of Moyer's convent refectory setting for Suor Angelica almost hurt the eyes, especially when the nuns, also clad in blue and white, arrived with a group of children in white hospital pajamas and bandages.
However, there were so many tiny details in the set and action to be appreciated: the staining on the set's wall tiles to hint at age, the moment that Taiwanese soprano Lin Ling-hui (林玲慧), in the title role, takes off her wimple and drapes it over the statue of the Virgin Mary as if to cover its eyes before she commits suicide.
Lin was great, with her death scene appropriately tear-inducing, while Taiwanese mezzo-soprano Weng Jo-pei (翁若珮) was icily aloof as the princess who coldly informs Sister Angelica: "Oh, by the way, your son died two years ago."
The final opera, Gianni Schicchi, about a peasant who outwits the scheming relatives of wealthy landowner Buoso Donati, was a blast from start to finish.
The modern dress and set design might have confused some audience members who did not know that story is set in 13th century Florence and therefore wondered why so many obviously well-to-do people coveted Donati's mule and his lands.
The black and white set was complemented by equally monochromatic costumes, and again the tiny details shone: a portion of the back wall rolling aside to reveal a spectacular rooftop view of Florence; the rich relatives furiously puffing away at cigarettes in the opening scene — some with long holders — while class difference is highlighted by Schicchi making his first entrance with a huge cigar clamped in his mouth.
Italian baritone Lucio Gallo was a last-minute replacement for Australian Janathan Summers in the title role and totally hammed it up when it came to pretending he was the dead man telling a notary how to divide up his estate.
All I knew about Gianni Schicchi before last Friday's performance was the basic outline of the story and that the aria O mio babbino caro (Oh my beloved papa) was a popular one for sopranos. However, as soon as the first strains of the aria began I recognized the melody; I just had not known that it came from this opera.
Taiwanese soprano Lee Chia-jun (李佳蓉), as Schicchi's daughter Lauretta, sang the aria beautifully, although overall it was the male singers who stood out, especially Taiwanese tenors Ezio Kong (孔孝誠) as Gherardo, Fernando Wang (王典) as Rinuccio and Yeh Chen-yu (葉展毓) as Betto.
Comments will be moderated. Keep comments relevant to the article. Remarks containing abusive and obscene language, personal attacks of any kind or promotion will be removed and the user banned. Final decision will be at the discretion of the Taipei Times.