Walking to Mars
A local team walking for ankylosing spondylitis, a form of progressive arthritis, is organizing a walk and picnic tomorrow in Taipei's Da-an Park
The Walking Spondies have walked around the world, walked to the moon and now they are walking to Mars — all in the name of ankylosing spondylitis, a type of progressive arthritis due to chronic inflammation of the joints and spine that eventually fuses the spine.
It takes about 10 years to walk to Mars — which is the average number of years it takes for someone to be diagnosed with the disease, Walking Spondies founder Carrie Kellenberger says, because it is undetectable through x-rays or blood tests. In her case, it took 12 years.
The cause is unknown, and there is no cure.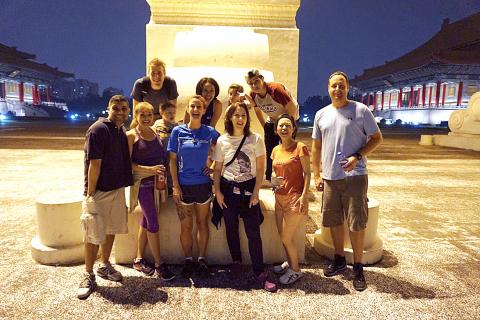 The Walking Spondies pose for a photo after an earlier night walk at Chiang Kai-shek Memorial Hall. They are aiming for a collective 80,000 steps at tomorrow's event as part of their goal to raise awareness for ankylosing spondylitis.
Photo courtesy of the Walking Spondies
Tomorrow is World Ankylosing Spondylitis Day, and the Spondies are organizing a walk and potluck picnic at Da-an Forest Park (大安森林公園) to further the team's step count. They have organized night walks in Taipei before, but this is their first daytime picnic event. Anyone can participate — the team will be gathering behind the children's playground at 2pm.
The Walking Spondies are currently second place in the global Walk Your A.S. Off event, which takes place during May, with 5,617,695 steps. Kellenberger hopes that tomorrow's event will boost that total by 80,000. The main goal is to raise awareness, though members can also raise funds if they want.
People walk for a many reasons, but Kellenberger says walking is especially symbolic for ankylosing spondylitis patients because it is the best and often the only exercise they can perform.
The earliest symptoms are persistent back pain in people between 17 and 35 years of age. They started for Kellenberger when she was 22 years old. One day, she woke up and was unable to put any weight on her foot. Another day, it was her arm.
The symptoms got worse until one day in 2009, she woke up to find her knee swollen to the size of a bowling ball. Tests for rheumatoid arthritis came back negative, and it was then that National Taiwan University Hospital staff finally made the diagnosis.
And Kellenberger says it has only gotten worse, as living with the disease means constant pain. She says painful flare ups can come out of nowhere, and last from days to years. Her current one has gone on for two years.
"That means I don't get out of my house much," she says. "My exercise level has dropped drastically in the past five years, and I used to be very athletic."
Kellenberger says she has to plan every day out to make sure she has enough energy to deal with the pain and fatigue.
"I have to get a certain amount of sleep, follow a fairly strict diet and make sure I get out and walk," she says. "Walking is really, really important ... even making time to get out for five or 10 minutes a day would be helpful with the disease."
Publication Notes
Event Notes
What: World AS Day Walk and Picnic When: 2pm tomorrow Where: Da-an Forest Park (大安森林公園), behind children's playground on the corner of Xinyi Rd (信義路) and Jianguo S Road (建國南路), Taipei City Details: The picnic is potluck-style, bring "real" food On the Net: www.facebook.com /TheWalkingSpondies
Comments will be moderated. Keep comments relevant to the article. Remarks containing abusive and obscene language, personal attacks of any kind or promotion will be removed and the user banned. Final decision will be at the discretion of the Taipei Times.