Live Wire: A return to the altar
Before getting into the usual business, it's worth talking about the tragic events that unfolded in Paris last week. What takes place partway around the world might not seem to have have much to do with what goes on music-wise here in Taipei, but it's all related.
The extremists who laid siege to Le Bataclan didn't attack a target that was of military or religious significance — not in the traditional sense. They sought to level as much death as their automatic weapons would allow upon the progressive, liberal and by and large youthful heart of Paris.
They attempted to pierce the very essence of the City of Light in the hope that it would bleed out all over Boulevard Voltaire and disappear down into the sewer they wrongly believe it was born out of.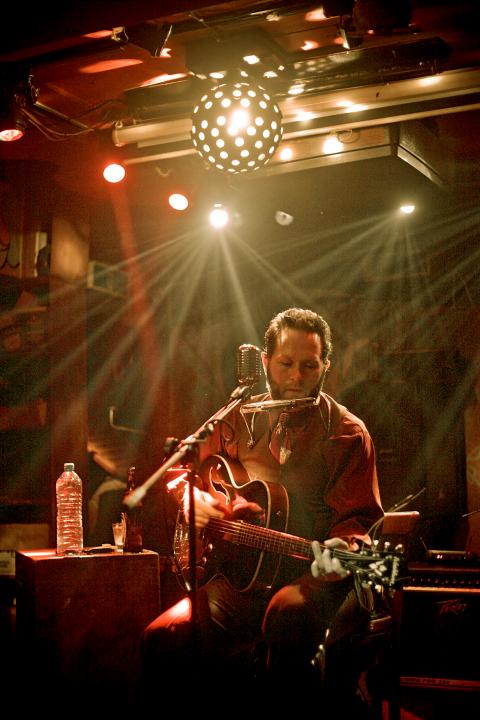 Kaohsiung-based bluesman Jack Conqueroo will take the stage tonight with "T-Bone."
Photo courtesy of Craig Ferguson
Though they may not have intended it, those Islamist extremists attacked an altar. Our altar. One at which we often worship more regularly than those who purport to be actual followers of one of the world's major or minor faiths.
It was an attack meant to strike fear into the West, and by extension the hearts of the global family of music. It will fail.
It would be alarmist and incorrect to say music fans in Taipei or elsewhere in Taiwan are under direct threat. But that doesn't mean we shouldn't be a part of a symbolic act of defiance against tyranny.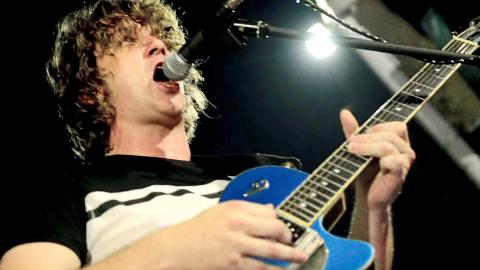 Terry Engel will be playing songs across a smattering of genres tonight at Cafe Vergissmeinnicht.
Photo courtesy of Thomas Konig
What can be done in Taipei? A show of solidarity beyond merely changing Facebook profile pictures to include an opaque curtain of the French flag. A return en masse to the altar.
In short, don't take the privilege of being able to go out and see live music for granted. In so many places around the world the ability to see a concert and know for an incontrovertible fact that you will return home safely simply does not exist.
Prior to last week the people of Paris could say for the most part that there was no real danger in a night of music. Now they cannot. This is to say nothing of places such as Iraq and Syria, in parts of which simply playing an instrument or listening to music in your own home can be enough to get you killed.
In Taiwan we have freedom. In spite of the ever looming threat of the missile-bound colossus to the west that is China we have security to the tune of being named one of the safest countries on the planet.
So go out to concerts. Wave the French flag there. Wave the Lebanese flag, the Syrian, the Iraqi, the Nigerian, the Kenyan. It doesn't much matter which. Brandish them together. Turn these symbols of division into ones of unity.
Or wave no flags at all. The point is to gather together to show the people of Paris or anywhere persecution, death and fear currently reign that the music community stands with them. It's just a gesture, yes, but gestures have the power to inspire actions and courage, as does music. Don't ever underestimate it.
One of the first chances to come out in force, albeit in an intimate sort of setting, is tonight at the lovely Cafe Vergissmeinnicht, where Terry "T-Bone" Engel and Jack Conqueroo will share the bill.
Jack Conqueroo plays that form of blues both low down and dirty. Mouth on the harmonica, a foot stomping down on a tambourine, he's a one-man force to be reckoned with, heavy on the sludgy distortion born of the Louisiana bayou, or the junction of Interstate 49 and US Route 190, otherwise known as the town of Opelousas.
As for T-Bone, what can you say about a guy who was reared on a steady diet of Black Sabbath and Rush before he was out of grammar school? The man, also known for his work with his Zappa-inspired progressive rock outfit Soup Mother, has some of the most intriguingly eclectic taste in music to be found anywhere, and he'll have the full gamut on aural display tonight, from blues, to rock, to pop.
So get up. Go out and be with people. Spend some time with those foolish enough to believe that if we get together to see a show, even if we do get a bit too drunk and say stuff we don't mean or talk about things that may never have happened, we still might come to understand one another a little better. And maybe we'll fend off Armageddon for another few weeks. Even if it does come, at least it'll have a nice soundtrack.
■ Terry "T-Bone" Engel and Jack Conqueroo play tonight at Cafe Vergissmeinnicht, 92, Aiguo E Rd, Taipei City (台北市愛國東路92號).Entrance is free though there is an NT$150 minimum charge per person in effect for walk-ins, NT$450 per person with a dinner reservation. The show begins at 7pm.
Comments will be moderated. Keep comments relevant to the article. Remarks containing abusive and obscene language, personal attacks of any kind or promotion will be removed and the user banned. Final decision will be at the discretion of the Taipei Times.