Restaurant review: Lobster Bar
From time to time, I still think of that amazing lobster roll I had at Ed's Lobster Bar by the New York City waterfront on my last visit.
So I was pleasantly surprised when I passed by the Lobster Bar in Taipei. However, the restaurant's higher-end, atmospheric interior, had always deterred me from just popping in for a quick seafood fix.
Eventually, I brought a date. But as soon as we sat down it became apparent that, due to portions and pricing, we should have brought a group so that we could sample the restaurant's intriguing and diverse menu, which includes far more than its namesake suggests. For example, we didn't order the seafood paella because there was a minimum order of two portions (NT$420 per portion), and who wants to fill up on rice when there's lobster?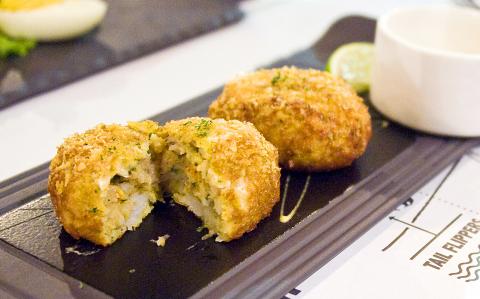 The crab cakes were delicious, with the inside being mostly crab meat.
Photo: Han Cheung, Taipei Times
Also, visit early if you want to try the surf and turf burger (NT$680), featuring prime shoulder meat, foie gras and lobster. Alas, they only make 10 of these per day.
For appetizers, we ordered the deviled eggs (NT$280) and the crab cakes (NT$380 for two). The crab cakes were excellent, as each bite contained copious amounts of juicy crab meat with little filler. The abundance of meat, though, caused the bottom of the crab cake to become slightly soggy — but I'm not complaining. They were flavorful yet not greasy, and I didn't need the lemon or tartar sauce that it was served with.
The deviled eggs were tart and rich, with faint sweet bacon highlights from the slivers on top. This appetizer would be better shared in a group, as with four eggs per order, the savoriness became overwhelming after the first two halves.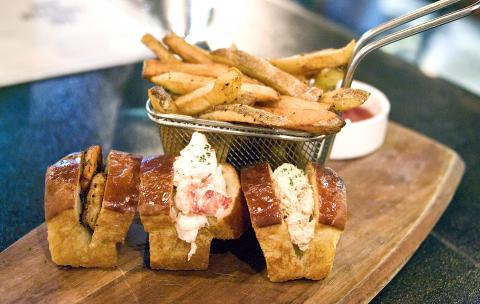 The sampler allows diners to try in bite size the sweet shrimp, lobster salad and crab sandwiches.
Photo: Han Cheung, Taipei Times
Since we had been talking about sandwiches, the mini rolls (NT$380 for three) were an obvious choice. The bite-sized rolls form all three of the restaurant's signature seafood: lobster, crab and shrimp. This is where this restaurant really shines.
The generously-portioned lobster salad with a slight dollop of mayo was served in a soft roll and was a harmonious match that melted in my mouth. The crab roll was also in salad form, but with less mayo and not as sweet. The crab didn't come in chunks like the lobster, constituting a finer texture. With this sandwich, the bread had a firmer texture, making an enjoyable contrast from the previous roll.
The shrimp roll was saltier, which balanced out the other two rolls. This one was my least favorite, as the shrimp was grilled and a bit chewy.
Since we were at a lobster restaurant, we splurged and ordered another entree. This was a mistake. Although filled with the sweet crustacean, the lobster ravioli (NT$620) in lobster sauce somehow felt more like a Chinese wonton than its Italian counterpart. The pasta was unevenly cooked — too firm in some places, overly soft in others and it fell apart quite easily.
The lobster sauce had appealing nutty overtones, but erred on the salty side and, like the noodles, carried more of an Asian than Italian consistency. Abundant garlic slices provided a kick, but as a whole it overpowered the main ingredient.
Later, I surfed the Internet to see what others were saying about Lobster Bar and the anecdotal consensus is that the uni pasta (NT$520) or duck truffle risotto (NT$480) would be a better entree choice despite their lack of, ah, lobster.
Although we didn't try any alcohol, the menu has a small selection of beers, including the green tea-infused Iki and Hitachino Nest. It also features standard classic cocktails, hot cocktails as well as originals such as Alice in Lobsterland (NT$400, mango puree, cream, eggnog, soda water).
When I left, I wish I had just stuck to what I originally craved. Next time I come, I'm just going to sit by the bar and order a full-sized lobster roll with a beer.
Publication Notes
Lobster Bar
Lobster Bar Address: 17, Ln 116, Da-an Rd Sec 1, Taipei City (台北市大安路一段116巷17號) Telephone: (02) 2771-0333 Open: Tuesday to Thursday from 5pm to 11pm, Friday from 5pm to 12am, Saturday from 11am to 2am, Sunday from 11am to 10pm, closed Monday Average meal: NT$800 to NT$1,500 Details: Menu in Chinese and English, credit cards accepted On the net: www.facebook.com/ TheLobsterBar
Comments will be moderated. Keep comments relevant to the article. Remarks containing abusive and obscene language, personal attacks of any kind or promotion will be removed and the user banned. Final decision will be at the discretion of the Taipei Times.