'UN for Taiwan'
Taiwanese Americans voiced their anger at Taiwan's continued exclusion from the UN in a protest on Saturday near Times Square
Taiwanese Americans took to the streets of New York Saturday to call attention to Taiwan's exclusion from the UN, just two weeks before Pope Francis is expected to address the 70th UN General Assembly in his first trip as pontiff to the US.
"Every year, we're gonna shout, we're gonna fight and we're gonna be heard," Outreach for Taiwan co-founder Jenny Wang (汪采羿), one of the organizers, screamed through a microphone as more than 100 people, penned in by New York Police Department metal barricades along Seventh Avenue near Times Square, waved baby-blue "UN for Taiwan" flags.
For 24 years, Taiwanese in New York have staged rallies similar to the one held on Saturday, usually timing them to the start of each new general assembly. Unlike last year's event, this year's included a sidewalk march from Dag Hammarskjold Plaza, a park near the UN, to Seventh Avenue between 41st and 42nd streets.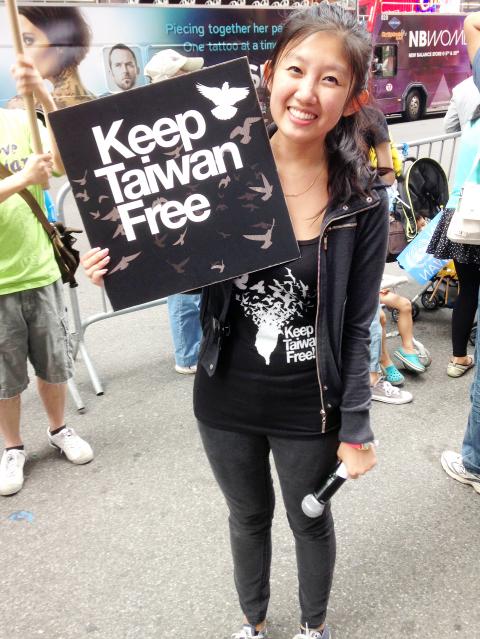 Outreach for Taiwan co-founder Jenny Wang leads rally to call attention to Taiwan's exclusion from the UN.
Photo: Chris Fuchs
Chanting "keep Taiwan free," among other slogans, marchers held aloft UN for Taiwan flags as well as small green-and-white ones, featuring a green image of the nation in the center, as they threaded their way through throngs of tourists and a motley mix of cartoon characters, like Spongebob and Mickey Mouse, who posed for photos in exchange for cash with sightseers visiting Times Square.
Those attending Saturday's rally — including more than 20 members of the Taiwan-UN Alliance (臺灣聯合國協進會), led by former Defense Minister Michael Tsai (蔡明憲) — said that Taiwan should be allowed to rejoin the UN, which gave the country's seat to China in 1971.
"Taiwan should really strive to head in this direction," said Hsu Chin-feng (許青風), a member of the Taiwan-UN Alliance delegation, in Mandarin. "Taiwan can't be an international orphan."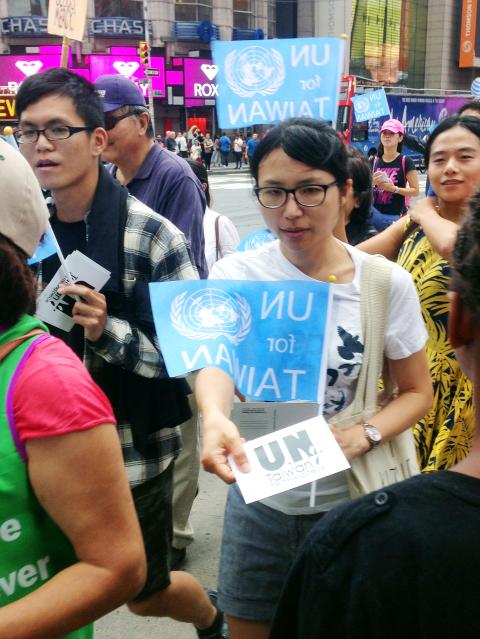 Demonstrators hand out literature about Taiwan to passersby as they march down 42nd Street.
Photo: Chris Fuchs
One of only three countries not in the UN, Taiwan has long faced stiff opposition from China in its attempts to join the intergovernmental body. Beijing has argued that Taiwan, which it views as a breakaway province, is not a sovereign nation.
That position doesn't sit well with Wale Adefope, a Nigerian who was visiting New York on vacation and who just happened to pass by the rally with his son Goodness. The small blue flags were what caught his eye.
"When I saw 'United Nations for Taiwan,' it gladdened my heart," Adefope said, adding that Taiwan and China should both have seats in the UN.
Saturday's march comes two weeks before the pope embarks on a six-day tour of the US, stopping in New York on Sept. 24 and 25 to say mass at Madison Square Garden and to address the UN. Some of the groups that organized Saturday's rally were also planning to hold a sit-in at Dag Hammarskjold Plaza, near the UN, on the day the pope speaks.
Recognizing the Republic of China as the legitimate government of China, the Vatican, or Holy See, is one of only 23 nations that maintain formal diplomatic ties with Taiwan. In years past, Beijing has protested when Taiwanese presidents have attended Vatican events — such as in 2013, when President Ma Ying-jeou (馬英九) was present for Francis' inaugural mass — where they were seated with heads of states of countries in the UN.
For Adefope, Taiwan should be able to have its own identity and be free to govern as it chooses.
"Taiwan, even back home in Africa, is well-known," Adefope said. "And I think it would be nice if China could let go."
Comments will be moderated. Keep comments relevant to the article. Remarks containing abusive and obscene language, personal attacks of any kind or promotion will be removed and the user banned. Final decision will be at the discretion of the Taipei Times.