Taiwan in Time: After the war: from Japan to China
This week's history column takes a look at what happened in the 71 days between Japanese surrender and the Republic of China's official takeover
Emperor Hirohito's voice could be heard through radios across the Japanese Empire that day, including Taiwan. Not everyone had radios back then, but those who did didn't hesitate to spread the news. It was Aug. 15, 1945, and Japan had officially announced its surrender to the Allies.
A much contested outcome of the Cairo Declaration of 1943 is that Taiwan, which Qing Dynasty China ceded to Japan in the treaty of Shimonoseki following its defeat in the First Sino-Japanese War, would return to China, then ruled by the Chinese Nationalist Party (KMT).
Although KMT leader Chiang Kai-shek (蔣介石) appointed Chen Yi (陳儀) as governor general of Taiwan on Aug. 29, Chen didn't land until Oct. 24. The next day, he formally accepted the Japanese governor-general's surrender.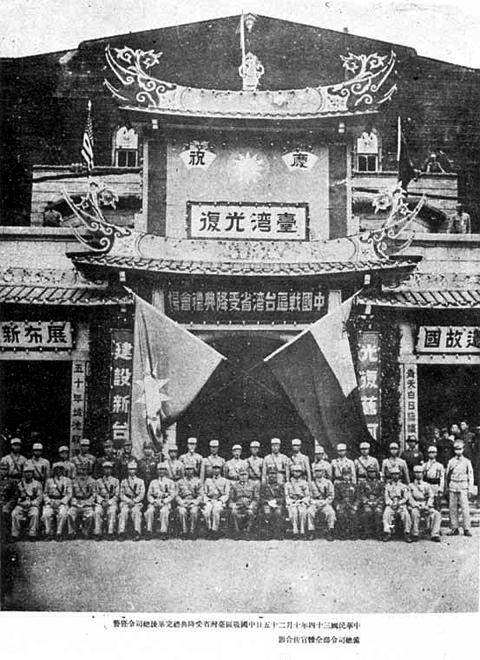 On Oct. 25, 1945, the Chinese Nationalist Party (KMT) formally took over Taiwan, proclaiming that day Retrocession Day.
Photo courtesy of Wikipedia Commons
While the KMT was busy planning its arrival, what was going on in Taiwan between Aug. 15 and Oct. 25?
AFTER THE SURRENDER
The Taiwanese attitude toward the newcomers varies depending on who you ask, and will not be discussed here. Most sources agree, though, that the majority of people were more than happy to see the Japanese go.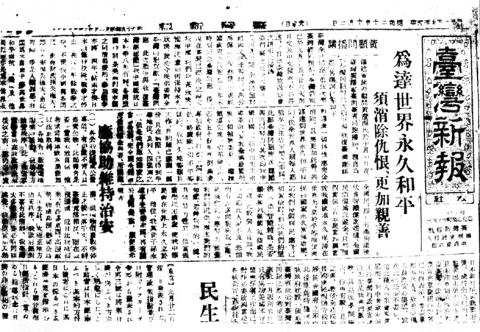 Taiwan Shin Pao remained written entirely in Japanese until Oct. 2, 1945, when it printed a Chinese-language article on the front page.
Photos: Han Cheung,Taipei Times
Sources point to a short-lived Taiwanese independence attempt right after the surrender was announced, where Japanese military officers allegedly plotted with prominent Taiwanese to resist the Chinese takeover, though the level of Taiwanese involvement is disputed. This plan was abandoned just a week later after governor-general Ando Rikishi publicly warned against any such actions.
Historian and author Tseng Chien-min (曾建民) writes in 1945: Taiwan at Daybreak (1945: 破曉時候的台灣) that at least for the first 20 days, all Japanese colonial government activities went on as usual, as if nothing had changed. Tseng says that it was the Japanese police and members of the Japan-friendly volunteer fighting corps who kept social order during that time.
Because of that, Tseng says that Taiwanese were wary of celebrating openly at first, only doing so after the surrender was formally signed on Sept. 2.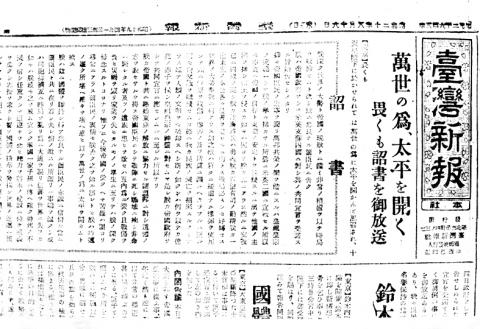 The Japanese-language Taiwan Shin Pao, the only newspaper in Taiwan at that time, printed Emperor Hirohito's surrender speech on its front page on Aug. 16, 1945.
Photo: Han Cheung,Taipei Times
Tseng says that as Japanese power waned, social order fell into the hands of local groups such as the Three Principles Youth Group (三民主義青年團).
According to History of Taiwan under Japanese Rule by Suemitsu Kazuya, on Sept. 1, 18 US and Chinese soldiers and officials arrived to liberate surviving Allied prisoners of war. More US troops landed for the same purpose on Sept. 5 and Sept. 7.
On Sept. 14, staff with the Taiwan Takeover Preparation Committee (台灣接收準備委員會) landed, making contact with the remaining Japanese military. Between Sept. 20 and Sept. 26, between 200 and 300 KMT troops occupied airports in Taipei, Taichung, Chiayi and Pingtung.
Taiwan's only newspaper at that time, the Japanese-language Taiwan Shin Pao (台灣新報) published its first Chinese article on Oct. 2. By Oct. 10, Chinese had become the paper's main language.
The entirely Chinese Min Pao (民報) was established on Oct. 10, and was known for being progressive and outspoken.
Committees to welcome the new government sprung up in various cities, making and delivering Republic of China (ROC) flags to offices and schools, putting up patriotic banners and teaching locals to speak Mandarin. According to a Min Pao article, almost 4,000 people showed up to a Mandarin class on Oct. 21.
What many call the "government-less" period lasted until Oct. 6, when the Taiwan Garrison Command's (台灣警備總司令部) forward command (前進指揮所) arrived. It immediately issued several orders, including that administrative and legal functions were to still be carried out by the Japanese governor-general's office until Chen Yi's arrival and that all public functions such as traffic and mail should remain operating as usual. Education was to continue as before, with the exception that anything that challenged the ROC's "status or educational philosophy" should be deleted.
Taiwanese observed Double Ten National Day for the first time with a huge celebration at the Taipei Public Assembly Hall, which is now Zhongshan Hall (中山堂).
More troops continued to arrive in Taiwan over the following few weeks, and spirits remained high, paving the way for Chen Yi's big day. What happened in the next few years is another story.
OTHER EVENTS THIS WEEK IN HISTORY
Construction on the Sun Yat-sen Freeway began on Aug. 14, 1971, taking seven years to complete. Two oft-visited spots in the country opened to the public on Aug. 10, 1979: Leofoo Village Safari Park (六福村野生動物園) and Provincial Highway 2, better known as North Coastal Highway (北部濱海公路).
Comments will be moderated. Keep comments relevant to the article. Remarks containing abusive and obscene language, personal attacks of any kind or promotion will be removed and the user banned. Final decision will be at the discretion of the Taipei Times.