Seven peaks in 10 hours
Skip the day-tripper and tourist hotspots and head to the Yangmingshan east-west vertical traverse for some serious hiking
It may surprise some readers, as did me, to know that Yangmingshan (陽明山) is more than just a place for a leisurely stroll amongst the cherry blossoms in spring, or a soak at a hot spring during the colder months. There's some leg-busting hiking to be done among the verdant green hills of the famous national park; and best of all it's right on Taipei's doorstep. Aside from staggeringly-beautiful scenery, the park is also home to an extraordinary variety of flora and fauna, as well as many other unexpected surprises.
The Yangmingshan east-west vertical traverse (陽明山東西大縱走) is an approximately 24km route that takes in seven peaks and can be completed in approximately 10 hours if you decide to tackle the whole stretch in one go. The route is used by many hikers as a training session in preparation for climbing Taiwan's high altitude peaks such as Jade Mountain (玉山). Alternatively, you can split the route in two to make it more manageable, as I did on a recent trip with three hiking companions.
THE FIRST FIVE PEAKS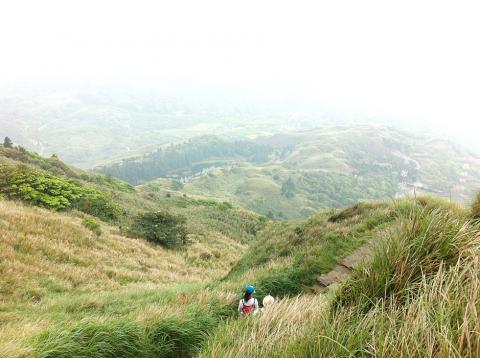 Descent from Qixing Mountain.
Photo: Edward Jones, Taipei Times
The trail starts at Qingtian Temple (清天宮), a small Buddhist shrine, which can be reached by taking a No. 6 minibus from outside Beitou MRT station. There is an initial climb up stone steps, with ample shade provided by a mixture of bamboo and trees that flank the path on either side. We came across a small group of middle-aged men and women, wearing traditional Chinese collarless shirts and I was astonished to see most of their party were walking barefoot. Overtaking them, we headed for Xiangtian Pond (向天池).
Turning a corner along the forest path, a low droning noise suddenly filled my ears until I realized with a shock that I was standing less than a meter away from a large bee hive. "Just walk slowly past. If they swarm at you, then run; and twirl your hat above your head to fend them off," came sage advice from my companion Wei Chung (唯中), who grew up among the mountains.
Bugs and creepy-crawlies abound within the park. At one point a twig-like insect with camouflage skin and two beady-black eyes poking out from behind a shaggy beard, fell from the branch of a tree onto the hat of one of my companions.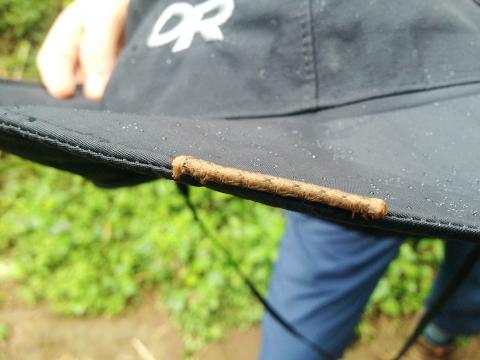 A twig-like insect which landed on a hiking companion's hat.
Photo: Edward Jones, Taipei Times
A while later we arrived at Xiangtian Pond, a vast, bone-dry grassy crater. The parched lake, concealed within dense forest, had a mysterious otherworldly feel to it and the tranquility of the place was further heightened by the occasional melodic burst from a bird soaring high above us. On to the first peak of the day, Xiangtian Mountain (向天山), a windswept mound, covered entirely in hardy silver grass. Descending the peak, we were greeted with the dramatic sight of Miantian Mountain (面天山) unexpectedly rising into view, cloaked in mist and blanketed in a dense patchwork of broadleaf forest.
PRAYING TO THE MOUNTAIN GOD
Once we had scaled Miantian Mountain, we caught up again with the barefooted group, who joined us on a wooden lookout platform. Brandishing a fistful of smoking incense sticks, one of their party started to perform a ceremony. It belatedly dawned on me: they must be a group of Taoists praying to the mountain spirits. The incense-wielding priest was handed a bottle of rice wine, which he preceded to sprinkle liberally over the mountainside. Next, each member of the group was blessed: a hand was placed on each breast — one at a time, followed by two shakes of the incense sticks — then finally, a further two wafts to the forehead. The whole ceremony was conducted in complete silence.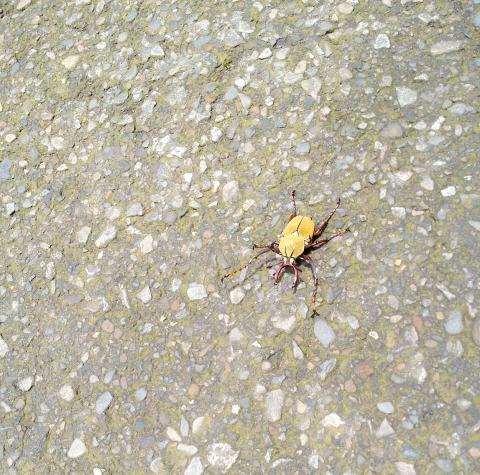 An exotic bug encountered at the start of the trail.
Photo: Edward Jones, Taipei Times
Following the trail round, we arrived at Miantianping (面天坪), a covered wooden pavilion, for a quick lunch before tackling the ascent to Datun Mountain's west peak (大屯西峰). This is where the hiking starts to become challenging. The route weaves its way through a maze of crooked trees, along a rough path peppered with large boulders, washed down the mountainside during heavy rains. Hauling myself over the rocks was made easier by the sturdy ropes that have been helpfully strung between the tree trunks.
Fortunately, the path eventually leveled out onto open ground along a narrow path walled with head-height grass on either side, then finally onto the rocky Datun west peak — the third of the day — where a welcoming party of tiny white butterflies greeted us, fluttering around our heads. Setting off again, we negotiated the tricky descent down the other side of the peak, gingerly bumping over jagged rocks, then backwards clinging onto a rope, down a steep and slippery dirt trail — this is where gloves come in handy.
We re-entered dense forest; the coolness afforded by the thick canopy of trees a welcome respite from the scorching sun. Before long, the trail turned off to the left; another steep climb over rocks and tree roots, and we were on top of peak number four, Datun south peak (大屯南峰) with panoramic views of the nearby mountains and the main peak ahead. Dipping back down into forest, we made for Datun Mountain's main peak (大屯主峰); a punishing climb up a seemingly unending flight of deep stone steps in full sun. Finally we conquered the fifth summit of the day. At 1077m, the main peak affords commanding views of Yangmingshan in the foreground with Taipei city stretching out into the distance. The route then follows the mountain road as it winds its way down to the Erziping Visitor Center (二子坪遊客服務站).
A view of Miantian Mountain.
Photo: Edward Jones, Taipei Times
ON TO QIXING MOUNTAIN
If your legs are not yet screaming in protest, from here you can take a No. 108 minibus to the second section of the route: the Xiaoyoukeng Trail (小油坑步道), an area of fiery, sulfurous hot springs which leads on to the spectacular Qixing Mountain (七星山).
Along the first section of the route, steam formed by post-volcanic activity belches out from active fumaroles, staining the rocks bright yellow and producing sulfur crystal formations caused by the piping-hot gases mixing with cool air. I foolishly held my hand above a smoking yellow rock to test how hot the steam is — don't do that, it's so hot you could cook an egg on it in seconds. Oh, and don't linger either, since the sulfurous steam contains a concoction of toxic gases.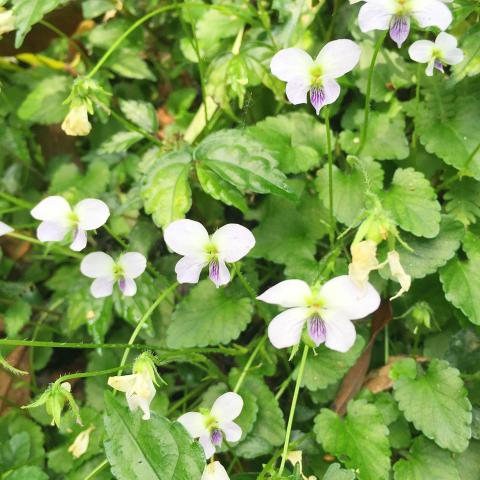 Wild orchids seen on the way to Datun Mountain's main peak.
Photo: Edward Jones, Taipei Times
As we climbed further towards Qixing Mountain's main peak (七星山主峰) the scenery morphed from barren rock and silver grass into flat-topped pine trees, then changed again into a combination of dense dark green grass and arrow bamboo, hugging the mountain top like a snug blanket. Standing on top of the main peak, I could clearly trace our route, the paths scoring a distinct wavy line through the thick undergrowth. The gentle, rolling scenery was my favorite of the whole trip.
The final climb of the day was to Qixing Mountain's east peak (七星山東峰). This time we were greeted by tiny yellow butterflies, yet something was awry. Looking down I was baffled to see a large quantity of dead butterflies strewn on the ground, as if they had run out of fuel and crash landed to their deaths. Squashed and mangled by the footfall of hikers, it was not a pretty sight.
We slowly descended to the Lengshuikeng Visitor Center (冷水坑服務遊客站) — the end of the trail — and collapsed in a fog of exhaustion. One of our group spied a hot spring and decided to go for a dip — there's no getting away from them after all.
A view from Datun Mountain South Peak.
Photo: Edward Jones, Taipei Times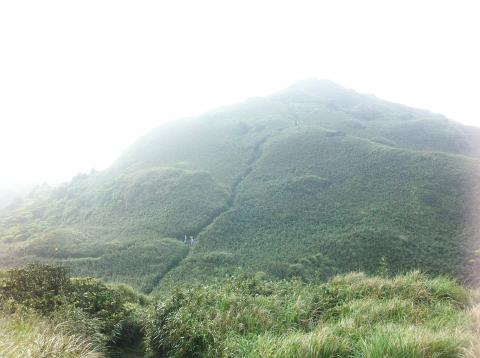 A view from Qixing Mountain.
Photo: Edward Jones, Taipei Times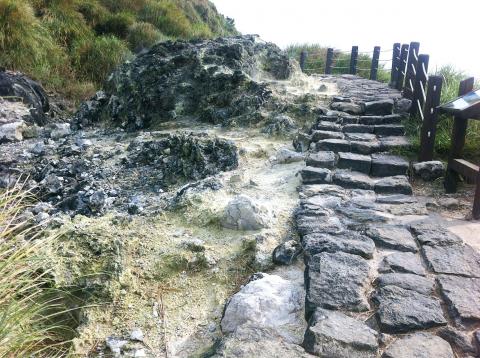 Sulfur-stained rocks.
Photo: Edward Jones, Taipei Times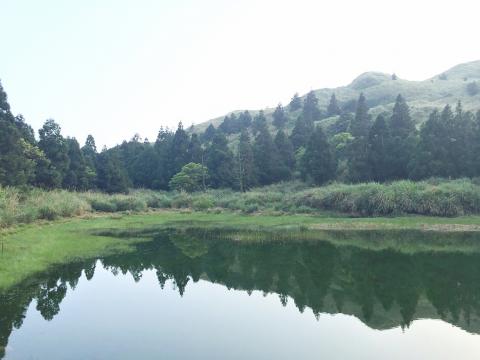 Menghuan Lake.
Photo: Edward Jones, Taipei Times
Comments will be moderated. Keep comments relevant to the article. Remarks containing abusive and obscene language, personal attacks of any kind or promotion will be removed and the user banned. Final decision will be at the discretion of the Taipei Times.