Restaurant review: Whinos, too
As the name suggests, Whinos, too is the sequel to a culinary hit. A spin-off of the popular bistro Whinos Bar & Kitchen, Whinos, too boasts exuberant food and wine, and a space that is felicitously ample, incorporating a cozy, hip design. My dinning companions and I were delighted with our visit on a recent Saturday night — although a mishap that occurred at the end of the meal put a slight damper on the visit.
When we arrived early in the evening for our reservation — almost an imperative if you dine there on the weekend — the place was already filled with young diners clinking wine glasses and enjoying hearty food. With subdued lighting, a warm, wood entrance and wrought iron signage, it gives a hip impression to passersby. Inside, vintage furniture blends harmoniously with brick walls painted white and paintings to create a relaxing ambience which is accentuated by jazz music. A finely stocked glass cellar and a cabinet filled with cheeses heralded a delightful evening.
For those looking for something to nibble while indulging in a few bottles of wine, the bistro's menu, stylishly made out of cardboard wine boxes, contains a solid collection of cold cuts and hard, semi-hard, soft and blue cheese from Holland, Italy, Switzerland, France, Spain and the UK, as well as a variety of finger food, such as homemade chili cheese nachos (NT$250) and herb roasted chicken drumettes (NT$280).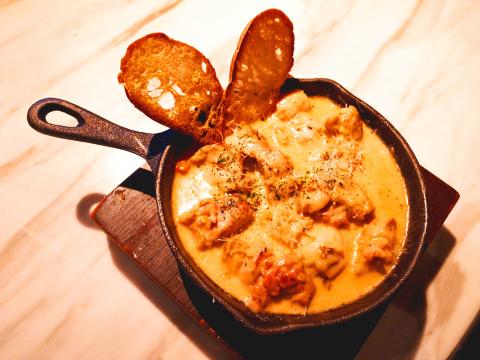 Tequila lemon cream chicken won unanimous approval at our table.
Photo: Ho Yi, Taipei Times
Serious diners have plenty to choose from. The mini foie gras cheeseburgers (NT$650) were regretfully sold out.
The four of us started our meal with the Westland old Amsterdam (NT$200) and prosciutto (NT$280). For big groups, the ham and cheese platter (NT$780) is a popular choice that comes with a selection of three cheeses and two cold cuts with fresh fruit, honey, jam, nuts, pickles and bread.
The mussels in white wine and garlic sauce (NT$320) was surprisingly spicy, while the fried pocket stuffed with chorizo, spinach and egg (NT$260) was satisfying.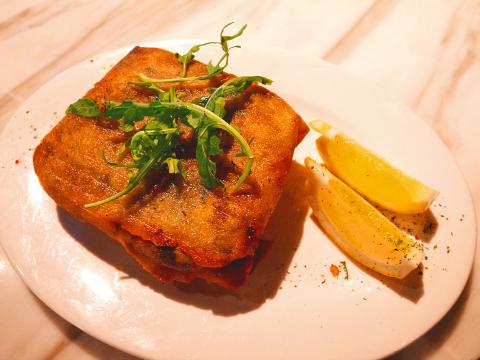 The fried pocket stuffed with chorizo, spinach and egg is a deep-fried, stomach-filling starter.
Photo: Ho Yi, Taipei Times
Touted as a must-try delicacy by food bloggers, the baked uni sandwich (NT$650) didn't disappoint. The spread of the rich, orange gonads of sea urchins melted in the mouth, leaving a lingering briny taste.
For our main courses, while the pan-seared pork chop with cabbage and mushrooms (NT$450) was adequate but didn't impress, the tequila lemon cream chicken (NT$380) was so luscious that we ordered two baskets of assorted bread (NT$90) to mop up all the creamy sauce from the plate.
The bistro's cellar is stocked with white, red and sparkling wine and champagne from France, Italy, Germany, Spain, New Zealand, Argentina and the US (NT$1,300 to NT$4,800). There is also a selection of beer, grappa, sherry, whisky and other spirits (NT$220 to NT$500 by glass, NT$2,500 to NT$7,000 by bottle).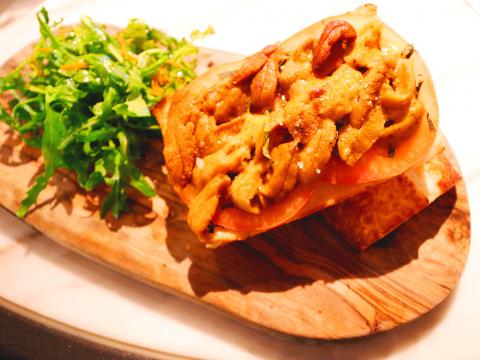 The baked Uni Sandwich is a delightful signature dish at Whinos, too.
Photo: Ho Yi, Taipei Times
But wine aficionados might want to stay sober when asking for the check — a careless young waiter had put a bottle of wine we didn't order on our bill.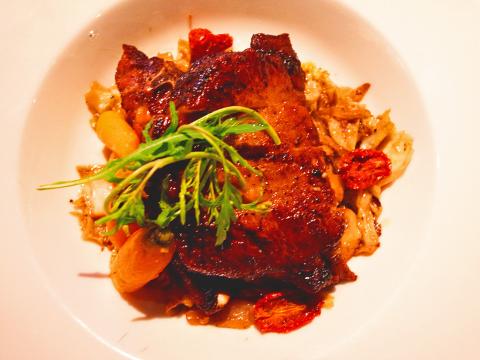 The pan-seared pork chop with cabbage and mushrooms is a bit bland.
Photo: Ho Yi, Taipei Times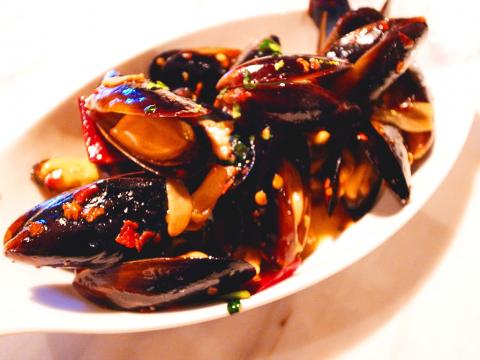 Mussels in white wine and garlic sauce are an adequate starter.
Photo: Ho Yi, Taipei Times
Comments will be moderated. Keep comments relevant to the article. Remarks containing abusive and obscene language, personal attacks of any kind or promotion will be removed and the user banned. Final decision will be at the discretion of the Taipei Times.