TNUA student dancers 'shuttling' around Taiwan
The dance department at Taipei National University of the Arts (TNUA, 國立臺北藝術大學) should be feeling very pleased today, as its Focus Dance Company (焦點舞團) opens a sold out four-show run at the school's dance theater tonight — something professional companies ofttimes only dream about.
While the Taipei run may be sold out, it is just the second stop in a seven-city nationwide tour that began in Yilan last week and will take the student dancers to Taichung, Jhongli, Kaohsiung, Tainan and Taitung over the course of several weekends next month and in May, so there are several chances to catch the nation's up-and-coming stars if you are willing to travel.
The troupe's artistic director, associate professor Zhang Xiao-xiong (張曉雄), has said there was a special reason for starting the tour in Yilan — it was the hometown of dancer/choreographer/TNUA professor Lo Man-fei (羅曼菲) who died nine years ago at 51.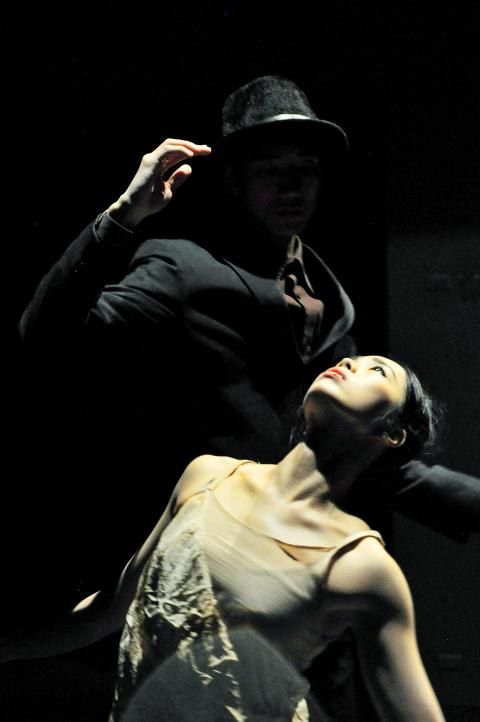 Taipei National University of the Arts' Focus Dance Company has begun a seven-city nationwide tour of its latest production, Shuttling X, featuring works by several students as well as the late Lo Man-fei and famed Hong Kong choreographer Helen Lai, including Plaza X.
Photo courtesy of Zhang Xiao-xiong
In addition to being a terrific performer in her own right, Lo encouraged and mentored scores of young Taiwanese dancers and choreographers, both at the school and through her work with Cloud Gate 2 (雲門2). She created the school's unique seven-year dance program that brings students through three years of senior-high school and straight into the university for a bachelor's degree.
One of Lo's works, Shuttling (梭巡), was both the inspiration for the company's tour and the final work on the two programs that the troupe is performing on this tour.
Another inspirational and mentoring dancer/choreographer/teacher is Helen Lai (黎海寧), the former artistic director of the Hong Kong City Contemporary Dance Company (城市當代舞蹈團). Her classic Plaza X is the other mainstay on the two programs, Plaza X (PLAZA X與異變街道).
There are seven works on each program, with the others choreographed by students.
Program A will include Reflection by Hsiao Yi-han (蕭翊涵) and Po Kai-huang's (黃柏凱) Dependence (依附).
Program B includes Above the Dark River by Chi Hsuan-lin (林季萱), Hung Hsu's (許辰) After the Cold (冷冽之後) and Nervous Difference (神經之差) by Amy Chang (張勤).
Program A will be performed in Jhongli, Tainan and Taitung, and Program B on the April 25 show in Kaohsiung.
Publication Notes
Performance Notes
WHAT: Focus Dance Company, Shuttling X (梭巡X)
WHEN: Thursday at 7:30pm, Taichung Chungshan Hall (台中中山堂), 98 Syueshih Rd, Taichung (台中市學士路98號)
April 22 at 7:30pm, Jhongli Arts Center (中壢藝術館), 16 Jhongmei Rd, Jhongli (中壢市中美路16號)
April 25 at 7:30pm and April 26 at 2:30pm, Da-Dong Cultural Center (大東文化藝術中心) 161 Guangyuan Rd, Kaohsiung (高雄市光遠路161號)
May 3 at 2:30pm, Tainan Municipal Cultural Center (臺南文化中心演藝廳), 332, Chunghua East Rd Sec 3, Tainan (臺南市中華東路3段332號)
May 27 at 7:30pm, Cultural Affairs Bureau of Taitung (台東文化局演藝廳), 25, Nanjing Rd, Taitung (台東市南京路25號)
ADMISSION: Tickets are NT$300 for all performances except May 27, which is NT$200; available through www.artstickets.com.tw, convenience store ticketing kiosks or at the door
Comments will be moderated. Keep comments relevant to the article. Remarks containing abusive and obscene language, personal attacks of any kind or promotion will be removed and the user banned. Final decision will be at the discretion of the Taipei Times.