The Sunflower Movement, brought to you by the Internet
Taiwanese under 35 are using the Web and other technologies in unexpected ways
That social media can bring people together isn't news, but the student movement against the cross-strait service trade pact is an unprecedented display in Taiwan of what the Internet can do.
On the night of March 18, news of the student entry broke first on Facebook, hours before it arrived in traditional media.
"Someone opened a live video stream and posted it to Facebook — and that's when people knew. When they realized that it was their own classmates, they said, 'That is my old high-school classmate. If he were taken away, I wouldn't like that.' So the other students came," said Mash Liao (廖得志), 34, who also arrived to support former classmates.
Students, pictured here outside the Legislative Yuan on Tuesday, use mobile phones to stay informed about the protest's latest developments.
Photo: Liu hsin-de, Taipei Times
Within a few hours, hundreds of students had flocked around the main building.
While in seminary school at Greater Tainan, Rii Taljimaraw also saw the news on the social-networking site.
"God is so great for having people invent Facebook," she said.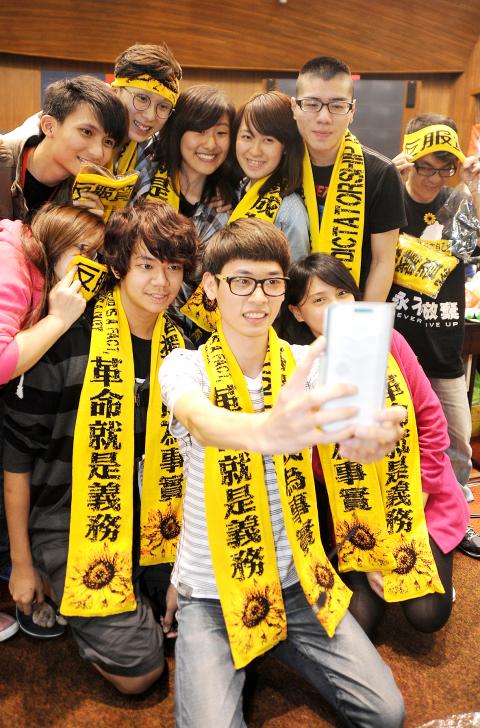 Students shoot a selfie inside the legislature yesterday.
Photo: Liu hsin-de, Taipei Times
"Even us people far away in Tainan knew what was happening immediately. There were classmates who were calling for us to go up [to Taipei]," she said.
THE ACTIVITY FEED
In the Sunflower student movement (太陽花學運), students have largely eschewed traditional recruitment strategies like pamphlet distribution, phone marathons and going door-to-door. Instead, they have turned to sharing and inviting, recruiting people from existing social networks in a free and wildly successful campaign.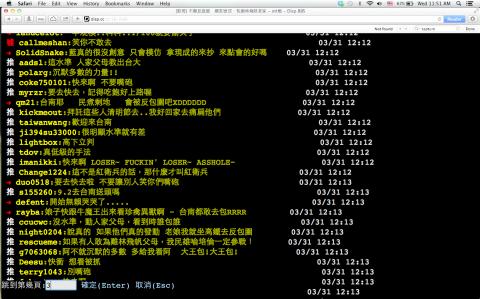 A screenshot of bulletin board PTT, a popular local forum that has played a central role in the ongoing student protest.
Photo: Enru Lin, Taipei Times
They have done it on Facebook as well as on PTT, a popular local bulletin board founded by a National Taiwan University student in 1995. So far, PTT has played a central role in the movement: Many of the students inside the Legislative Yuan today are "villagers" (鄉民), a term for PTT personalities, who post latest developments on the forum for fellow denizens to debate. Since March 18, young villagers have come to Taipei from afar on buses funded by other villagers.
But it is Facebook, with its 65 percent penetration rate and easy-to-use mobile app, that has proven the most versatile.
Protesters, particularly those who view the Web site as a natural extension of expression, have shared their day-to-day life in real-time, with photos of crowd control and graffiti, notes composed on a smartphone and links to online articles.
Since the first day, protesters have also used Facebook to throw ad-hoc events from art demonstrations to music performances.
An event titled "I Return Your Dessert, You Return My Rights" (甜點還給你 權力還給我) was created on Monday, March 24, in response to Executive Yuan Deputy Secretary-General Hsiao Chia-chi's (蕭家淇) complaint that students had eaten his suncakes during the Executive Yuan occupation. After clicking "Join," Facebook users shipped a total of 150 boxes of sun cakes to Hsiao's office.
Anti-Black Taiwan (反黑箱服貿協議) and 17 other Facebook communities used a joint Facebook event to organize Sunday's mass rally at Ketagalan Boulevard. Meanwhile, the "Overseas Students in Solidarity with Taiwan's Anti-Pact Movement" (海外留學生聲援台灣反服貿運動) fan page coordinated overseas students in a global marathon of protests on the same day, starting from Dunedin, New Zealand and concluding in Calgary, Canada.
Students have also used social media to counter traditional media, in particular news outlets they believe represent the movement in a false light.
Some students protest on the companies' Facebook fan pages: "Thank you for working so hard to create fake news and manipulating my mother and father," wrote one netizen to TVBS, a comment that was also written on a poster and taped to the company's SNG truck.
Other students post their own news on their own Facebook pages.
One posted his answers after being interviewed by CtiTV (中天), an outlet he perceives as pro-China, Liao said.
"After he was interviewed, he already knew how the report would go, so he posted the content on his Facebook … and sure enough, the reporter took words out of context, so that the student said, 'I don't know [about the pact],' when he had meant something like, 'I don't know about what it's like at the protest scene right now.'
"Any time there is a conflict with media, we use it as a way to respond," Liao said.
A BOON AND A BANE
Facebook, PTT, live streams on Youtube and other technologies have a democratizing effect, putting information within grasp and offering a platform for diverse and often marginalized demographics.
"You can hear lots of voices, not just voices you like," said Qelen Zingla, a student protester from Taitung County who arrived in Taipei for the mass rally on Sunday.
But social media and other fixtures of Web 2.0 are not without problems. Though Facebook is a platform for diverse opinions, it commonly becomes a way to shore up preexisting beliefs, since what a user "Likes" shapes the material that appears on the news feed.
Meanwhile, Internet arguments have a notorious potential for escalating quickly. On a page that has since been removed on PTT, nasty ripostes flew when some villagers said they would harass student leader Lin Fei-fan's (林飛帆) family in Greater Tainan and other villagers defended Lin and threatened to retaliate.
Yet, problems and all, the online world is where the young protesters are dwelling and connecting. Caveats aside, the information in this world is what students prefer and tend to trust.
"Traditional media, a lot of them are being controlled. Every business interest has a political angle, so no matter what you read, it has been filtered," Liao said.
At the rally on Sunday, National Central University (中央大學) student Tim Liao (廖, full name withdrawn) agreed. Liao, 22, is both a villager and Facebook user.
"In this movement, I think PTT provides firsthand information. Facebook is where PTT material and other articles are shared, and it's secondhand. Traditional journalism is often based on those, so it is thirdhand," he said.
Comments will be moderated. Keep comments relevant to the article. Remarks containing abusive and obscene language, personal attacks of any kind or promotion will be removed and the user banned. Final decision will be at the discretion of the Taipei Times.