Moving On
Music journalism is a ravenous creature at the best of times. As soon as the vicious hell-hound hunts down a particularly succulent piece of information, it grabs hold with vice-like mandibles and doesn't let go until it's ground to paste. Facts, outright lies and half-truths are disseminated in equal amounts, and the beast moves on to the next kill.
Sebadoh singer/songwriter Lou Barlow (you might also know him as the bassist for seminal alt-rock group Dinosaur Jr.) knows this well. In the lead up to the much-hyped September release of Defend Yourself, Sebadoh's first new album in 14 years, Barlow let it slip that the record was inspired in part by his divorce from his longtime partner and mother of his children. Since then, a number of pieces about the release have painted a picture of a break-up album — a painful recollection of a relationship reaching its end. It makes for good copy, and keeps those page hits climbing. Why let facts get in the way? The fact is that although Defend Yourself does feature a handful of pained numbers penned by Barlow that focus on his recent parting of ways, it's by no means the whole story. Sebadoh isn't just about him.
"The story of the album is that Sebadoh, as always, are two songwriters. Two or three songwriters, actually," Barlow says, setting the record straight in a recent interview with the Taipei Times. "There's only two songs on the album that explicitly deal with my divorce, or maybe three, out of the six songs that I had written for the album. And there's another seven songs on the album that have absolutely nothing to do with my divorce, because they were written by other people."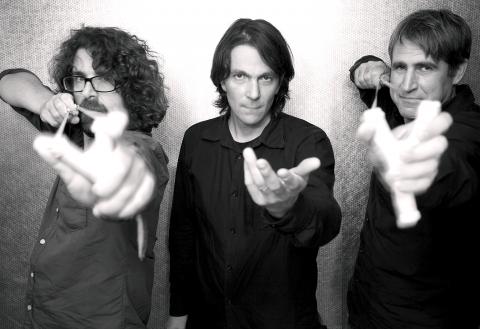 For nearly 30 years, Sebadoh has been known for its brand of lo-fi indie introspection. They play at Legacy on Thursday.
Photo courtesy of Earwax
Barlow is one of indie rock's most enduring and endearing figures — a relatable survivor who has carved out a decades-long career that has helped shape and define a genre known for its unapologetic geekiness, introversion and introspection. He can be an open book when it comes to lyrics. He's not been one to hide behind vague metaphors or veiled references too often. But given the intensity of the press scrutiny this time around, Barlow could be forgiven for retreating into a lyrical carapace the next time he chooses to put pen to paper. That, however, will not be the case, he says, although he might have to reevaluate his level of candor with the ink-stained wretches of the music press.
"It definitely would never make me more guarded as a lyricist, ever. But as far as how I present myself publicly, I would rethink it next time. I would either be very guarded. I would say, 'I have nothing to say; that's personal. You have no right to this information.' Or I would just tell the whole story right away."
Old-school would be the best way to describe Barlow's approach to music. He's 47 years old now, and came of age long before computer technology would irrevocably alter the music business. He draws the band's simple cover illustrations and layout doodles with pens and pencil crayons in sketchbooks. He writes his lyrics — the foundation of his songs — out by hand in notebooks. Look through the notebook containing the prose that would become the lyrics for Defend Yourself, and you'll see more than one reference to "the hardest thing" he's ever had to do. It's a theme he kept coming back to, and yes, the divorce would be an obvious inference when looking for the source of his inspiration. But Barlow has also been a father, as well as a husband, and seeing his children grow up has found its way into his songwriting, too. Change of any kind is rarely easy, whether it involves an ending or a new beginning.
"Letting them go into the world and become their own people, that's extremely difficult for parents, I think," he says of raising kids, later adding that it's difficult "to let things go that are so ingrained in me; to allow them to change."
While we're on the subject of change, Sebadoh chose to switch things up on Defend Yourself, going back to the band's old ways of recording at home, just the three of them, in order to make the experience more personal; more about them. There were other factors in play, though, one of the major ones being money. Given how much studio time costs, it shocks Barlow that bands still record in conventional high-dollar studios at all.
"When I find out that bands actually record in studios, it amazes me. Really? Like, who gave you the money to do that? It shocks me that people can actually still record in studios. Given the money that we got from our record labels, we couldn't do that. If we had done [the record] in a regular studio, we would have been way over-budget."
Regardless of any monetary concerns, Sebadoh will keep moving forward, and hopefully not take another 14 years to release a new record. The band will always be about three people coming together and contributing, and nothing, not a relentless press corps, and certainly no amount of personal upheaval, is going to change the way that turns out. For Barlow, Sebadoh is his vehicle for revealing, personal catharsis, and sharing his music with others is what helps him move on with his life.
"When I'm in Taipei and we're playing our show, for me to be singing there in front of an audience, that means that I've moved forward in some way. And also I consider when I sing, yes, it has something to do with me. But I feel like my experience is not unique to me. There's many other people who have been through exactly the same thing."
Such is the heart of indie rock.
■ Sebadoh and Neutral Milk Hotel play on Thursday at Legacy (傳音樂展演空間), 1, Bade Rd Sec 1, Taipei City (台北市八德路一段一號) . Pre-sale tickets are available through www.tickets.books.com.tw for NT$1,800 and tickets at the door are NT$2,000. Doors open at 7pm and the show begins at 8pm.
Comments will be moderated. Keep comments relevant to the article. Remarks containing abusive and obscene language, personal attacks of any kind or promotion will be removed and the user banned. Final decision will be at the discretion of the Taipei Times.