Live Wire: Go Chic on the move
It has been a long, hand-wringing wait for Go Chic's new album, We Ain't Home, but we will finally get at least an advance listen tomorrow, when the band performs new tunes at The Wall (這牆) as a warmup for a three-month tour of Europe. The tour will not only be the band's biggest international foray, it will also be the biggest international tour ever for any Taiwanese indie band. The new breed riot grrrl four-piece has already announced 20 tour dates in Belgium, Holland, Germany and France, with more to be announced for the Czech Republic, Spain and Switzerland. Three of the Belgium dates, in a 2,000 person venue in support of the band Goose, are already sold out.
"This is crazy. We have six or eight countries lined up, and we'll be doing all the driving ourselves — like 13,000 km," says lead vocalist Ariel Zheng (鄭思齊).
When I spoke to her on the phone a couple nights ago, she sounded a little freaked out by the sudden enormity of what the band is about to do. She later e-mailed to say, "I am pacing and juicing every day to get ready."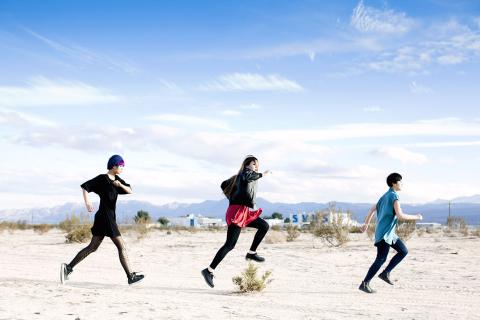 Go Chic will play a concert at The Wall before embarking on a European tour.
photo courtesy of Go Chic
We Ain't Home was recorded in Berlin in late 2011 and produced by Canadian electro-pop diva Peaches. The mastering has been complete for more than a year, but the album has been sitting on the proverbial shelf.
The problem is that new songs contain a lot of electronic parts created in the studio by Peaches and other collaborators, and it has taken the group time to translate that from the studio back to the stage.
"We had people engineering the sound to make it better and more punchy, but then when we came back [from Germany] we still had to figure out how to play it live," Zheng said
Unlike Go Chic's first album, I am Confused, an organic product of gigging and songwriting, the new process was especially taxing for Sonia Lai (賴思勻) and bass player Sarah Wen (溫一珊) who "really had to search for the sounds to make it sound like the album, but also have it be great live."
We Ain't Home won't see the light of day until after the coming tour. But on Saturday, you'll at least get a preview. "We will be playing almost all new songs, and a couple old ones," said Zheng. "We will also show a new video filmed in LA by Vice Cooler, who has done videos for Feist and Peaches. It is not even on YouTube yet."
■ Go Chic plays with White Eyes (白目) and Formosa Romance tomorrow at 8pm at The Wall (這牆), B1, 200 Roosevelt Rd, Sec 4, Taipei City (台北市羅斯福路四段200號B1). Admission is NT$400, or $350 in advance via www.thewall.com.tw.
For the first time in six years, there will be no Freakout Beast (吵年獸) rock festival during the Lunar New Year holiday. Dagnabbit! The festival had developed into a free, weekend-long event with multiple stages and dozens of bands and DJs. It was always held in a Taipei City public park and backed by the city's culture bureau. Sadly, however, it seems that the funding plug has been pulled. Hau Long-bin's (郝龍斌) anti-fun mayorship continues.
So I am waiting for Feb. 17, when 90s rock band Feiwu (廢物) will reunite for the first time since 2003 as part of Legacy's retro-90s concert series. If you only arrived in Taiwan in the last decade, you probably have not heard of this band. They are from Taiwan's first wave of indie rock, the 90s, a time when foreign rock mixed with Taiwanese taxi driver music, and there was something you could truly call a "Taiwan sound."
Feiwu existed from 1997 to 2001 and gigged around at Roxy Vibe, Witches Pub, Spring Scream and "alternative venues like department stores, parties, universities, and once under a highway overpass near the Grand Hotel," recalls vocalist Ian Lamont (藍醫恩).
Lamont, bass player Bob Hsiung (熊天焱) and guitarist Andrew Watson all moved back to the US about a decade ago, but will fly back for this show. They will be joined by drummer Steve Tsai (蔡承宇) and guitarist Jojoe Huang (黃俊喬).
A quick side note: in the 90s, Lamont's day job was weekend editor at the China News, and he published my first ever newspaper article. We have recently been trading emails reminiscing about that distant decade. One of the first things I asked about was the Taiwan Beer Song (我愛台灣啤酒), their most famous tune and one still covered today. It dates to 1997.
"I wrote the music and Mandarin lyrics one night, sipping brew from a blue and white can," writes Lamont.
"I brought it to the other guys for the next practice and they picked it right up, and added some nice touches. The influences, besides the beer? I was really interested in the nakashi music you'd hear in local stores and restaurants, taxis and other places. At the same time, some of the other underground acts around us like LTK and Clippers used Taiwanese or Taiwan themes in their music, which was a very sharp contrast to mainstream Mandopop that dominated the music industry. I can't speak Taiwanese, but I could write a simple nakashi-influenced guitar melody and sing in Mandarin about something that was very characteristic of Taiwan — the local beer! I was also heavily influenced by punk and hard rock. I think you can hear that hard edge in the loud part and gang chorus."
In something of a historical irony, Taiwan Beer will sponsor Feiwu's show at Legacy. "It's actually the first time in 15 years that Taiwan Beer has done something like this," writes Lamont. "Until now, we didn't know for sure if anyone at the brewery was even aware of the song."
■ Feiwu at 8pm, Feb 17 at Legacy, 1 Bade Rd, Sec 1, Taipei City (台北市八德路一段一號). Tickets are $600, or $500 in advance. On the Net: www.legacy.com.tw.
Comments will be moderated. Keep comments relevant to the article. Remarks containing abusive and obscene language, personal attacks of any kind or promotion will be removed and the user banned. Final decision will be at the discretion of the Taipei Times.