Service: Food online
A new Internet service, Foodpanda, ensures that your next meal is never more than a few mouse clicks away
Shopping online is not new and nothing could be more normal than ringing up your neighborhood pizzeria for a delivery of pizza. Foodpanda, a service that recently opened in Taipei, wants to put these two ideas together to provide a wide-ranging telephone or Internet food delivery service.
Foodpanda started up in April 2012 as an online restaurant listing service where customers can search for restaurants according to where they are and then order takeout. The listing can be filtered not just by area, but also by type of food, budget, availability of special offers, and payment method. Menus for many restaurants are available online, and orders can be placed by phone or online.
Sam Lang, vice president of Foodpanda Taiwan, said that this business model has been launched successfully in many western countries.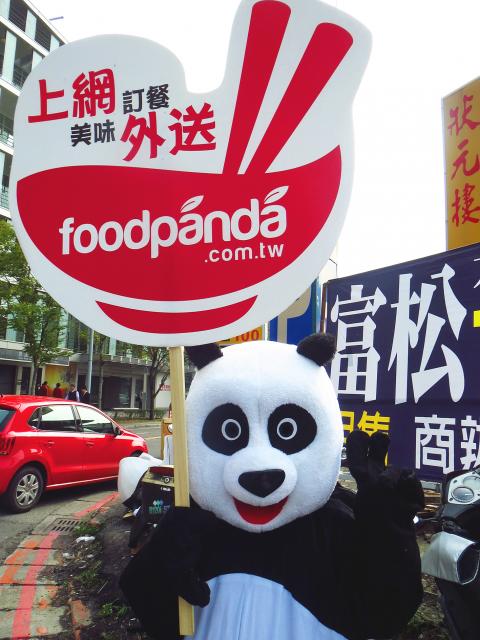 Ron Chan hits the street to promote Foodpanda.
Photo courtesy of Foodpanda
"We knew that this business model worked very well in other parts of the world. We know top competitors Seamless, Grubhub … We thought in Asia there was a need to do a similar business model, as there hasn't been any predominant player here yet."
NEW BUSINESS MODEL
Foodpanda originated in Singapore, where its headquarters are based, and was launched there and in Indonesia, Malaysia and Thailand simultaneous in January 2012. The company is expanding rapidly across the region, sometimes under a different name. Lang said: "We have already expanded to India, Columbia, Vietnam … we are in close on 40 countries now."
For Taiwan, the business model took a bit of tweaking to get right. Lang said that the company had originally targeted the expatriate community, but found that this offered only restricted opportunities.
"Taiwan simply does not have an expatriate community in the same way that Singapore or Hong Kong has," Lang said. This led Foodpanda to change tack and target major corporations with thousands of workers, all eager for a quick lunch delivered to their desk at a specific time.
Lang said that although the cost of a bento box, one of the most frequent orders for an office lunch, is not particularly high, orders can be large, catering to groups of office workers.
The appeal of Foodpanda is primarily that of convenience.
"You can have a whole bunch of fliers and name cards on your fridge, or you can have a single Web site. … And it can even provide you with options that you may not have thought of," Lang said.
A number of well-known expat-run operations including Carnegie's, Forkers, Coda and The Diner have been open to test driving Foodpanda's service. But local establishments, especially smaller outlets, have proved a bit more of a challenge for Lang and Foodpanda co-founder Ron Chan.
"Many of them would say, 'we are already doing very well, why do we need your service?'" Lang said, adding that they still have a really tough time signing up popular local joints.
"That's getting better, and some of these mom and pop shops have become some of our top vendors. This was a real surprise, and if you were to ask us this six, seven months ago, we would never have thought this."
Getting local vendors on board took a lot of leg work by Lang and Chan, who said that as a relatively small operation, they have been out in malls and shopping centers distributing fliers dressed up as a giant panda and on occasion acting as delivery boys.
CUSTOMER FIRST
It has not always been easy, Chan said, as some smaller establishments easily become overwhelmed when orders flood in, and this could adversely affect the customer experience.
"We always test out the quality of the food, or order in for our office to check the quality of the [delivery] service," Chan said. "If we find the service is inadequate, we will take [the shop] off [our list]. … As customer experience is the most important thing at the present time, if we find that the food cannot be delivered on time, Sam and I might even take a cab and deliver the food ourselves. … Sometimes the restaurants are just not used to dealing with the number of additional orders we can provide."
After the success of their special Christmas offer, Foodpanda has been working hard to sign up restaurants that will be able to cater for those in need of a Chinese New Year banquet delivered to the door. Sam said they will be offering discounts on food ordered through their site. A new addition to their lineup is King Join (京兆尹), a restaurant famous for its top-shelf, imperial-style Chinese dishes.
To solve some of the issues surrounding the quality of the delivery services provided by some outlets, Lang also said that Foodpanda intends to launch its own delivery service, supporting deliveries from a selected number of the Web site's top vendors.
Foodpanda can be found, in English and Chinese, at www.foodpanda.com.tw.
Publication Notes
Comments will be moderated. Keep comments relevant to the article. Remarks containing abusive and obscene language, personal attacks of any kind or promotion will be removed and the user banned. Final decision will be at the discretion of the Taipei Times.