Technology reviews
Google/Asus Nexus 7; Acer Aspire S7 Laptop; Toshiba Satellite U940
Google/Asus Nexus 7
With the Nexus 7, we finally have a confident, viable contender to the iPad. This Google-branded, Asus-made tablet computer, which started appearing on store shelves in Taiwan in October, hits a bunch of sweet spots. The sweetest is price. Retailing for NT$8,990, the Nexus 7 is probably the best value tablet available at the moment.
Another perk is size. The Nexus 7, which has a 7-inch screen and overall is the size of a small legal pad or large-ish paperback, is comfortable and easy to hold with one hand. If you've been wishing for something like the iPad but smaller, this is it (the yet-to-be-released iPad mini notwithstanding).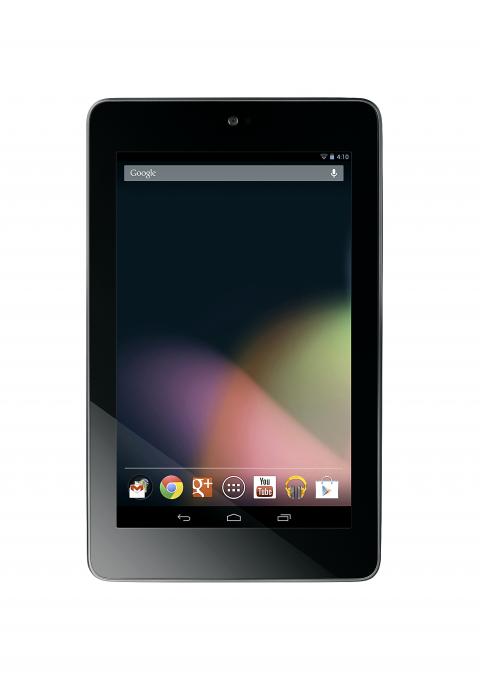 Google's Nexus 7 tablet, made by Asus.
Photo courtesy of Asus
Then there's the ever-improving software. For all the mess that it used to be, Google's Android tablet operating system has matured with its latest version, Jelly Bean. Everything runs smoother and more fluidly than before. The screen feels responsive, without the lag and delay of previous OS versions. For apps, there isn't the variety on Google Play that you get with Apple's App Store, but all the important ones are there: Facebook, Skype and Dropbox. The advantage of the Nexus series is that Google has a direct hand in the look of the software. The stock version of Android usually looks cleaner and less confusing than the widget-filled screens and user interfaces that Samsung and other tablet makers add to their devices.
(And as usual, Android is very friendly to Chinese users when it comes to text input, whether you use traditional or simplified, Zhuyin Fuhao, also known as Bopomfo, or Hanyu Pinyin.)
SLICK DESIGN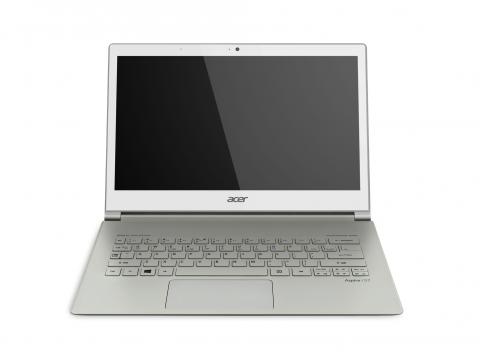 Acer's Aspire S7 is one of the company's best laptops ever.
Photo courtesy of Acer
Asus deserves big kudos for the Nexus 7's design, which sets it apart from similar-sized tablets. It beats Samsung's plasticky Galaxy Tab by a long mile. The Nexus 7 feels like a high-end device, with a mirror black screen on top that inevitably reminds one of a large iPod but which is nice nonetheless. Asus' original design touch is on the backside, which is made of a leather-like black rubber that looks and feels like it belong in a luxury car. It's beautiful, and makes the Nexus 7 feel nice to hold. Google and Asus decided to err on the side of minimalism, offering only three physical buttons, for power and volume, and a USB power plug.
Hardware-wise, the Nexus 7 generally gets it right. 1 gigabyte of RAM helps the device run smoothly, while NVIDI's 1.2 GHZ quadcore processor ensures speed. Most importantly, though, the Nexus 7's 1280 x 800 screen is nice. If you're counting pixel density, it's not quite as sharp as Apple's "Retina" screens, but the tablet is very comfortable to read and watch videos on. I didn't keep close track of battery time to compare with Google/Asus' claim of nine and a half hours, but that figure didn't seem far off. I got two and a half days between charges with normal use, which for me means checking e-mails and Facebook, surfing the Web and watching YouTube videos off and on throughout each day.
The Nexus 7's drawbacks are minor and may not apply to everyone. In Taiwan, it's only available with 16 gigabytes of storage, and there's no SD card for expansion. There is no back-facing camera, which might ward off those who think a tablet makes a good point-and-shoot camera.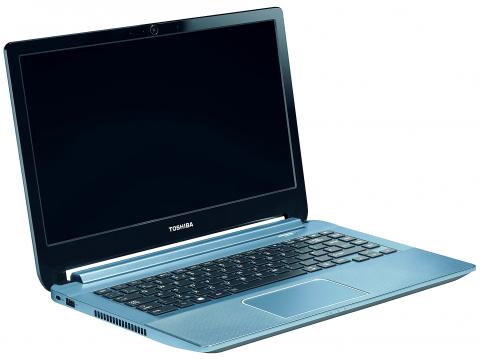 Toshiba's U940 laptop for Windows 8 is a respectable, lower-priced choice.
Photo courtesy of Toshiba
A few new features come across as lukewarm novelties. Google Voice is comparable to Apple's Siri — it's useful for certain things such as basic dictation and basic information like weather and stocks. Google Now makes educated guesses on what info you need most, and automatically displays cards with data and information based on your most frequent searches and location. For example, open up Google Now, and the local weather will appear, as will your calendar appointments. These features are pretty cool for their potential and fun to play with, but aren't quite in the "must-have" column yet.
With the Nexus 7, there's the inevitable question. Should you wait for the iPad Mini? Not if price is an issue. The iPad mini, which hasn't been released in Taiwan, is most certainly going to be more expensive, with its basic model in the US selling for US$329 (more than NT$9,500). In terms of features, if you're used to Apple products and are always looking for the latest and greatest apps, then switching to Android is probably not a good move.
But if you want a tablet just for the basics such as e-mail (especially gmail), Facebook, e-books and surfing the Web, then the Nexus 7 has it covered.
Acer Aspire S7 Laptop
Wow, Acer, you did it. After years of cranking out middle-of-the-road desktop and notebook computers, you've come up with a truly standout product.
Acer's Aspire S7-391 (NT$44,900 to NT$52,900 depending on the specifications) is a beautiful, well-built laptop, one that surpasses anything the Taiwanese company has ever made. Running on Windows 8, Microsoft's new operating system, the S7 runs fast and smooth and sports a very responsive touchscreen, a nice keyboard and a crystal sharp screen. This "ultrabook" will actually make you think twice about getting a Macbook Air.
I spent a week testing the S7 with a 13-inch screen as my main computer, and it's one of the best Windows laptops I've ever used. The big caveat, though, is Windows 8. The new OS is bold and innovative but it can be very frustrating to use. This is mainly because Windows 8 has two different looks and interfaces, "Metro" (designed for touchscreen tablets) and the traditional desktop (think Windows XP, Vista, 7). There's a learning curve with Windows 8, as the touch gestures are not immediately intuitive (See page 12 of the Nov 13, 2012, edition of the Taipei Times for a full review).
But if any computer were to convince you to overlook these shortcomings, it would be the S7. In fact, it lets the finer qualities of Windows 8 shine, particularly when it comes to the touchscreen experience. The S7 has a gorgeous display because of its the high resolution (1920 x 1080) IPS screen. The colors are bold and rich, and the picture is clear from all angles. Videos look great on the S7, and even doing mundane tasks like word processing feels a little less dull thanks to the pin-sharp text and graphics.
Laptops with touch screens are nothing new, but I've never seen one work as well the S7 does. Its screen is just as responsive as an iPad, and because Windows 8 is actually designed to be touch-friendly, navigating feels buttery smooth. On the Metro desktop, with its animated icons, everything is tap and go, as it should be. As for using the S7's keyboard, it feels natural to switch from tapping the screen to tapping on the keyboard and trackpad if need be.
ASPIRE INSPIRES
In this area, Acer deserves praise for getting the trackpad right. It's not perfect — the pad surface rattles a bit — but it works well, responding to the touch with the right amount of sensitivity. And you don't get the dreaded "jumping cursor" problem, where accidentally brushing the trackpad with your hand will send the cursor to a random part of the screen. The S7's trackpad is one of the best I've ever used on a Windows laptop.
Indeed, solid hardware rounds out the S7's winning formula. My test model was armed with a 1.7 GHz Intel i5 processor and a 120 GB solid state hard drive, which accounts for the computer's speediness — and this is the low-end, NT$44,900 model. As far as design and looks, it's hard for any computer manufacturer nowadays to escape the influence of the Macbook Air, but Acer managed to avoid making the S7 a slavish imitation. The interior, as in the screen and keyboard, is all brushed metal, but it looks original in its own right. The exterior casing is a translucent white, and gives the laptop an understated but sleek appearance.
The S7's shape is not quite as fetching as the Macbook Air, but this Acer laptop is still wafer thin, with a 11.9mm profile, and a hair lighter at 2.87 lb (1.3kg). Another interesting feature is that the screen can folds all the way back so the computer is one long flat sheet. And the hinges seem solid, without a trace of creakiness. Though it's impossible to know with full certainty, the S7 looks and feels like it was built to last.
The S7 does have a few drawbacks, one of which may be critical for some folks: battery life. I averaged under three and a half hours with everyday use, which for me meant keeping WiFi on, surfing the Net, watching a few YouTube videos, writing e-mails and the notes for this article. If you're an office road warrior, this may have you thinking twice about the S7, especially since the Macbook Air is a similar price and offers better battery time between charges. Also, the S7's keyboard lacks the function (Fn) keys normally placed in the first row. On the S7, they're shared with the number keys, which you activate when you hold down the Fn button. It's a minor inconvenience, but some power-users will miss it having those keyboard shortcuts. One other minor complaint I have is the unwieldy and bulky power cord (Acer, you have such a beautiful and ultraportable laptop. Why give us such an ungainly mess of cables to power it?)
If you're looking for the latest and greatest Windows computer, the S7 is one of them — Acer has outdone itself with this laptop. That said, at the moment it's hard to wholeheartedly recommend any Windows 8 computer, especially if you're perfectly happy with Windows 7 or Vista, given that the new OS is a mixed bag of both improved and frustrating features. But if you're willing to deal with the quirks of the new Windows, then the S7 should be at the top of your list.
Toshiba Satellite U940
Often overlooked, Toshiba makes some of the best-designed Windows laptops around. Its Portege Z830 was one of the better ultrabooks we tested (See page 13, Feb. 5, 2012, edition of the Taipei Times), and one of its newer products, the Satellite U940, is a respectable, low-cost laptop running on Windows 8. It retails for NT$36,800, but we've seen it on local online stores for around NT$30,000.
The U940 is meant to appeal to those who want a lightweight laptop with lots of screen space. It weighs 4 lb (1.85 kg) and has a 14-inch screen. The 1366 x 768 resolution LED display is not bad, but it definitely will feel like a step back if you've tried the Acer Aspire S7 (see review) or you use the latest iPad. On the U940, the jagged edges of text and graphics are much more apparent, and the picture becomes unclear at certain angles. Basically, getting what you pay for with this screen.
Still, this laptop gets the job done. An Intel Core i5 chip and 4GB of RAM keep the U940 running swiftly — apps generally load quickly. A 32 gigabyte solid state drive devoted to the operating system helps (for general storage, there's a standard 750 gigabyte hard drive). Boot-up times are a fast 15 to 20 seconds, which can also be attributed to Windows 8.
CRASH AND BURN
Windows 8, as previously mentioned, is a mixed blessing. With the U940, it was nice — when it worked. I found Windows 8 to be somewhat unstable on the U940 during the week I used it. The OS crashed every other day or so, giving me the "blue screen of death," usually after waking the computer from sleep by opening the lid. By comparison, the Portege Z830 seem to run without a hitch on Windows 7. But this shouldn't be considered a fatal flaw for the U940, as such bugs will likely be addressed with future software and firmware updates. Another note about Windows 8 on the U940: while there's plenty of eye candy with the new Start screen and its animated icons, the lack of a touchscreen makes the experience a bit duller. One can't help but wonder whether the U940 would be better off with Windows 7.
The U940's core strengths are hardware and design. The laptop has a plain look with a dark grey, brushed metal casing. Toshiba keyboards also have a refreshingly plain and clean layout. It's never a struggle to find certain keys, and I've always found Toshiba's chiclet keys to be very comfortable. The trackpad works well, thanks to a combination of good hardware and solid software from Toshiba. Asus and Acer (Acer's excellent Aspire S7 notwithstanding) would benefit by paying attention to what Toshiba is doing in this department.
Toshiba claims a six-hour battery life on the U940, and I got between four and five when I tested it, which is respectable enough. Overall, it may lack some of the pizazz of Toshiba's more stylish 13-inch Portege Z830, but the U940 presents itself as more of a workhorse that's fast enough and covers basic computing needs, and is one to consider if you're on a budget.
Comments will be moderated. Keep comments relevant to the article. Remarks containing abusive and obscene language, personal attacks of any kind or promotion will be removed and the user banned. Final decision will be at the discretion of the Taipei Times.