Restaurant review: Jolly
Jolly offers up an unusual but tantalizing combination of Thai food and beer from the restaurant's microbrewery. The eatery has two locations, one in Neihu and the other on Qingcheng Street (慶城店) near the Nanjing East Road MRT Station (南京東路捷運站). This review is for the latter.
The restaurant prides itself on serving food and drinks with its own signature combination of flavors. Jolly says its take on Thai cuisine emphasizes the use of Thai spices and herbs to create a balance between tangy and spicy flavors, while its beers combine European and American brewing methods.
My dining companion said that Jolly's pale ale, one of its regular offerings, was not too sweet nor too bitter, but also did not stand out from other pale ales he had sampled before. The pilsner, which he had on a previous visit, is a good choice for people who like dry, slightly sweet beer. (Beers range from NT$110 for a 250ml glass to NT$350 for 800ml).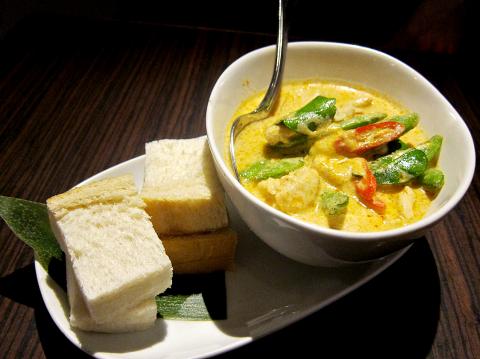 Beer and Thai cuisine make fine bedfellows at Jolly.
Photo: Catherine Shu, Taipei Times
Jolly's current drink special is passionfruit witbier (wheat bear) made from a blend of barley malts with unmalted wheat and oats. Passion fruit is added during the first fermentation. The juice's acidic flavor adds a gentle but tart kick to the witbier's honey-like aroma and crisp, yeasty flavor.
The light, slightly sweet beer paired very well with the spicy squid salad (NT$280), made with squid, basil, cherry tomatoes and red onion gently tossed with a mixture of jalapeno peppers, fish sauce and lemon juice. The texture and taste of the crisp red onions and vinegary cherry tomatoes was a toothsome contrast to the tender but firm slices of squid.
Like the spicy squid salad, crab fried rice (NT$270) can be found on the menus of many other Thai restaurants, but Jolly's version stands out by not being too greasy and having plenty of fat crab claw meat. It is stir-fried with just enough green onion slices and fluffy scrambled egg to make the dish hearty without being too heavy. Slices of dried seaweed and diced fresh cucumber are served on the side to sprinkle on top of the rice for a bit of crunch.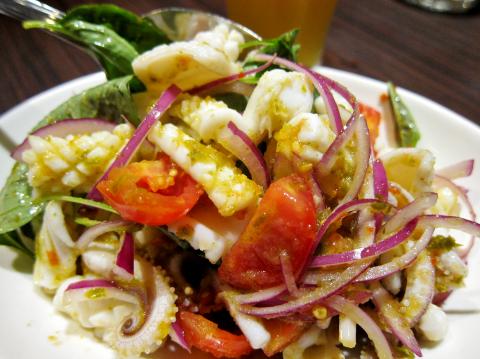 Beer and Thai cuisine make fine bedfellows at Jolly.
Photo: Catherine Shu, Taipei Times
All the classic Thai curries — red, green and yellow — appear on Jolly's menu, and are thick, rich and creamy without being cloying.
Filled with fresh, crunchy snap peas and potato, our yellow curry chicken (NT$275) was served with thick white bread slices for dipping. The sweet coconut milk was offset by plenty of very hot cayenne pepper.
My favorite course of the evening was our chicken with coconut milk soup (NT$300). Served piping hot in a tureen with enough soup for four people, it is made with dark chicken meat still on the bone, galangal, lemon grass and kaffir lime leaves stewed in lemon juice and coconut milk. The smooth, creamy broth has a wonderful, satisfying array of flavors and aromas.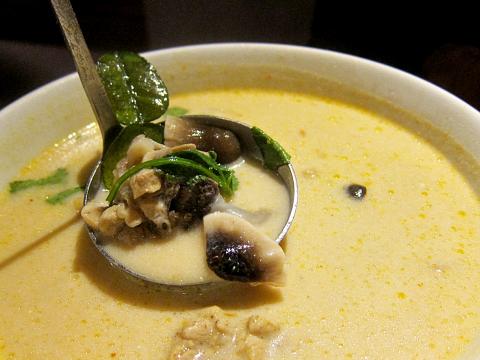 Beer and Thai cuisine make fine bedfellows at Jolly.
Photo: Catherine Shu, Taipei Times
The interior of Jolly's Qingcheng Street location is furnished like a sports bar, with heavy dark wood furniture and a small TV screen mounted next to each table that broadcasts games and sports news. The well-lit space is family friendly, however, and there is a patio that faces onto the road for warm weather dining.
Publication Notes
Jolly
Address: 29 Qingcheng St, Taipei City (台北市慶城街29號) Telephone: (02) 8712-9098, reservations recommended on weekends Open: Lunch 11:30am to 2:30pm, dinner 5:30pm to midnight Average meal: NT$600 to NT$800 Details: Chinese and English menu, credit cards accepted. Visit www.jollys.tw for a full menu and the address of its Neihu location
Comments will be moderated. Keep comments relevant to the article. Remarks containing abusive and obscene language, personal attacks of any kind or promotion will be removed and the user banned. Final decision will be at the discretion of the Taipei Times.