Pop Stop
This week's gossip rags were preoccupied with the rosy prospects for Taiwanese cinema, nuptial blessings and a bitter groom-to-be.
First the latter. Richard Chang (張承中), the fiance of Selina Jen (任家萱) from popular girl band S.H.E, had been keeping a low profile. During a televised interview with Jennifer Shen (沈春華) on Monday, however, he broke his silence and demanded someone take responsibility for the accident that left Jen with severe burns to more than 50 percent of her body while she was filming I Have a Date With Spring (我和春天有個約會) in Shanghai last year.
The 38-year-old lawyer burst into tears three times when talking about his wife-to-be, and called the explosion "a careless arson."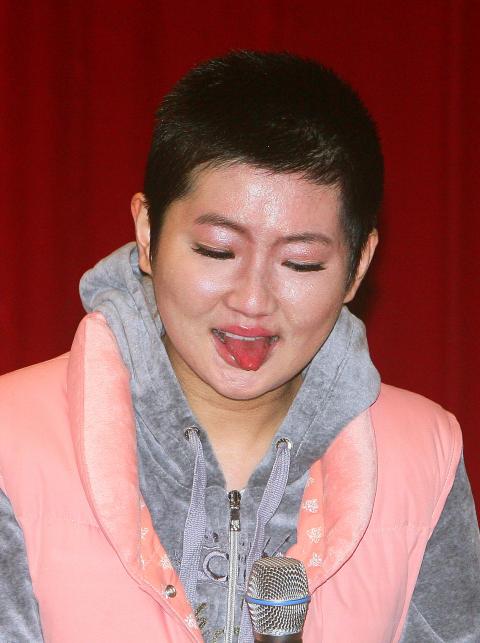 Selina Jen's getting better, but her fiance wants answers.
Photo: Taipei Times
"There were no rehearsals, no doubles, no fire extinguishers or fire control equipment of any kind. Selina was afraid but didn't dare to say a word," Chang was quoted as saying.
The lawyer directed his anger at Chen Ming-chang (陳銘章), the film's director, and said that Chen's 2,000-word public apology posted on Microblog (微博) nearly three months after the accident occurred was an attempt to shirk his responsibilities.
Chen, now regarded by many as the embodiment of spinelessness, responded to Chang's rage by saying, "I can understand his feelings, but I am not the butcher," according to the Apple Daily.
In movie news, Night Market Hero (雞排英雄) broke the NT$100 million mark at the box office last weekend to become the third highest grossing Taiwanese blockbuster after Monga (艋舺) and Cape No. 7 (海角七號). The film is said to have won the hearts of local audiences with its grassroots humor and cast of comedic talents including Chu Ko Liang (豬哥亮).
The momentum generated by Night Market Hero is expected to continue with Black and White Episode I (痞子英雄首部曲:全面開戰), a mega-budget blockbuster based on the hit television police drama Black and White (痞子英雄) starring Mark Chao (趙又廷) and Vic Chou (周渝民). Director Tsai Yueh-hsun (蔡岳勳) reportedly refused to settle for anything less than a real Boeing 747 to stage many of the movie's fighting scenes. A budget of NT$30 million alone was said to have been spent shipping parts of a 747 from Arizona and reassembling it in Kaohsiung where the movie is currently being shot.
Meanwhile, Wei Te-sheng's (魏德聖) Seediq Bale (賽德克巴萊) has recently received a much-needed cash injection of NT$350 million from the Central Motion Pictures Corp (中影, CMP), which will allow the completion of the epic tale of the Sediq hero Mona Rudao leading his tribe in a rebellion against Japanese military forces in 1930.
Vivian Hsu (徐若瑄), who stars in the film, and Jay Chou (周杰倫) may feel a sense of relief upon hearing the news as both stars have reportedly loaned Wei tens of millions of NT dollars when the director ran out of cash for post-production processing.
According to Guo Tai-chiang (郭台強), Central Motion Pictures Corp chairman, the box office returns will have to reach NT$1.4 billion for the film to turn a profit.
Moving from the big screen to the big plunge: Wedding bells have been ringing nonstop inside the celebrity firmament in recent months. After actress Barbie Hsu (徐熙媛, aka Big S) and Chinese restaurateur and multimillionaire Wang Xiaofei (汪小菲) secretly tied the knot in Beijing a month after meeting each other, veteran beauty and actress Vivian Chen (陳德容) wedded real estate tycoon Austin Wang (王贊策) at an intimate ceremony attended by some 30 relatives and friends at the Grace Baptist Church (懷恩堂) in Taipei on Friday last week.
With six bodyguards on the lookout, the wedding was intended to be paparazzi-proof, but the reliable news hawks from the Apple Daily managed to get a few snapshots and a detailed description of the wedding for the public's delectation.
Meanwhile, months after her widely reported breakup with former F4 boy band singer and actor Ken Chu (朱孝天), actress Kelly Lin (林熙蕾) made gossip headlines as speculation mounted that she is set to marry entrepreneur Chris Yang next month.
An anonymous friend of Lin's described Yang to Apple Daily journos as a cheerful 39-year-old who runs a clothing line in Los Angeles. Yang and Lin were said to have been introduced to each other eight years ago in LA, but didn't hit it off. The two met again last year, and this time Yang went in hot pursuit and successfully won her heart.
The 36-year-old Lin has yet to confirm or deny the rumors.
Comments will be moderated. Keep comments relevant to the article. Remarks containing abusive and obscene language, personal attacks of any kind or promotion will be removed and the user banned. Final decision will be at the discretion of the Taipei Times.