Hong Kong comedy maestro goes head-to-head with Taiwan's slapstick wizard
'CJ7' and 'Kung Fu Dunk' compete for holiday audiences with the humor of comedy kings Stephen Chow and Chu Yen-ping, respectively
Two new movies promise to keep Lunar New Year's revelers in stitches. After a three-year wait, Stephen Chow (周星馳) returns to the silver screen with his sci-fi family comedy CJ7 (長江七號). Competing with him for holiday audiences is Taiwan's slapstick comedy whiz Chu Yen-ping (朱延平), who teams up with Jay Chou (周杰倫) and a top-notch production team for Kung Fu Dunk (功夫灌籃), a blockbuster-wannabe that mixes martial arts, sport and romance.
Chow's fifth feature, CJ7 continues the use of a familiar storyline - a nobody who makes it against all the odds - tackled in 2001's Shaolin Soccer (少林足球) and 2004's Kung Fu Hustle (功夫).
On this occasion, the story revolves around down-and-out construction worker Ti (played by Chow) and his elementary-school-aged son Dicky (Xu Jiao, 徐嬌) who keep their spirits high despite living in poverty. Risking his life working on a skyscraper by day and collecting garbage by night, Ti insists on sending Dicky to a private school so that he can have a good education.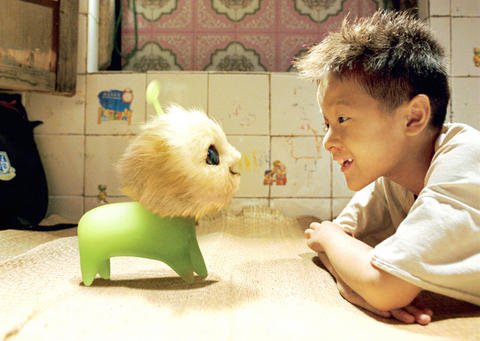 CJ7, left, a fluffy green alien puppy teaches Xu Jiao, right, a lesson.
PHOTO COURTESY OF SONY PICTURES AND SCHOLAR FILMS
A target of mockery for school bullies, Dicky's life changes when CJ7, a digitally generated alien puppy mysteriously appears in his home. Gradually, the boy realizes that the dog from outer space may not have the power to make him a hero at school. What the creature can do, however, is help Dicky understand what is most important in life.
Inspired by Steven Spielberg's ET, made some 20 years ago, the film is a family-friendly departure from Chow's previous movies. The director had younger audiences in mind while making the comedy flick that recalls the Doraemon manga series, which features a robotic cat that travels back in time from the 22nd century to aid a schoolboy.
CJ7 is disappointingly derivative, and you can expect less than the usual quota of wacky antics from Chow himself. The Hong Kong actor/director delegates most of the comic business to other characters, leaving himself to come across as a loving father figure who orchestrates a few well-executed lachrymose moments. Touching on the life of odd-job laborers living below the poverty line in a Chinese city, CJ7 is further invested with a bit of Chaplin-esque humanity. A brief sequence of the construction workers building the skyscrapers comes close to being an ode to the deprived.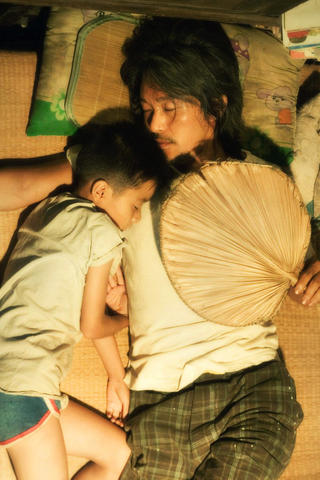 Stephen Chow, right, shares the spotlight with talented actress Xu Jiao.
PHOTO COURTESY OF SONY PICTURES AND SCHOLAR FILMS
While Chow retreats from the main stage, 10-year-old actress Xu Jiao steps into the main role. Selected from nearly 10,000 children, she is cast as Chow's son in the film. She has a natural screen presence and pulls off Chow's humor with ease. Her talent is such that Chow, who is said to have become Xu's godfather, has expressed high hopes that the girl will take over from him after he retires.
The supporting roles, each integral parts of the work, are commendably cast. Despite a change in style, Chow's signature humor remains intact and there are also plenty of parodies of Mission Impossible, the Harry Potter movies, Shaolin Soccer and Kung Fu Hustle.
Kung Fu Dunk, with a record-breaking budget, cast of big-name pop stars and fancy CGI, could hardly fail. In the plot, Shijie (played by Chou) is an orphan brought up in a martial arts school. Con artist Li (Eric Tsang, 曾志偉) spots the young talent and connives to cash in on his basketball skills. He generates sufficient media hype to have the boy join the university basketball team.

Jay Chou is the star shining in Kung Fu Dunk.
PHOTO COURTESY OF SONY PICTURES AND SCHOLAR FILMS
Under the guidance of the alcoholic team captain (Wilson Chen, 陳柏霖) and other teammates, Shijie quickly becomes a basketball star and leads the team to the championship. Meanwhile, his feelings for the captain's sister, Lily (played by Hong Kong's Charlene Choi, 蔡卓妍), grow. But he's crossed in love. The girl's attention is focused on the team's other star player, Xiou Lan (Chen Chu-he, 陳楚河).
In the final match - with a team of rogue players who resort to dirty tricks - it is up to Shijie to stop the evil enemy and right the wrongs with his kung fu prowess.
Hailed as the biggest-budget film ever made in the history of Taiwanese cinema, the lead role is tailor-made for Chou. He jumps, kicks, fights, wallops and drawls. He doesn't talk much but fakes cuteness convincingly and even pulls off some comedy. The pop idol abandons his coolness to become a lovable, simple-hearted lad. The rest of the cast is, however, frittered away. The troupe of pretty-faced pop stars pack no punch, while veteran actors like Ng Man-tat (吳孟達) and Leung Ka-yan (梁家仁) have no room to shine.
With a budget of more than NT$330 million, the filmmakers had money to burn on pricey visual effects. They created a basketball extravaganza with acrobatic martial arts that promise to elicit wows from the audience. Director Chu's signature cheesy humor and hackneyed plot devices, such as the battle between a kung fu fighter and evil wrestler-looking macho guys, however, fail to impress and feel slightly out of date.
For fans, Kung Fu Dunk is a fine holiday choice, but for the rest of us, this is yet another example of Chu's inability to tell a story no matter how well-funded and polished.
Publication Notes
Film Notes
CJ7 (長江七號)
DIRECTED BY: STEPHEN CHOW (周星馳)
STARRING: XU JIAO (徐嬌) AS DICKY; STEPHEN CHOW (周星馳)
AS TI; KITTY ZHANG YUQI (張雨綺) AS MISS YUEN; LAM TZE-CHUNG
(林子聰) AS A CONSTRUCTION CONTRACTOR
RUNNING TIME: 88 MINUTES
LANGUAGE: IN CANTONESE WITH CHINESE AND ENGLISH SUBTITLES
TAIWAN RELEASE: NOW SHOWING
Publication Notes
Film Notes
Kung Fu Dunk (功夫灌籃)
Directed by: Chu Yen-ping (朱延平)
Starring: Jay Chou (周杰倫) as Shijie; Charlene Choi
(蔡卓妍) as Lily; Wilson Chen (陳柏霖) as the Captain; Chen Chu-he (陳楚河) as Xiao Lan
Running time: 98 minutes
Language: In Mandarin with English subtitles
Taiwan release: Wednesday
Comments will be moderated. Keep comments relevant to the article. Remarks containing abusive and obscene language, personal attacks of any kind or promotion will be removed and the user banned. Final decision will be at the discretion of the Taipei Times.