A musical astronaut returns to earth
Known for her ethereal, synthetic sound, Summer Lei's new album sees the pioneering composer adopt a warmer touch
From behind a gauzy curtain in a dimly lit room at the Nanhai Gallery (南海藝廊), a soothing voice filled the air, whispering the secret language of ocean waves and ancient memories unveiled in recurring dreams. This was the new sound of the musical talent, poet and radio host Summer Lei (雷光夏).
Lei is famous for her voice, which can be heard in television and radio commercials, as well as her classical music program on the Taipei Philharmonic's radio station (台北愛樂電台). Her 1999 album http://summerplanet.com gained her a reputation as being Taiwan's pioneer of "noise folk music," combining traditional-style songs with ambient-like electronic sound effects.
Though she has five albums to her name, Lei avoids the limelight. Interviewed Monday after a puppet show inspired by her new album, however, Lei was surprisingly congenial. Offstage, she seemed just like her music — sincere, sensitive and comforting.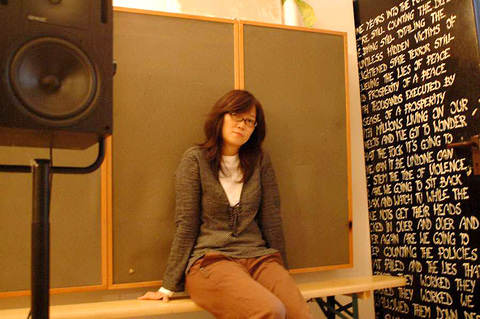 PHOTO COURTESY OF SONY BMG
The daughter of famed poet, writer and documentary filmmaker Lei Hsiang (雷驤), Lei was raised in an artistic family, and her love for music saw its genesis with Lei Hsiang's trick of covering up baby Lei's crying with classical music, an anecdote his daughter is fond of retelling.
Despite this background, Lei did not plan on becoming a musician. In high school she dreamed of winning a Pulitzer Prize, only to find out later that since she was not a US citizen she could not even qualify for the award. Coming of age during the social movements of the 1980s and eager to make a contribution to social justice, Lei studied journalism in college. "But I gave up this dream quickly because being a journalist means you have to keep a distance. I couldn't do it; I can't repress my feelings," Lei said.
Luckily for her fans, pioneering Japanese musician Ryuichi Sakamoto inspired Lei to turn to music. She first heard Sakamoto's synth-rock music in high school and was immediately fascinated by the avant-garde sounds he created using a synthesizer.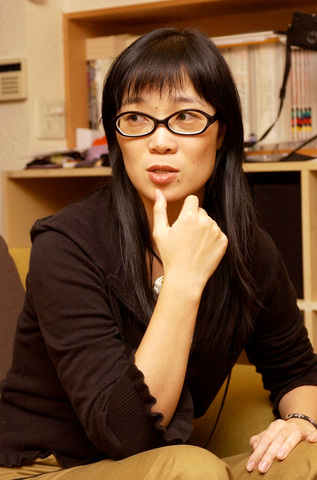 Summer Lei completed the music and lyrics for her new album while recovering from a car accident.
PHOTO: LI KAI-MIN, TAIPEI TIMES
Lei bought her first synthesizer in college. "Back then my friends would call me 'midi girl' because I played with electronic sounds while everyone else was playing guitar," she said.
Not surprisingly, her interest in electronica was complimented by a love of science fiction, in particular the Alien series of films and the X-Files television program. Now 38, Lei said she and a friend used to pretend they were X-Files agents Dana Scully and Fox Mulder. "I later gave up the game simply because I didn't want to be a dork," Lei said with a hearty laugh.
But Lei's love of the imaginary and the magical have persisted and continue to influence her work. Blending the sounds of the accordion, drum, piano, cello and other string instruments with the electronic, Lei's music is often said to have a half-human, half-artificial sound.
"For me, reality is endless boredom. So I love everything that is a twisted translation of the real. In my mind, unplugged sounds are like the [planet] earth, breathing warmth and humanity; while electronic music is [like] outer space, ice-cold and representing everything bizarre that happens in the world," Lei said.
Another constant is the theme of life as a journey. Like many female artists who look inward for inspiration, Lei draws creative material from inner musings and past experiences. Less productive than the average musician — she releases a new album every three to four years — Lei works by transforming pieces of her life's journey into intimate lyrical diaries.
"Making an album itself is a journey. It's like bringing the old you to a new world, meeting new people in different continents and coming back home as a different person," Lei said. "People often tell me they have a great time working with me. I guess it's because I believe the main goal of going on a trip is to have fun."
It was during one such journey that Lei met an important influence, New York-based jazz musician Uri Caine. The two became friends after a concert in Hsinchu five years ago and in 2003 they teamed up for a performance at Taipei's Novel Hall (新舞台). Caine also collaborated with Lei on her Secret Words of Time (時間的密語) album.
Before working with Caine, Lei was self-sufficient as a musician and a bit of a control freak when it came to her work. But Caine taught Lei how to let go and improvise. "I was very nervous about the performances [in 2003] and wanted to exchange some ideas and stuff with Caine beforehand. But he just told me, 'We don't do things this way. We improvise.' So we did. It was like two friends chanting with each other on stage, feeling and responding to each other's language. It was an enlightening experience," Lei said.
After Caine, Lei's one-woman approach gave away to collaborations with other musicians from Taiwan and abroad, and the outer-spacey aesthetic of 1999's http://www.summerplanet.com (臉頰貼緊月球) was supplanted by the time-motif of Fade Away 2003 (2003逝) and, now, Secret Words of Time.
Dubbed "sound films," the two albums can be seen as a sonic representation of Lei's creative process. "When I make music, I always have a complete story and abundant images in my head," she said. "I love to dream, and dreams often come to me while I am asleep. My dreams have colors, smells, melodies and even theme songs. I use music to search for the clues of imagery, to capture the movie of the subconscious. I hope people can also view their own mental landscape through my music."
Lei wants her sound to feel unobtrusive, like subconscious thoughts. She believes music should be an integral part of a person's surroundings, quietly inspiring a change of mood and sensibility without the listener's noticing.
Indeed, a different frame of mind has found its way into Lei's newly released The Light of Darkness (黑暗之光). The album's compositions and lyrics, which Lei completed last year during a two-week bed rest after a car accident, see her heading in a warmer, more human direction.
"Given the dark times we are experiencing right now, I want to embrace people with simple melodies," Lei said. "To me, songs are like mirages, evaporating when the music stops. But they somehow remain in the memory, emerging at an ephemeral moment when your heart is being touched. Mirages are our weapons against an unpleasant reality, don't you think?"
Publication Notes
Performance Notes:
What: Summer Lei teams up with musician friends for two concerts to promote her newly released album The Light of Darkness
When: Dec. 22 and Dec. 23 in Eslite Hall, on the 6th floor of the Eslite Flagship Bookstore in Taipei's Xinyi District (誠品書店信義區旗艦店6樓誠品廳).
For more information, visit http://www.cizoo.com/summer
Comments will be moderated. Keep comments relevant to the article. Remarks containing abusive and obscene language, personal attacks of any kind or promotion will be removed and the user banned. Final decision will be at the discretion of the Taipei Times.