Technology Review
A camera that sheds light on photographyWhile Sony is a newcomer to the market for digital single-lens reflex cameras, there is much that is familiar about its first offering. The lens mount and many mechanical parts of the Sony Alpha DSLR-A100 come from a discontinued camera made by Konica Minolta, which recently abandoned the camera business.
Sony, however, says that it has used its extensive expertise in electronics to completely revamp and improve the camera's sensors and microprocessors.
The A100 will be available next month with an 18-millimeter to 70-millimeter zoom lens for about US$1,000. Buyers who don't want the lens can save about US$100. Other lenses and flashes are also on the way, including three high-end lenses developed by Carl Zeiss of Germany.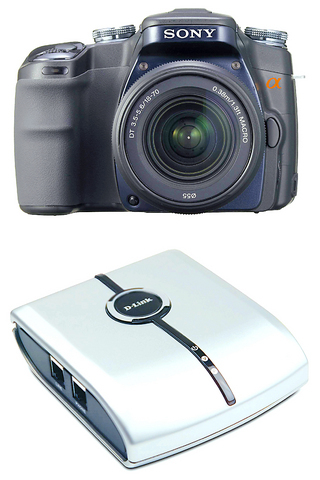 In addition to being fully compatible with most Konica Minolta Maxxum mount lenses, the A100 has an improved version of a technology pioneered by Konica Minolta that minimizes blurring at low shutter speeds or when using telephoto lenses. Electronics rapidly shift the camera's 10.2-megapixel sensor to counteract movements of the camera in the user's hands.
From Sony's engineers, the camera gained an image processor that analyzes dark and bright areas of photos and automatically adjusts exposures to prevent details from disappearing.
New trick for old phones: Making free aclls online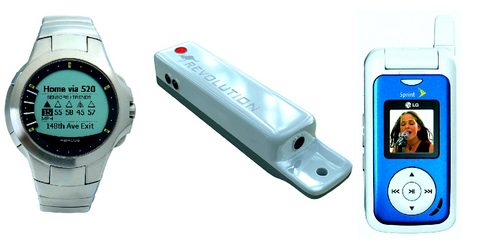 Internet calling services like Vonage bridge the analog-to-digital divide by letting you use old-fashioned telephone handsets to make online calls, cutting long-distance fees. But even Vonage and its ilk look expensive next to Skype (www.skype.com), which offers free calling from one computer to another, anywhere in the world.
The Skype USB Phone Adapter, available from D-Link for about US$70 from many online and offline retailers, connects a conventional phone to the USB data port of a Windows PC (it does not work with Macs). You can then make Skype calls without using an awkward computer headset. To reach other people who have Skype, you can use the service's instant-messaging-style software to initiate a call or you can assign speed dial codes to your Skype contacts and dial them directly from the handset.
The adapter, model DPH-50U, includes a jack and cable for plugging into a standard telephone wall socket, so you can use one handset for both free Internet calls and standard calls. If you want to cut the landline completely, Skype sells credits that let you make calls to traditional phones, and can set you up with a standard number for incoming calls.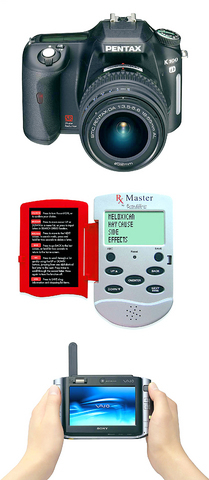 For music lovers, a gadget's gadget
Yes, it's yet another gizmo to carry around. But the Boostaroo Revolution aims to make other gizmos better: It amplifies and improves the sound of iPods and other digital players.
The Revolution is a small device, about the size of a cigar, that runs on two AAAA batteries and has a 1/8-inch audio-in port and two 1/8-inch audio-out ports. Plug any audio player into one end and the Revolution amplifies and improves the signal coming out the other end. The extra audio-out port lets you share your music with a friend.
Essentially the Revolution makes your music sound sharper. It may take an audiophile to appreciate the finer points of this US$60 device, which is available now, but the overall difference with and without the amplifier is noticeable to the ordinary ear. An MP3 file recorded at fairly low quality was transformed from a muddy mess into a listenable audio track. Using a pair of standard headphones, even music downloaded from the iTunes Music Store sounded slightly better.
The Revolution also simulates surround-sound in standard stereo headphones. There are no buttons to press or dials to twirl -- you simply plug in your headphones, connect to the MP3 player and go.
All your favorites, all the time
With the LG Electronics LX550 Fusic phone, every song you request is certain to play on the radio, and you don't even have to call a station. The phone can transmit songs from its memory card to any FM radio.
The Fusic, available from Sprint, also plays video and can receive on-demand music, TV or subscription radio services over Sprint's high-speed data network.
The phone has other features that are by now expected on a jazzy handset. It has speakerphone capability, Bluetooth wireless to sync contacts and calendars with your computer and a 1.3-megapixel camera with built-in flash.
Music, video and subscription radio can be purchased a la carte, or bundled with some phone plans. Songs from the Sprint Music Store are US$2.50 each. You can also transfer your MP3s onto the phone's 64-megabyte Micro SD card.
Be prepared for at least one tech disappointment: The phone can't transmit your Sirius radio stream to an FM receiver, only songs stored on the memory card.
Today's digital cameras have enough megapixels to render sharp pictures, but they can still produce blurry photos when used without a tripod at slow shutter speeds or in zoom close-ups.
Less jitter and also less cost
The Pentax K100D, a single-lens reflex camera, has a 6.1-megapixel image sensor that moves to counteract the jitter that results in the blur.
The sensor sits on a plate equipped with electromagnets and surrounded by permanent magnets. Gyroscopic sensors detect movement and send signals to the electro-magnets, keeping the sensor level while the rest of the camera moves.
Pentax is not the first to offer shake-reduction technology, but putting the mechanism in the camera body means that shake reduction works with any Pentax interchangeable lenses made in the last 30 years.
That also saves money. Nikon's entry-level SLR, the 6.1-megapixel D50, retails for about US$550, for example, and its least expensive lens with image stabilization retails for an additional US$500. Pentax will begin selling the K100D in mid-July with a beginner-grade 18-55mm lens for a suggested price of US$700.
Comments will be moderated. Keep comments relevant to the article. Remarks containing abusive and obscene language, personal attacks of any kind or promotion will be removed and the user banned. Final decision will be at the discretion of the Taipei Times.