We pop the question to Taiwan's 'young heavenly king'
Jay Chou is the emperor of Mando-pop. But does he plan to conquer the West too?
Westerners react to the music of Jay Chou (周杰倫) in one of two ways. They either see it as an introduction to Chinese language and culture; or they cannot bear it because there's not enough rock 'n' roll for their tastes. There's never been a rock revolution in Asia, so Jay Chou's work could seem like a litany of love ballads that all sound alike.
However, on listening closely a Mando-pop first can be heard: the successful marriage of East and West.
Chou was trained in classical music and has combined this with Western elements -- R 'n' B, pop, rap, heavy metal and experimental genres.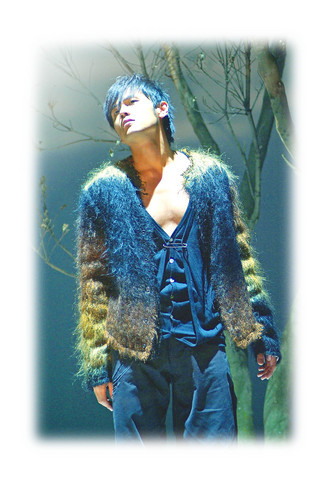 Jay Chou has model looks, management skills and classical music training. It's a recipe for success.
PHOTO COURTESY OF ALPHA MUSIC
This winning formula isn't something he aims to change. His awards number in the hundreds. This year alone he's won 58.
He's been awarded the accolades of best Asian male singer, best songwriter in Taiwan, Hong Kong and China (to name just a few) and has appeared on the cover of Time. But for Chou, "Sales are more important than awards."
Not bad for a 27-year-old from Linkou (林口).
The release last week of Chou's sixth album, November's Chopin (十一月的蕭邦) was awaited by millions. Named after his favorite musician, the album is another cultural fusion and includes five torch songs crafted specifically for the KTV market.
Sony BMG is already pleased with the album's pre-sales, 1.5 million in Asia.
Jay's total artistic control over his work was earned after years of composing, gaining rights to his own music, managing his image, and directing music videos.
For Hair Like Snow, Alpha Music wanted to pursue a
traditional Chinese music style.
Jay only agreed to do the song after the label promised that it would break with tradition.
With lyrics written by Vincent Fang (方文山), Chou composed the melody, using an eight-tone Chinese "hook." Then an imperial-style set was rented for the music video that cost NT$1.5 million and which Chou directed.
His manager, Yeung Jin-long (楊峻榮), trusts Chou's creative judgment, saying he "doesn't care what Jay does with the money, because good music is money."
"Director Chou" is using the experience to vault into film and music production.
He's been nominated for the Best New Performer award at this year's Golden Horse awards for his role in the film Initial D (頭文字D).
Chou plans to direct a movie,Bangka (艋舺), and has even announced his intention of starting a music studio to foster other people's talents when he hits 30.
Jay exercises the same sensational effect the Beatles had on the West in the 1960s.
Yet when asked who his favorite Beatle is, he said "everybody loves them," and said he couldn't name one in particular.
In Taiwan, every telephone shop, tabloid or passing public bus seems to carry his image and every 7-Eleven and hair salon seems to play his music.
Referred to as the "young heavenly king," (小天王), Chou is considered to be among the generation of Asian Pop kings that include Andy Lau (劉德華), Aron Kuo (郭富城), Jacky Cheung (張學友) and Leon Lai (黎明).
Some say he's the best Taiwanese artist to emerge in decades, if not ever -- a raw talent becoming ever more refined.
All those years spent daydreaming in class, learning the ropes from former manager Jackie Wu (吳宗憲), and crashing on the couch at the recording studio have finally paid off -- big time.
Jay is the pride of Taiwan, although he may deny it. He wisely ducks politics, enabling him to tour China, something his compatriot, singer A-mei (張惠妹), has had trouble doing.
Does he feel Taiwanese or Chinese? "Wherever I go I tell others I'm Asian, because we have the same yellow skin," Chou said.
Is Jay Chou a man in complete control of his career?
By the way he strode into a press conference on Monday, a dark silhouette with the elegant slouch of a poet musician, it would seem so.
Directed to pose, he did so -- in a rather deadpan way -- patiently fielding questions from TV and radio journalists, then settling down to a roundtable talk with 16 reporters, including myself.
Reputedly a "mumble-rapper," in person Jay Chou is poised and articulate, deftly parrying the inevitable questions about his private life.
"Would you invite [your girlfriend] Pattie Hou (侯佩岑) to be in your music videos?" one asked.
"That would be awkward," Chou quipped back.
"You are always the one in a relationship to finish it. What do you think?"another asked.
"Gossip again," he said, mentioning a compulsion to "be careful about the girls." He and past collaborators have gone on the record as "non-lovers."
The paparazzi have been intrusive though. Several paparazzi chased him down Keelung Road a few weeks ago as he was driving a car with Hou by his side. An angry Chou pushed over a Next magazine reporters' scooter.
"I focus on my career," he said. "Music is what's important. There's a day when I'll kiss girls and they won't care," he said.
Even so, he said he wrote Tse Mian Chu Ge (四面楚歌) about his relationships. A proverb signifying "surrounded on all sides," the song likens Apple Daily journalists to a "team of dogs (狗仔隊)."
"They bite an apple in their mouths, long cameras in their hands, seems they want to talk conspiracy," the lyrics say.
When asked about his English ability, Chou replied, "I have no talent for studying, only for making music."
When I asked how he planned to enter the Western market, Jay said that since his English "had stopped at junior high school," and his native languages are Chinese and Taiwanese, he made music "in Chinese only," adding he would "never do a song in English."
In the past, though, he has incorporated some Hakka, Japanese, Korean and Cantonese into his songs.
The following day's media reports focused on Chou's "poor English," and how there were many foreign reporters at the press conference. There was only one -- myself.
Despite the media, Jay seems to have taken his meteoric rise in his stride.
It is widely known he still manages to shoot some hoops.
And he's been given credit for not contracting "the illness of conceit."
The pressure of fame, he once said, "was like watching a movie. I change into a detective, or maybe a racer when others chase after you. You need to adjust your own mood."
Jay plans to tour Japan in June, and is considering playing in England.
Maybe he will decide to hire an English teacher, but then again he doesn't need to tap into the English-speaking market.
With an average 3 million sales per album in China alone, and lucrative Pepsi and Panasonic contracts as icing on the commercial cake, his English skills are irrelevant.
Comments will be moderated. Keep comments relevant to the article. Remarks containing abusive and obscene language, personal attacks of any kind or promotion will be removed and the user banned. Final decision will be at the discretion of the Taipei Times.