Dihua bustles during Chinese New Year
Shoppers buy traditional snacks while vendors cash in at Taipei's Dadaocheng District around this time of year
Dihua is a relatively quiet street lined with textile stores and traditional pharmacies. That is, until two weeks before the Lunar New Year when local vendors spill out of their storefronts to set up shop on the walkway. \nThis narrow street, located near the Danshui River in Taipei's Dadaocheng District, turns into a sea of shoppers, merchants and bins packed with an array of savory and sweet holiday snacks. The traditional market is a popular destination for Taipei residents to do their New Year shopping and provides a viable option for temporary employment. \nZheng You-cheng (鄭有呈) is a seasonal employee at a vendor selling dried fish. Working shifts that begin at 9am and don't end until midnight, Zheng said the job is both interesting and tiring. \n"The days are long and standing for 12 or more hours is hard work. But I like this job because I meet different people. I can even practice my English with foreigners." \nLike Zheng, most store employees are students working during their winter vacations and earn NT$80 to NT$100 per hour. Although it sounds low, the wage is reasonable compared with minimum wages paid in a retail service industry job, which average at NT$70 per hour. \nFrom a consumer's perspective, the area provides a one-stop shop for all New Year necessities. The goods range from candy, nuts, dried fish, fruit and vegetables to Chinese herbs and teas and even decorations. Most customers flock to Dihua Street to shop, yet the traditional southern Fujan-style architecture, red lanterns and foodstuffs have also made it a tourist attraction. Guided tours organized by expatriate clubs bring visitors to the market, and this year Taipei European School got into the spirit by setting up its own mini Dihua Street to teach students about the significance of the holiday market and the history of the street itself. \nDuring the mid-1800s, goods from China would arrive by ship at the Dadaocheng port in Taiwan. Imported silk, medicine and artwork would be traded for local rice, sugar and produce. Dihua Street's proximity to the port made it the sensible location to sell the imported goods, so it became the busiest market in Taiwan. \nLittle trading takes place there now, but the history is still apparent. When looking down Minsheng West Road towards Danshui River, one of the original four stone gateways to the city is visible. The first pharmacy and one of the oldest buildings on Dihua, Sheng Ji (生記藥行), is still in operation after nearly a century. \nConsidering medicine is not a holiday necessity, shops like Sheng Ji do not always benefit from the increase of holiday shoppers, said its proprietor Huang Ming-wo (黃明我). In fact driving restrictions and pedestrian congestion he explained, cause some business' sales to decline during the lead up to the Lunar New Year holiday. To minimize profit loss, however, most shops will either join the masses in selling festive treats or rent out their storefront space during the two weeks for NT$120,000 to NT$200,000. \nMr Wong (翁先生), who owns an air conditioner repair shop, has been selling candy in large bins outside his store for 17 years. On a good day he takes in NT$25,000, an average earning among retailers but a leap from the few thousand he makes per day during the rest of the year. \nAlthough it was a little early to estimate how business would fare on the official opening last Tuesday, many shop attendants said they were witnessing a higher turnout than in the previous two years. \nPrices are not set but they tend to be similar among the vendors. Bargaining is allowed and on some items, which have been marked up to twice regular prices, it is required. Other goods, however, cost less than they would at a franchise supermarket. The standard measurement is one jin (斤) or 600g. \nAs shop attendants vie for customers, they offer endless samples and assure all the while that tasting does not oblige one to make a purchase. "It's not a problem to sample. But when some people take advantage of the situation and grab a handful of candy as they walk by, that's annoying," Wong said. \nSome samples never reach the mouths of their takers, and they shouldn't. According to television news reports, originating with the Consumers' Foundation (消基會), random test samples at Dihua found that 30 percent of the items tested at the market were found to be below standards set by the Department of Health's Bureau of Food Sanitation. Those items mostly included dried fish and meat imported from China. \nIn response to the findings, a news report that aired on Wednesday cited three of the Consumers' Foundation's recommendations: Avoid purchasing unfamiliar brand names, be wary of dried products that are "too white or too pretty," and make sure to follow all food preparations accurately. \nReaching for a fluorescent-colored, yogurt-covered raisin, Wu Yu-lan (吳玉蘭) said that after only 15 minutes at the market she was full. This was her first visit to Dihua and she wasn't about to let media reports stop her from coming. "I see these reports every year. I don't doubt that some of these things are past their due date, but you just need to use your own judgment," she said. \n"Ordinarily I go to the traditional market near my home, or a supermarket, but this feels more festive, like Chinese New Year is on its way." \nWatching Wu's hand rest on the pile of raisins, it seemed the real danger might not be importing spoiled foodstuff, but the potential hazards of sampling items that have already been pawed by a thousand hands. And given the number of daytime visitors at the market, it doesn't seem that the news warnings are a major threat to business this year. \nThe other complaint, cited by visitors, was noise pollution, particularly the megaphones used to lure in customers, which often has the opposite effect. Lack of trash bins was also noted, and as paper cups, candy wrappers and discarded samples find their way onto the ground, the street begins to look a mess. \nA government-hired private company employs temporary workers to tidy the streets, and much like the students, this 24-hour service provides an opportunity for seasonal work. The day is split into two shifts and sweepers earn NT$100 per hour, said Mrs Yang, who saw a wanted ad in a newspaper. \nWhen asked her opinion on whether people are inconsiderate or lazy, she replied, "You can't expect someone to hang on to empty cups. If there is no trash bin in sight, people use the ground. The best solution is to have bins near every vendor. People need them," Yang said. \nFor your information : \nWhat: Lunar New Year Holiday shopping on Dihua Street (迪化街). \nWhen: Daily from 9am to midnight. Until Feb. 8. \nHow to get there: Traffic restrictions are in effect, leaving little alternative to public \ntransportation. The easiest way to get to Dihua Street is by MRT to Shuanglian station. From exit number 2, walk west down Minsheng West Road (15 minutes). Alternatively, there is a special Lunar New Year Shop-Around bus 518 running from the station directly to the street.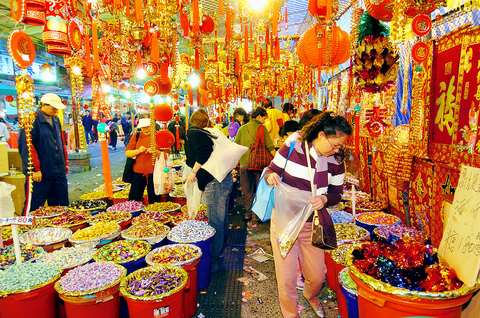 Dihua Street is Taipei's center for buying traditional Chinese New Year's goods at this time of year.
PHOTOS: GEORGE TSORNG, TAIPEI TIMES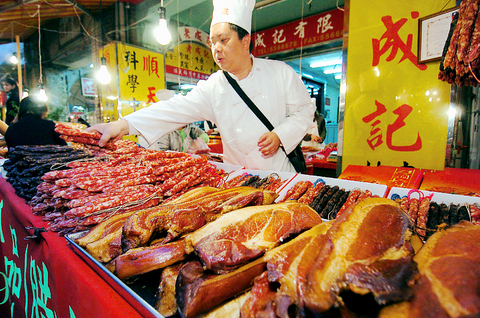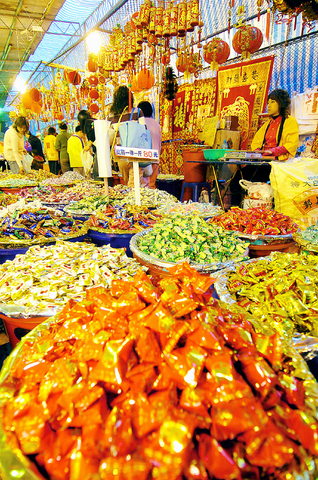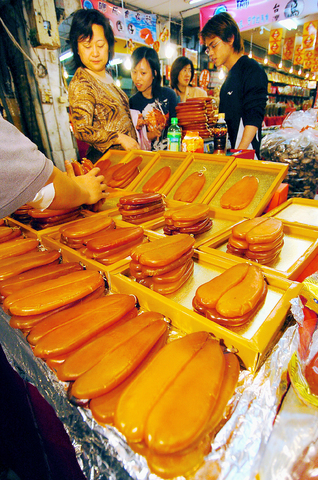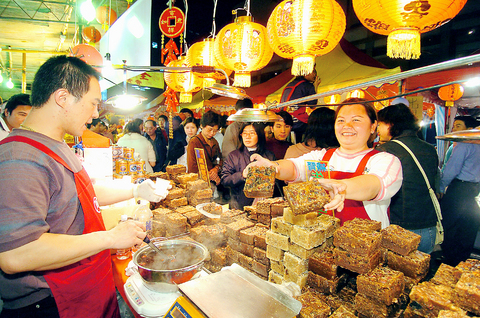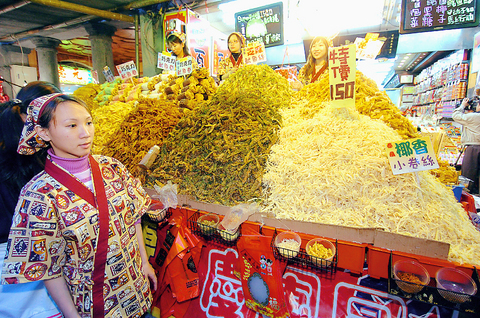 Comments will be moderated. Keep comments relevant to the article. Remarks containing abusive and obscene language, personal attacks of any kind or promotion will be removed and the user banned. Final decision will be at the discretion of the Taipei Times.